The Newcomer Youth Civic Engagement (NYCE) Project was youth-led, embedded in the CCR Youth Network's principles, and focused on offering newcomer youth an opportunity to be leaders in their communities and tackle issues that affect them. The project aimed to help newcomer youth from across Canada connect and engage with their communities. The NYCE initiative identified key issues for newcomer youth and supported them in exploring ways to address these issues within their communities.
While the project is based on the youth-led principle, it was also important that the youth involved gain leadership skills within the right conditions, through the support of organizations that can offer resources and guidance to the newcomer youth involved. Read about the local projects and organisations below! And scroll down for a breakdown of how the project worked.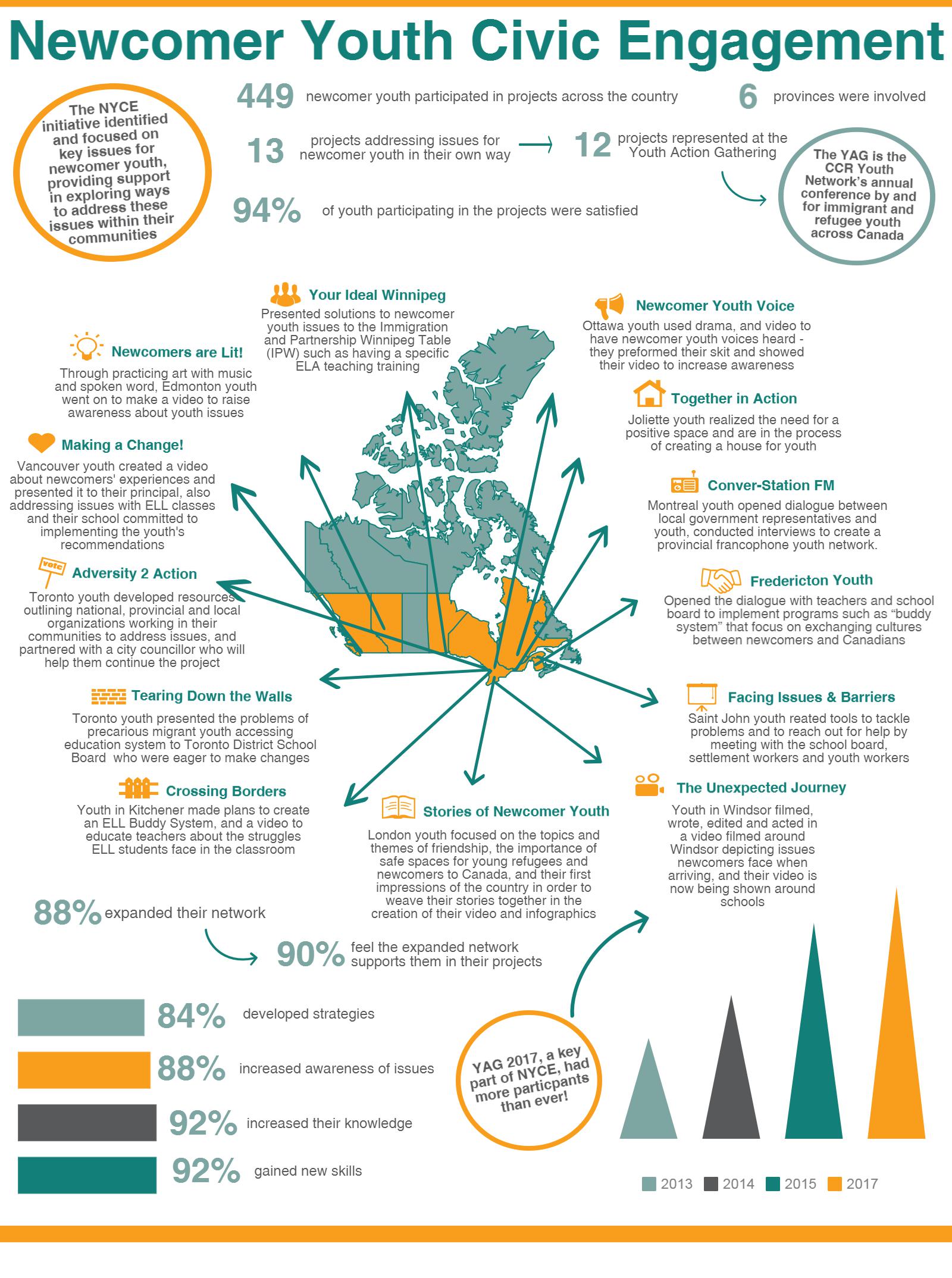 Newcomer youth participated in NYCE through two main activities: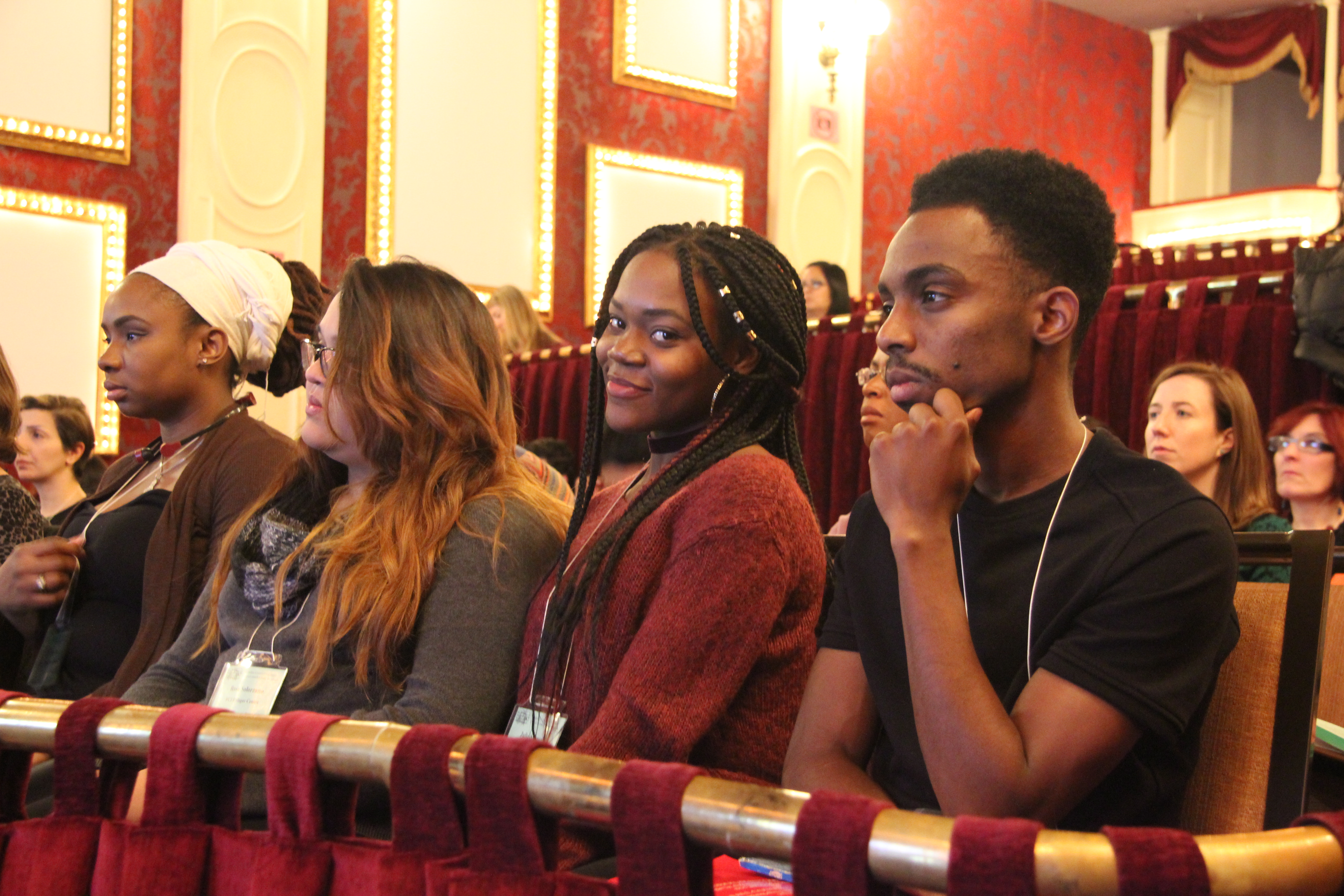 1. Local projects
The NYCE project included thirteen local projects across Canada, listed below, each of them involving newcomer youth 16-24 years old. Together they consulted newcomer youth in their communities on key issues and barriers, and explored ways of addressing them creatively, and developed tools to engage relevant decision makers.
Depending on their own realities and ideas, local projects took different forms to address the issues they identified in each community. 
Youth Leader

Project 

Location

Supporting Organization

Narges Samimi & Tenzin Phantok

Making a Change!

New Westminster, BC

Immigrant Services Society of BC

Naol Kassa

Newcomers are Lit!

Edmonton, AB

Multicultural Health Brokers

Saleh Alimasi

Your Ideal Winnipeg

Winnipeg, MA

Immigrant and Refugee Community Organization of Manitoba

Obada Baghdadi

The Unexpected Journey

Windsor, ON

YMCA of Western Ontario

Sally Hammad

Stories of Newcomer Youth

London, ON

Muslim Resource Centre for Social Support & Integration

Huda Al'Obaidi and members of Crossing Borders

Crossing Borders

Kitchener, ON

Mennonite Coalition for Refugee Support

Julia Salmon

Tearing Down the Walls

Toronto, ON

FCJ Refugee Centre

Humaima Ashfaque

Adversity 2 Action

Toronto, ON

York University Centre for Refugee Studies

Keshav Bajgai

 

Newcomer Youth Voice

Ottawa, ON

Youth Program of the Ottawa Community Immigrant Services Organization

Hicham Khanafer

Conver-Station FM

Montreal, QC

Centre Social d'aide aux immigrants

Justine Dangbe, Rene Rukundo, Arnaud Kazamwali and

Pierre Dushime 

Together in Action

Joliette, QC

Lanaudière Regional Committee for International Development Education

Noussaiba Dehimi

Fredericton Youth

Fredericton, NB

Multicultural Association of Fredericton

Milia Aidemouni

Facing Issues & Barriers

Saint John, NB

YMCA of Greater Saint John
2. A national Youth Action Gathering (April 2017)
Follow the link to read the report on the YAG!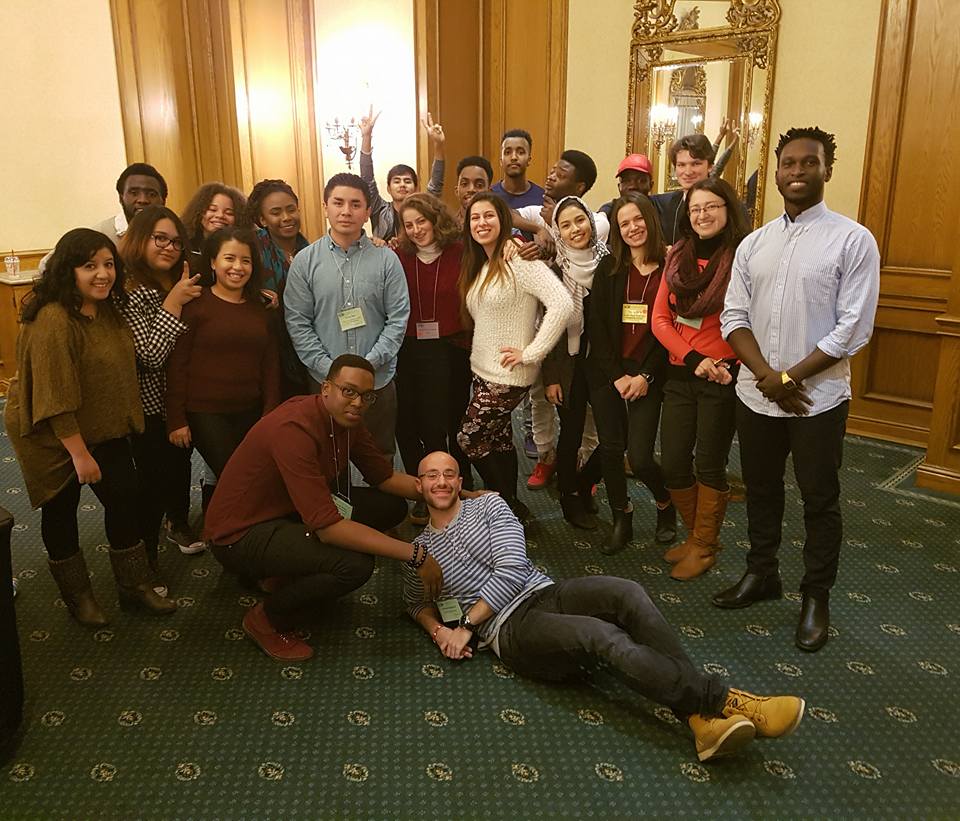 Congratulations to all and welcome to the CCR Youth Network!