Image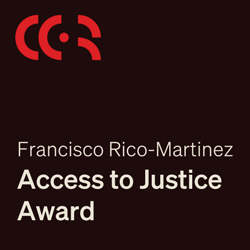 Applications now open for the Francisco Rico-Martinez Access to Justice Award!
We're now seeking applications for the inaugural Francisco Rico-Martinez Access to Justice Award! The award exists to honour and continue Francisco's leadership over three decades within the CCR, and will be given on an annual basis to support a project aligned with Francisco's core commitments.
Do you have an idea for a project that will further Francisco's legacy? You can request up to a maximum of $10,000 to help push it forward!
The deadline to apply is Sunday October 16, 2022
Applicants
Applicants may be an individual, a group of individuals or an organization in Canada. Applications must be:
Submitted by a member organization of the CCR,
OR
Supported by a member organization of the CCR.
Eligible projects
You can propose projects designed to advance access to justice in an area within the mandate of the CCR in one or both of two fields: Capacity building and Advocacy. 
Need more inspiration? Here are some more specific areas for consideration, based on Francisco's commitments:
Building leadership of people with lived refugee experience
Supporting youth leadership
Developing political understanding of how to effect change
Advocating for rights for refugees and the forcibly displaced
Advocating for access to education for all
Advocating for access to status
Download the application below to apply
Would you like to donate to the award fund instead? Click here.