Address
York University Keele Campus
4700 Keele St
Toronto ON M3J 1P3
Canada
What
The CCR Youth Network is hosting in parternship with the Centre for Refugee Studies (CRS) at York U, Amnesty International at York and WUSC Keele committee at York its sixth Youth Action Gathering (YAG)! This years' YAG will be under the theme The power of being you: liberating our intersecting identities.
A YAG is a space created for and by youth that allows newcomer youth, including young refugees, immigrants to come together from across Canada to discuss common challenges facing newcomer youth and to equip themselves with the necessary tools to address these challenges. The event is a mix of workshops, plenaries, informal discussions and social events.
This time, we changed the formula a bit, making the YAG a one day event. With the CCR International Refugee Rights Conference following on June 7-9, we decided to bridge both events and have a more international YAG as well. We will be inviting youth networks from around the world to join us during the YAG and meet with our Youth Network during the International Conference.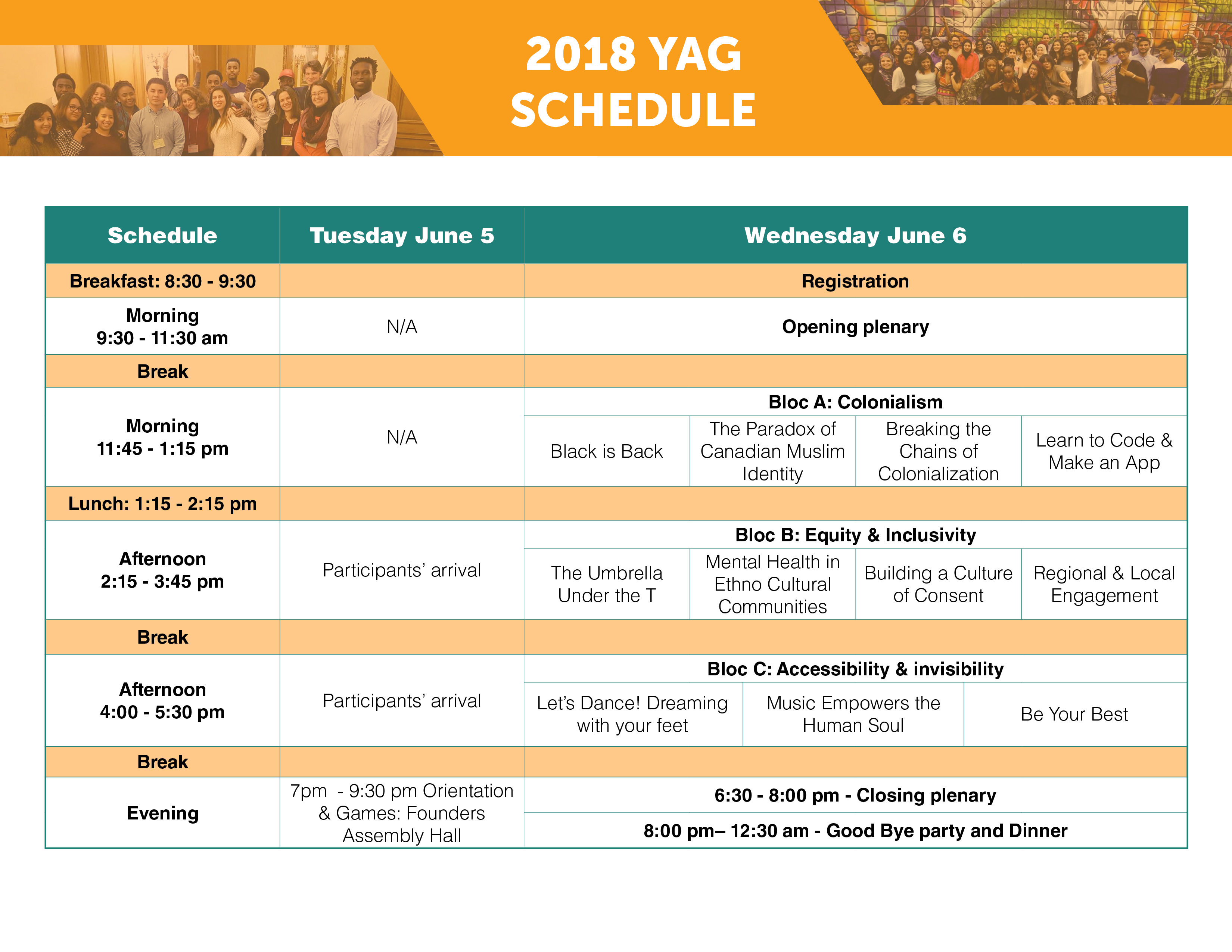 * This is a provisional shedule, the workshop title and times might be subjet to change
Workshop Descriptions
Black Is Back
The goal of this workshop will be to provide an understanding of how anti-black racism plays out both on an interpersonal and at a systemic level. This workshop will help us unpack our personal biases when it comes to working with the African Carribean Black (ACB) population living in Canada.
Resource Persons: 
Sizwe Inkingi
Afrah Berhan
Facilitators:
The Paradox of Canadian Muslim Identity
This workshop will analyze and expand on how Islamic principles interesect with Canadian values. Within the workshop, youth will learn how Muslims use Islamic values in society, the workplace, and in their daily lives. Youth will also engage in discussions about the beneits of Islam in modern society.
Resource Persons:
Aisha Hyder
Omar Zia
Sheikh Alaa El Sayed
Facilitators:
Humaima Ashfaque
Hicham Khanafer
Breaking the Chains of Colonization
Do you realise your own historical role in colonization? Do you think you understand what it means to colonize? Let's find out! (If you don't come, you're furthering the colonizers' agenda!)
Resource Persons:
Keisha Roberts
FCJ Youth Network
Facilitator:
Lean to Code & Make an App
This will be an introductory workshop on programming. Participants will work to create a mobile application for the upcoming International Refugee Rights Conference.
Resource Person:
Facilitator:
The Umbrella Under the T
During this workshop, we will explore gender in all its forms through expression and identity. We will touch upon on the different advocacy work being done by the LGBTQ2s community and the policies being developed as a result of their efforts.
Facilitators:
Yansie Ardon
Zahra Samini
Kenia Lisbeth Ardon
Mental Health in Ethno Cultural Communities
This interactive workshop will talk about mental health in marginalized communities. It will include participants' perspectives on mental health through story-telling and idea-sharing. Participants will create a 'tree' at the end of the workshop.
Facilitators:
Sudesh Gurung
Thea Udwadia
Building a Culture of Consent
In light of the #MeToo movement, the notion of consent is at the forefront of public debates globally. This workshop will explore what consent means for young adults at a time when sexuality explores their various identities. What does consent means to us? What role does power or relationship dynamics play in consent? How do you know you're crossing the line of no-consent? What are the values that society or religion teach us in terms of consent? Is consent different from respect? The answers to all these questions will, hopefully, re-shift the ways in which we interact in our everyday lives by being more aware of our actions and their effect on others.
Facilitator: 
François Regis Dushimiyimana.
Regional and Local Engagement
This workshop will take a `World Café`approach to promote greater and more meaningful inclusion of youth in the CCR Youth Network at the regional and local levels. The workshop will combine community and institutional perspectives and approaches to reveal promising practices to engage youth locally for national efforts.
Resource Persons:
FCJ Youth Network Toronto
Multicultural Association of Fredericton
Newcomers Are Lit! Edmonton
Immigrant and Refugee Community Organization of Manitoba
Facilitator:
Let`s Dance! Dreaming With Your Feet
This is a fun workshop where participants will learn different kinds of dance styles, including Bollywood choreography and freestyle. Participants do not require prior knowledge of dance and is open to anyone who simply wants to shake their bodies to the beats, be active and enjoy the moment. As the saying goes, "dance like no one is watching".
Facilitators:
Sudesh Gurung
François Regis Dushimiyimana
Music Empowers the Human Soul
This workshop is about expressing ourselves through music. Participants will learn how to write their own songs to artistically express their thoughts musically.
Facilitators:
Vivian Namajanya
Obada Baghdadi
Saleh Alimasi
Be Your Best
The goal of this workshop will be to equip you to become more effective and take responsibility in both your personal and professional life when dealing with conflict. In addition to communication skills and conflict resolution methods that will be taught, this interactive workshop will provide you with training in assertive skills, how to handle anxiety, and how to set goals for becoming more fulfilled in your daily interactions.
Resource Persons:
Salsabil Zubedi
Ruth Megsna
Where
The Youth Action Gathering 2018 will take place in Toronto, on York University Keele Campus.
Accommodation
DUE TO A STRIKE AT YORK UNIVERSITY THE ROOM BOOKING AT THE RESIDENCES IS TEMPORARILY ON HOLD. Pleas email us at yag@ccrweb.ca for other temporary options.
A limited number of rooms (100) have been reserved for booking at York University's residences. The recently-renovated Tatham Residence is a traditional dormitory building. Each floor here has a mix of single and double rooms, and five private washrooms for use of all occupants on the floor. Images and sample floor plans can be found here.
Rates:
Food
We always try to provide food for participants during the event, more information will be up soon.
How can I join?
Please note this is a confirmation of interest, it does not guarantee you a place at the YAG. 
While you wait for a  confirmation, we recommend preparing for the YAG, which includes: 
Making a budget and gather some funds to cover part of your travel and accommodation for the event as well as pocket money on site for extra expenses. See some fundraising tips here.
Make sure you can take off from high school,  summer classes or work if you plan on coming.