Core Team
The CCR Youth Network (YN) is directed by a Core group made out of 6-9 newcomer youth from across the country. With each member taking on a specific role, we collaborate online to plan in-person and virtual events, campaigns, workshops and much more on issues youth newcomers care about!
Meet the youth
Image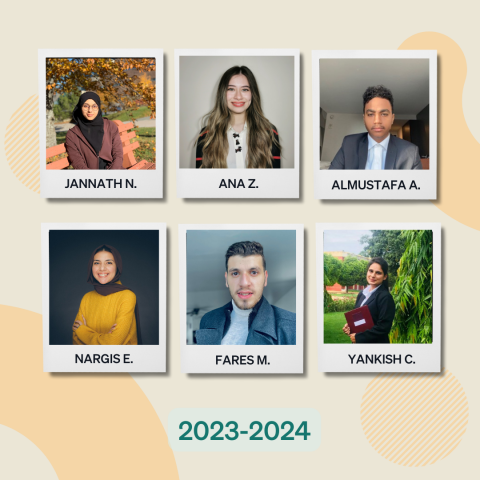 Jannath (she/her) - St. John's, NL
As a new member of the Core Team, she is super excited to work with all the amazing people from all across the country, to progress towards a better future for newcomer youth. She moved to Canada as a student in 2018, and was faced with challenges as all newcomers are. Alongside this core team, she hopes to help make those challenges easier for the newcomers now. Looking forward to a great year ahead!
Ana (she/her) - Kitchener, ON
While pursuing her bachelor's in Computer Engineering, Ana Maria follows her passion by aiming to make a positive impact in her community, especially for her fellow immigrant youth. Through her volunteer work as a Language Interpreter at COMPASS Refugee Centre and Youth Leader at KWMC, she was inspired to make a meaningful impact towards a bright, free, and fair future for all immigrant youth across Canada by excitedly becoming a part of the Core Team! Ana Maria is eager to support the CCR's goals as she continues to learn and create alongside her peers while having the amplification of newcomer youth's voices as a top priority.
Almustafa (he/him) - Niagara Falls, ON
He holds a degree in political science and is an active member of the resistance committees. He was also the UN Youth Delegate of Sudan. Almustafa is excited to be a part of the CT, as it will help him develop his career by engaging with the Canadian Council for Refugees and assisting newcomer and refugee youth. He is also looking forward to making new friends and colleagues across Canada.
Nargis (she/her) - Ottawa, ON
Currently working as a Digital Content Specialist with Refugee613, she creates and disseminates re/settlement content in Pashto and Dari for Afghan newcomers. Nargis' dedication to helping newcomers was inspired by her refugee experience after she was forced to flee Afghanistan in 2021. Nargis holds a bachelor's in business administration/ Operation Management from the American University of Afghanistan. She was recently admitted to pursue her Master in Migration and Diaspora Studies at Carleton University for Fall 2023. Nargis believes that every newcomer comes to this country with a suitcase full of dreams/hopes and is very excited to work on initiatives for and with migrant youths in this role.
Fares (he/him) - Dieppe, NB
He arrived in Canada in 2016 and is currently studying at the University of New Brunswick in the hopes of becoming a teacher in the near future. He is super excited to be a part of the CCR Youth Network Core Team and cannot wait to start planning and working for the year ahead, especially for the Youth Action Gathering.
Yankish (she/her) - Moncton, NB
She had the opportunity to explore various Canadian cities, including Montreal and Toronto, and have developed a deep appreciation for this country. Yankish is a Bachelor of Engineering graduate from Nova Scotia. Apart from her engineering pursuits, she indulges in creative hobbies such as painting, dancing, reading, and traveling. As a first-generation immigrant to Canada, she understands the unique challenges that accompany relocating to a foreign land, and she is motivated to leverage this platform to advocate for individuals like herself and contribute to the betterment of society.