***
CONTENTS:
Current issue and campaign pages:
Demand protections for migrant workers in Canada
Canada has work to do: Respect non-citizen children and youth rights
Bill C-4 - Anti-smuggling or anti-refugee?
Conditional permanent residence proposal
What We Want for Refugees: Four faces, four values
Save the dates! Upcoming CCR meetings in 2012:
Winter Working Group Meetings, Friday, February 24 - Saturday, February 25, Toronto
Spring Consultation, Thursday, May 31 - Saturday, June 2, Fredericton
Fall Consultation, Thursday, November 29 - Saturday, December 1, Toronto
---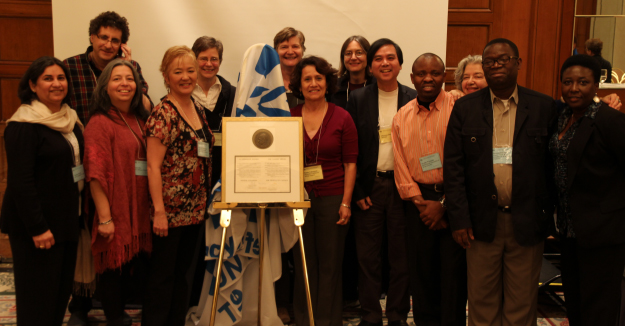 Take a look back at some of the key developments in 2011 affecting refugees and immigrants through the CCR's Year in Review 2011.
In keeping with Canada's history of welcoming, respecting and enabling newcomers to thrive, the review looks at the progress Canada has made in 2011 and reflects on where we failed to advance.
For a slideshow presentation, and for a downloadable copy of the Year in Review, go to: http://ccrweb.ca/en/2011_review
The CCR has published the report of research conducted on refugee claimants' experiences of their refugee hearings. The research was designed to explore the perspective of refugee claimants as they went through their hearings, including their positive and negative impressions of the process and the people within it, their psychological and emotional state of being during the hearing, and how these matters affected an overall feeling of fairness.
Many thanks to all who contributed to this research project, including the refugees who agreed to be interviewed, the organizations that recruited them, the volunteer interviewers and interpreters, Emily Heersink, principal researcher, and the steering committee.
Read the report at http://ccrweb.ca/sites/ccrweb.ca/files/irb_hearings_report_final.pdf

A number of Australian non-governmental organizations have written to Prime Minister Stephen Harper with comments on Bill C-4, the anti-smuggling, anti-refugee bill. The bill contains many measures that were implemented in Australia, and that have proven to fail, notably mandatory detention and delayed family reunification.
These comments provide even more reasons for Bill C-4 to be withdrawn or defeated by Parliament. Consider including some of the points raised by the Australian NGOs when you speak with your Member of Parliament about your concerns.
To read the complete text of the letter, go to: http://ccrweb.ca/sites/ccrweb.ca/files/letter-c4-australian-ngos.pdf
For more information about Bill C-4 and how to take action: http://ccrweb.ca/en/c4
For a related media article, see:
Tough measures won't stop refugees, Canada told, Toronto Star, 4 January 2012
In December 2011, the Inter-American Commission on Human Rights (IACHR) published its decision upholding the complaint made by the CCR and others about the 'direct back' policy between Canada and the United States.
The IACHR ruled that Canada violated its human rights obligations when it returned three refugee claimants to the US without first providing individualized review of their refugee claims. The claimants were returned to the US under Canada's 'direct back' policy, a policy that allows for the summary removal of a refugee claimant from Canada any chance for the claim to be heard.
The IACHR issued the report to the Canadian government earlier in 2011. The fact that the Commission decided to make the report public now means that it had concluded that Canada did not implement its recommendations, and therefore decided to use its last available tool to generate compliance pressure: making its findings and recommendations public.
The IACHR report is available online at: http://www.cidh.oas.org/casos/11.eng.htm (Report No. 78/11).
Background information about the report is described in this CCR press release from April 2011: http://ccrweb.ca/en/bulletin/11/04/14
Get ready for the CCR Youth Action Gathering!
From 31 August to 2 September 2012, newcomer youth advocates from across Canada will be heading to Montreal for the FIRST National CCR Youth Action Gathering! We're looking for partners, sponsors and volunteers!
Ways to get involved:
Encourage newcomer youth to get involved in organizing the Gathering
Contribute to the CCR Youth Travel Fund
Support newcomer youth in your community in attending
Endorse the Gathering. We would be proud to have your permission to use your name and logo in our list of partner organizations.
Assist in our promotion of this event.
Get involved now at: http://ccrweb.ca/en/youth/meetings
From streets to offices – our youth move forward to defend non-citizen children rights!
On the occasion of the Universal Day of the Child, youth groups in Edmonton, Lethbridge, Kitchener, Toronto, Montreal, Saint-John's and Fredericton organized flashmobs in order to raise awareness amongst Canadians about how Canada could do better to respect non-citizen children rights. Find out what they did at: http://ccrweb.ca/en/youthrights/flash-mob
This period of the year is a strategic moment since the United Nations is ready to examine Canada (November 2011-June 2012) on its respect of children rights.
To promote our demands, we're developing a series of short video interviews. Check out these videos on our YouTube channel.
Canada detains children with Janet Cleveland and Dr. Rachel Kronick
Canada deports children without considering their best interests with Rick Goldman
Canada makes children stateless with Monica Abdelkader
In the next phase of this national campaign, we will be meeting with Canadian MPs to give them signatures for a petition about non-citizen children and youth.  To get involved, participate in our next webinar on the topic of "Engaging our MPs on non-citizen children rights" with CCR Executive Director Janet Dench, on Tuesday February 7th at 1pm (EST time). RSVP: cbeaudry@ccrweb.ca
Winter Working Group meetings, Toronto, 24 – 25 February
Do you want to be part of efforts to promote rights for refugees? 
Want to participate in in-depth discussions on pressing issues affecting refugees and immigrants in Canada? 
Looking for an opportunity to share information and strategies with others from across Canada?
Come to the CCR Winter Working Group meetings in Toronto!
The CCR Winter Working Group meetings will be held in Toronto on 24 and 25 February.  All CCR members are encouraged to attend the Working Group meetings, which are also open to others interested.  The meetings are closed to media and government.
The meeting schedule is:

- FRIDAY 24 FEBRUARY: 9:30am - 5pm
Overseas Protection and Sponsorship Working Group meeting and
Immigration and Settlement Working Group meeting

- SATURDAY 25 FEBRUARY: 9:30am - 5pm
Inland Protection Working Group meeting
For details and updates, see: ccrweb.ca/en/meetings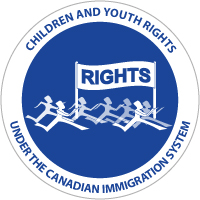 Refugee Rights Day, Wednesday, April 4th: Upholding non-citizen children's rights
                                       
How will you mark Refugee Rights Day this April 4th? Have you decided on a theme for your events and activities?
In 2012, the United Nations is examining Canada on its compliance with the Convention on the Rights of the Child. Join the CCR and the CCR Youth Network in speaking out about children and youth rights under the Canadian immigration system.
Watch for CCR updates leading up to Refugee Rights Day this April 4th and check ccrweb.ca/en/refugee-rights-day for details.
Want more information on this year's theme? Visit the Youth Network webpage at: ccrweb.ca/en/youthrights/frontpage

CCR Spring Consultation, Fredericton, 31 May – 2 June
The Canadian Council for Refugees (CCR) will hold its national Spring Consultation Cent-sible Justice: Affordable solutions for refugees and immigrants in Fredericton from 31 May to 2 June. Discussions will address issues relating to newcomer settlement and integration, refugee resettlement and refugee protection.
Information and online registration are available at: ccrweb.ca/meetings
Could you or your organization contribute to the Consultation? Contact: consultation@ccrweb.ca
Are you in the Fredericton area and want to get involved? Contact Lisa Bamford at: bamford@mcaf.nb.ca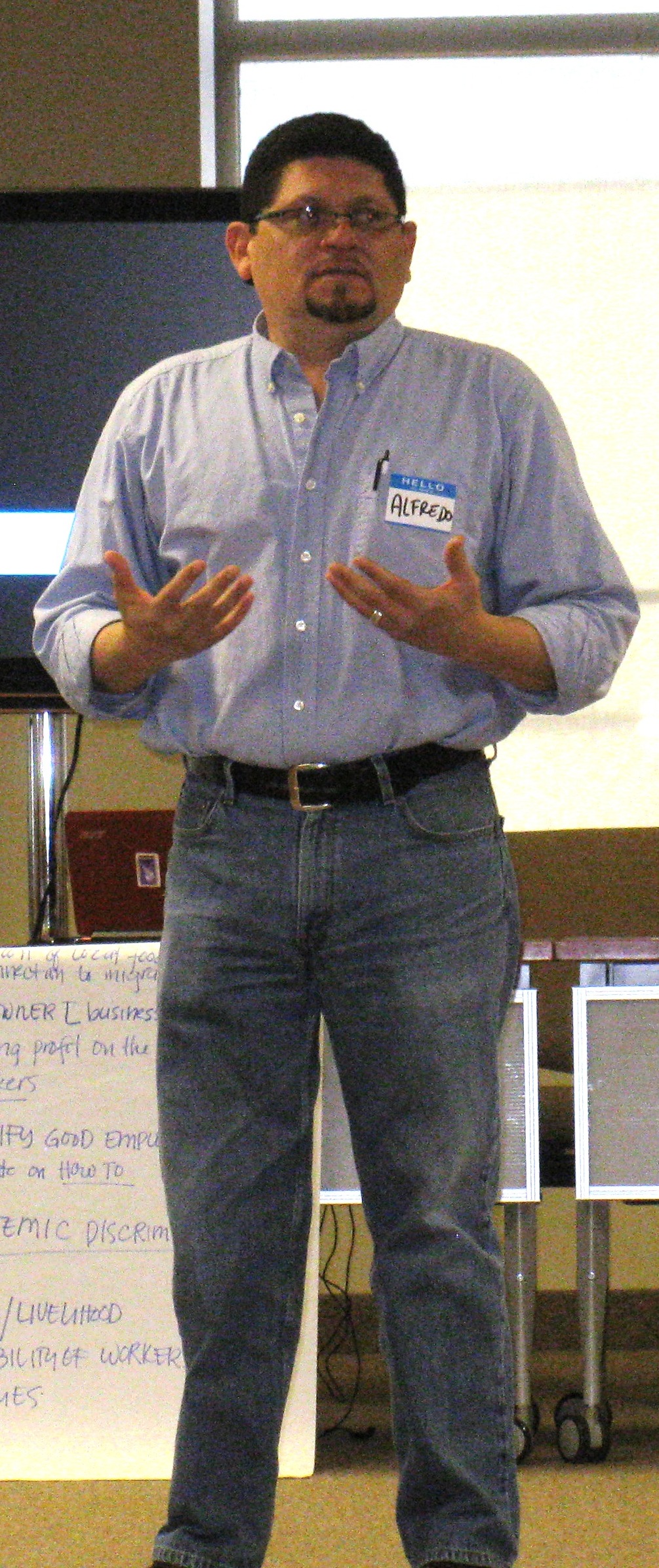 Alfredo Barahona is the Migrant and Indigenous Rights Program Coordinator with KAIROS Canada, where he focuses on building bridges between grassroots migrant workers' organizations with church and community allies. While working at a settlement services agency in Toronto for many years, Alfredo witnessed the lack of formal support for migrant workers and the need for change. After all, "the contributions these workers make to the Canadian economy are substantial," says Alfredo. "We need to offer services and access to permanent residence to enable their full participation in Canadian society."
In recent years, Alfredo has seen even greater needs emerge as Canada has shifted its focus from nation-building through permanent residence to one focused on temporary migration. Major policy shifts like this are "creating unnecessary hardship for workers, their families and the host communities [in Canada]." Without access to permanent residence, it is impossible to sponsor family members to come to Canada.  As well, "they are vulnerable due to isolation, lack of English or French language ability, racism and xenophobia," Alfredo observes.
With the federal government setting aside an increasing number of spaces for temporary foreign workers, these issues are even more urgent. Providing funding for and access to settlement programs is critical.  For this, "the CCR is strategically well-positioned to play a role in education and advocacy with government officials and community members. It has the potential to be a strong voice to ensure that migrant rights are on the agenda at a national level and part of any national strategy that brings a wide spectrum of players to the table."
December 18th marked International Migrants Day and several celebrations took place in Vancouver, Winnipeg, Toronto and Montreal.
It's not too late to take action to ensure that the rights of migrant workers in Canada are respected. Write to your Member of Parliament to call for the protection of migrant workers' rights, their access to permanent residence and access to settlement services. Without these, their full potential to Canadian society is unfulfilled and we all lose.
The CCR has made a short video on the rights of migrant workers in Canada. Watch Alfredo comment (and consider sharing this video through your networks).
For more information and action ideas to stand up for the rights of migrant workers, see: ccrweb.ca/en/migrant-workers
-----
Looking for other ways to stay in touch with the CCR and refugee and immigration issues?  Subscribe to receive updates from the CCR on Twitter and Facebook:
To join the CCR on Facebook: facebook.com/ccrweb
To follow the CCR on Twitter: twitter.com/ccrweb
To view CCR videos on YouTube: youtube.com/ccrwebvideos