Mark Refugee Rights Day this April 4th!


How will you mark Refugee Rights Day this April 4th?
Here are some ideas to take action as a group or as an individual leading up to Refugee Rights Day:
Share what each of Seven keys for refugees and newcomers mean to you: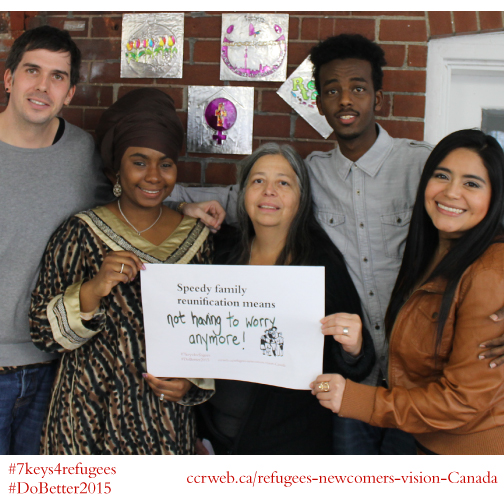 Traditionally a leader in welcoming refugees and other newcomers, Canada can and must renew its efforts to protect their rights in seven key areas. 
Help fill in the blanks for refugees and newcomers to Canada as we count down to Refugee Rights Day on 4 April 2015. Each week, help us highlight one of these 7 keys and what it means to you and to the people around you.
What you can do:
2) Write what the Key means to you
3) Take your photo
4) Share it with others online and in your community (and share it with us too - we'll add it to an online photo gallery)
Here is the Countdown calendar:
Week of 15 February - Speedy family reunification
Week of 22 February - A broad, inclusive and effective refugee resettlement program
Week of 1 March - Making status in Canada secure
Week of 8 March - Accountable enforcement
Week of 15 March - Rights and dignity for all
Week of 22 March - Access to protection
Week of 29 March - Welcoming communities
For more information about these seven key areas:
Seven Keys for Protecting and Welcoming Refugees and Newcomers: A vision for Canada
What is Refugee Rights Day?
April 4th is the anniversary of the Supreme Court's 1985 Singh decision.
In this decision the Supreme Court found that the Canadian Charter of Rights and Freedoms protects the fundamental rights of refugees. The Court decided that 'everyone' includes refugee claimants in the sentence: 'Everyone has the right to life, liberty and security of the person and the right not to be deprived thereof except in accordance with the principles of fundamental justice.' 
Refugee claimants are therefore entitled to an oral hearing, in accordance with the principles of fundamental justice and international law.
For more information:
Immigration and Refugee Board (IRB) webpage on the Singh decision
Supreme Court of Canada - decision: Singh versus the Minister of Employment and Immigration