CCR Youth Network
We are the youth division of the Canadian Council for Refugees.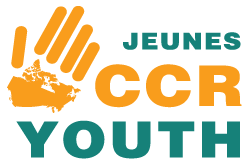 The Youth Network gives refugee and newcomer a voice to address challenges faced by newcomer youth and a space to share ideas on how to meet these challenges.
The Youth Network works within a gender justice and anti-oppression framework.
The CCR Youth Network began in 2006 and has evolved through online discussions, teleconferences, the organization of youth-led workshops and strategy sessions and the development of youth-driven projects.
All of those actions were designed in order to give newcomer youth a voice and to address the many challenges that they face. Through our projects, we promote artistry, confidence, and self-expression amongst refugee and newcomer youth.
The power of being you: liberating our intersecting identities.
A YAG is always a space created for and by the youth, that allows newcomer youth and allies to come together and to discuss common challenges and strategies.
Youth Action Gathering 2017 Video