Address
Salvation Army Harbour Light Ministries
160 Jarvis Street
Toronto ON
Canada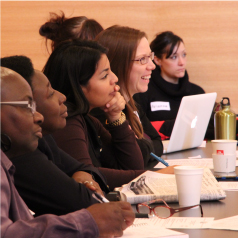 Do you want to be part of efforts to promote rights for refugees?  Want to participate in in-depth discussions on pressing issues affecting refugees and immigrants in Canada?  Looking for an opportunity to share information and strategies with others from across Canada?
Anyone interested is welcome to participate, especially CCR members; however meetings are closed to media and government employees.
There is no cost to participate and there is no need to register in advance.
FRIDAY 24 FEBRUARY 2017: Salvation Army, 160 Jarvis St., Toronto
9:30am - 5pm: Inland Protection Working Group meeting
SATURDAY 25 February 2017: Salvation Army, 160 Jarvis St., Toronto
9:30am – 4:30pm: Overseas Protection & Sponsorship Working Group meeting
9:30am – 4:30pm: Immigration and Settlement Working Group meeting
How to get there:
The Salvation Army Harbour Light Ministries in Toronto is located at 160 Jarvis Street between Queen and Shuter.
By public transport - Queen subway station. Walk or take the streetcar – no.s 501 or 502 - east from the station.
By car - Click here for a map of the area.
Parking - There is no parking available at the Salvation Army. Street parking is possible, but you need to pay every two hours.
On the agenda:
Draft agendas for the meeting will be available on the Working Group webpages (see links above) for logged-in CCR members. They will also be sent by email to the CCRLIST.