Goals of the Canadian Council for Refugees' campaign
Permanent and fundamental change in policy so that trafficked persons in Canada are protected and their human rights respected.

Increased public awareness of the reality of trafficking in persons in Canada.
Guiding Principles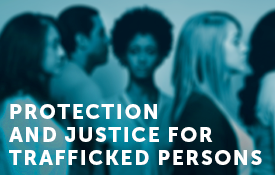 The CCR has identified the following principles to guide responses to trafficking:
Non-punitive: Measures must not penalize trafficked persons
Human rights: Measures must be guided by and be respectful of the human rights of trafficked persons
Economic rights: Measures must be guided by and be respectful of the economic rights of trafficked persons
Supportive services: There is a need for supportive services for trafficked persons
Gender and race analysis: A gender and race analysis should be brought to any consideration of trafficking issues
Inclusive of trafficked persons: Discussions about trafficked persons should include trafficked persons themselves
 
CCR Pan-Canadian Anti-Trafficking Network
The CCR supports NGOs across Canada in their work on trafficking by:
Creating opportunities for information-exchange across the country;
Developing tools needed by organizations;
Making accessible useful resources to support outreach and awareness-raising on trafficking and to support services to trafficked persons.
The CCR anti-trafficking network is guided by an Anti-Trafficking Committee. Learn more about the CCR pan-Canadian anti-trafficking network.
 
Share the message
Download and share the #becuseiamhuman campaign images and messages: