Address
Fédération des travailleurs et travailleuses du Québec (FTQ)
565 boulevard Crémazie East, 2nd floor
Montreal QC H2M 2T9
Canada



Do you want to be part of efforts to promote rights for refugees?  Want to participate in in-depth discussions on pressing issues affecting refugees and immigrants in Canada?  Looking for an opportunity to share information and strategies with others from across Canada?
Participate in the Canadian Council for Refugees (CCR) Working Group meetings in Montreal on 8 and 9 September 2017.
Anyone interested is welcome to participate, especially CCR members and allies; however meetings are closed to media and government employees.
It is free to participate and no registration is required. Lunch is not provided.
FRIDAY 8 September 2017
9:30am – 5pm: Overseas Protection & Sponsorship Working Group meeting
SATURDAY 9 September 2017
9:30am - 5pm: Inland Protection Working Group meeting
9:30am – 5pm: Immigration and Settlement Working Group meeting
Location and how to get there:
All meetings take place at Fédération des travailleurs et travailleuses du Québec (FTQ), second floor. The FTQ is located at 565 boulevard Crémazie East, Montreal, just north of autoroute 40. 
Click here for a map of the area. The meetings are a 2-minute walk from the Crémazie metro station (orange line).
Parking - Pay parking is available on Friday at Fonds de solidarité, 8717 Berri Street (parking entrance on Lajeunesse Street). Note: the meetings take place in a building around the corner. On the Saturday, street parking is possible.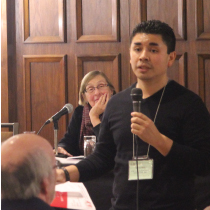 On the agenda:
Proposed agendas for the meeting will be sent to the CCR listserv and posted on the webpages of each Working Group.
Draft agendas for the meeting will be available on the Working Group webpages for logged-in CCR members and will also be sent by email to the CCRLIST.
Orientation session:
Is it your first time attending a working groups meeting? Are you still unsure about what it's all about? We will be holding an orientation session prior to the meetings each day in order to address what are the working groups, what is their role within the CCR and how your participation is central to the way the CCR operates.
Friday September 8
Where: Van Houtte Coffee, 545 Boul. Crémazie E,
When: 8:30am- 9:15am
Saturday September 9
Where:  FTQ building, 565 Boul. Crémazie E, Level 2, Room Marie Penceneau
When: 9am-9:30am
Can't be in Montreal for the Working Group meetings? Join us for a virtual meeting in advance
The CCR will be holding a virtual meeting for CCR members in English on Tuesday 6 September at 1:30pm Eastern, for those unable to participate in the CCR Working Group meetings in person. The virtual meeting will be an opportunity to:
Hear recent updates on priority issues
Give input on matters on the agenda of the working group meetings 
Raise current issues of concern to the participants (for possible follow up by the Working Groups)
Suggest workshop topics for the CCR Fall Consultation in Niagara Falls, 30 November – 2 December 2017
There will also be a similar virtual meeting in French on Wednesday 6 September 3pm (Eastern time).
Click here to register for either virtual meeting. You must be logged in to your account on the CCR website to access this page.
Are you with a CCR member organization and you don't yet have an account? Sign up for one here.