Canadian Council for Refugees E-Chronicle Vol. 7 #3, 8 June 2012

CONTENTS:
---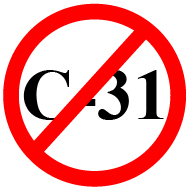 Bill C-31 was sent back to the House of Commons on 14 May 2012, after being revised by the Standing Committee on Citizenship and Immigration. For the revised text of the bill, see: http://bit.ly/KHrumi. To read the amendments passed, see: http://bit.ly/HJTwgZ.
On 9 May 2012, the Minister of Citizenship and Immigration announced changes to Bill C-31, Protecting Canada's Immigration System Act. While the CCR welcomes changes that improve protection for refugees in Canada, the majority of the CCR's key concerns with the bill remain, including:
Provisions to designate 'irregular arrivals' (also referred to as 'designated arrivals') and 'safe countries' (also referred to as 'designated countries of origin') that discriminate simply because of a person's origin or method of arrival
Speedy and inflexible timelines that prevent people from telling their stories and preparing their cases properly
A five-year ban on permanent residence applications and family reunification for "irregular arrivals" once they are recognized as refugees
Mandatory detention for some claimants
Even with the changes that the Minister proposes, Bill C-31 will make refugee protection in Canada dangerously vulnerable to political whims, rather than ensuring a fair and independent decision on refugee claims.
The announced changes provide for:
Detention reviews for detained, 'irregular arrival' refugee claimants within 2 weeks and then after 6 months. While shorter than Bill C-31's initial 1-year review, this will still mean that refugee claimants, including minors, who have done nothing wrong, will be detained with costly financial and mental health consequences. Legal experts have also indicated that this change will not comply with requirements under the Canadian Charter of Rights and Freedoms.
No automatic loss of permanent residence status for accepted refugees due to a change of circumstances in their country of origin, removing provisions for what was described as 'conditional permanent residence.'
Unfortunately, other amendments represent a step backwards with respect to restrictions for claimants from 'safe countries' applying for a Pre-Removal Risk Assessment (PRRA). In its original form, Bill C-31 put in place a 12-month bar; the amended version of the bill will increase this to 36 months. This change renders the PRRA ineffective.
Contact Senators on the Social Affairs, Science and Technology Committee
The next stop for Bill C-31 is the Senate. Senators, like MPs, have the responsibility to adopt laws that comply with the Canadian Charter of Rights and Freedoms and international law. Contact senators on the Committee to let them know about your concerns with the bill, urging them to speak out and to vote against it.
Go Public: Talk about the impacts of Bill C-31 with neighbours, friends and others in your community
Demonstrating the human impacts of this bill is one of the best ways to speak out against it. Talk to friends about the potential impacts on individual refugee claimants. Show your opposition to the Bill in public demonstrations. Use individual stories when talking to the media. Each story, each case can convince others that Bill C-31 is a bad policy for refugees and for Canadians.
Groups in cities across the country have started to organize weekly vigils about Bill C-31 and its impacts. To see how you can do something similar, follow https://www.facebook.com/stopbillc31
Speak out against Bill C-31 through social media networks
If you use Facebook and Twitter, use your social networks to speak out against Bill C-31. For more information on how to get involved (and for model tweets!), see: http://ccrweb.ca/en/social-media-c31
Background:
On 16 February 2012, the government issued Bill C-31 to reform Canada's refugee determination system.
The CCR is seriously concerned that Bill C-31 will create a two-tier system of refugee protection in Canada. It makes refugee protection in Canada dangerously vulnerable to political whims, rather than ensuring a fair and independent decision about who is a refugee. It also includes costly measures to detain refugee claimants and to revoke the status of refugees who are now permanent residents.
Bill C-31 must be withdrawn and replaced with legislation which is fair, affordable, and independent, and which complies with the Charter and Canada's international obligations.
Despite efforts by the opposition to make amendments to the bill, the government is determined to push it through Parliament quickly. It presented a motion to limit debate on Bill C-31, which saw the bill voted on and sent to a parliamentary standing committee for study very quickly. The Government wants to see the bill adopted by June 30.
For more information, and all of the resources listed above, see: http://ccrweb.ca/en/refugee-reform
The Canadian government's recent announcement on changes to the Interim Federal Health Program is based on misleading information. This is all the more deplorable because the stakes are a matter of life and death to many refugee claimants, resettled refugees (with government assistance or privately sponsored), and other protected persons in Canada.
In its public information, Citizenship and Immigration Canada (CIC) presents the changes as aimed at reducing "extra" healthcare coverage supposedly provided to refugee claimants, compared with what Canadians receive. In fact the government's own figures show that the per capita cost for refugee claimants under the IFHP is only about 10% of the average per capita cost for Canadians. In response to a 2010 access to information request, CIC provided a figure of $46 per month ($552 per year) for IFHP costs per refugee claimant. By comparison, according to CIC's own figures, the current overall per capita cost for health and social services for Canadians is $6,141.
Further, refugee claimants do not have access to provincial healthcare plans as they require acceptance as a refugee or as a permanent resident to be eligible. They will be left without medication coverage under the IFHP and without access to provincial plans. There has been no prior consultation with non-governmental stakeholders on these drastic changes and, it appears, no prior consultation with provincial governments either.
The minister's announcement will, as well, take away these benefits from those refugees selected overseas by the government and resettled in Canada - some of whom are referred to Canada for protection because of their medical needs. When Canada selects refugees with high medical needs and brings them to Canada, as the government has been doing for a number of years, then it also bears a responsibility to make sure those medical needs are cared for once the refugees are here.
The CCR calls upon the Canadian government to immediately suspend these changes, scheduled to enter into effect on 30 June 2012, and to hold consultations with all concerned stakeholders on any future changes.
Take Action against cuts to health care for refugees, refugee claimants and others this June 18th!
Join healthcare providers in cities across Canada in a National Day of Action against the cuts to the Interim Federal Health program this 18 June. Find out what is happening in a city near you at: http://www.doctorsforrefugeecare.ca/day-of-action-june-18.html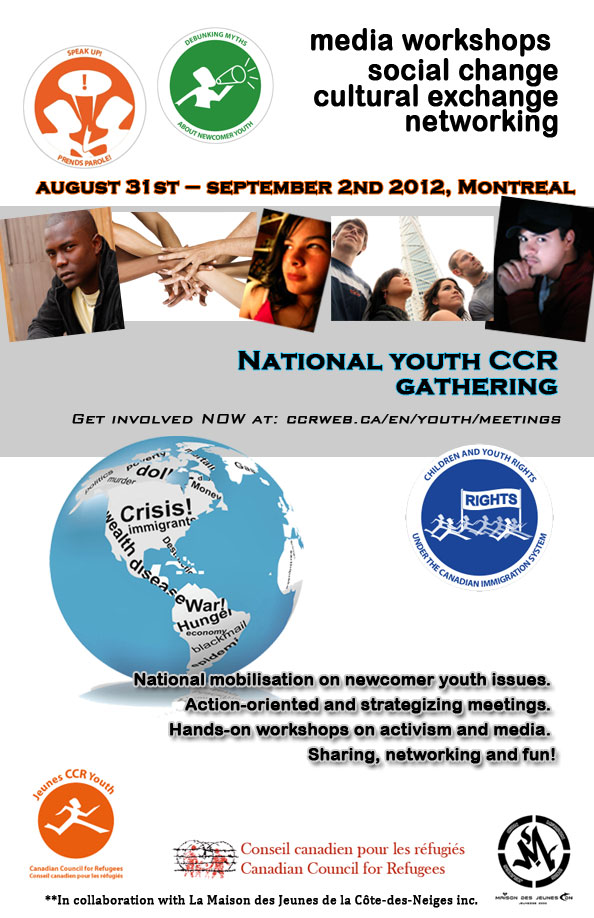 From 31 August to 2 September 2012, newcomer youth advocates from across Canada will be heading to Montreal for the FIRST National CCR Youth Action Gathering for a fun-filled weekend of participatory media and social change!
Applications for participants from outside of Montreal are due 11 June!
For those in Montreal, they are due July 1st.
Don't miss out! For more information check out the CCR Youth Network webpage: ccrweb.ca/en/youth/meetings
The CCR was taken aback by Citizenship and Immigration Canada (CIC)'s surprise announcement on 12 April that the devolution agreements allowing the provinces of Manitoba and British Columbia to manage their own immigration settlement programs would be terminated.
The CCR is deeply concerned about the way this decision was made: behind closed doors and without consulting the service providers or provincial governments involved, despite their expertise and the impacts this change may have on them. The announcement comes as a great surprise given that British Columbia and Manitoba have developed model settlement programming responsive to the needs of their particular newcomers and socio-economic contexts.
To read all of the CCR's comments and recommendations, see: http://ccrweb.ca/en/ccr-statement-termination-immigration-agreements-bc-and-manitoba

Over 225 participants were welcomed to Fredericton for the CCR Spring Consultation, held from 31 May - 2 June.
Resolutions adopted at the General Meeting are available at http://ccrweb.ca/en/resolutions-june-2012.
The Working Groups also proposed a number of actions, which members and other organizations are encouraged to follow up on: http://ccrweb.ca/en/action-spring-2012
Presentations from some of the consultation sessions will be available shortly to logged-in CCR members. More details to follow.
Interested in hearing more about the CCR Spring Consultation in Fredericton?  Here is a news article about the event:
Bowie, Adam. 'Stakeholders concerned about immigration bill,' The Daily Gleaner, 1 June 2012, p. A3. http://ccrweb.ca/sites/ccrweb.ca/files/dailygleaner01062012.pdf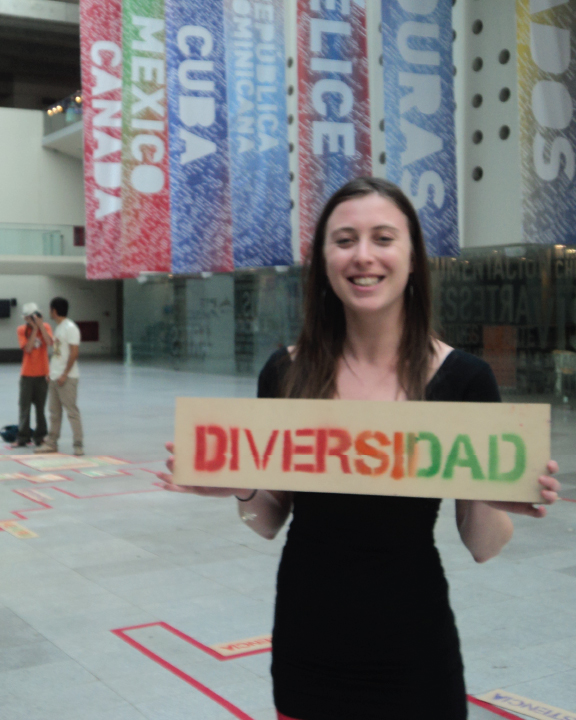 At the CCR, we are sad to see our Youth Coordinator, Cynthia Beaudry, leave. We are happy to announce that Chloe Raxlen is coming on board as Cynthia's successor. We're excited to welcome her as the CCR's new Youth Coordinator. We sat down with Chloe to ask her a bit about herself and her hopes for the Youth Network.
As someone who is committed to supporting youth to be active and engaged in issues that affect them, Chloe first began working with refugee and newcomer youth at a summer camp on Thetis Island in British Columbia about 5 years ago. Since then, she has gone on to work on creative, skills-building projects with refugee youth and she's excited about the opportunity to work with other like-minded people through the CCR. In Chloe's words "the CCR is a place to revitalize and to gain inspiration. I'm excited, privileged and looking forward to facilitating connections between the Youth Network and the CCR as a whole, as well as continuing to support the amazing work that youth are doing in their own communities."
While former Youth Coordinator, Cynthia Beaudry, pioneered much of what we know as the CCR Youth Network, Chloe is looking forward to building on the Youth Network as a space for connecting youth and learning: making it an important part of the CCR's work in standing up for refugee and newcomer rights. "The CCR is a place to make change happen and youth and Youth Network members have so much to contribute."
To meet this challenge, one of Chloe's goals is to tackle the invisibility of youth issues, both within the CCR and within our wider communities. "As a youth with precarious status, a person is put at even greater risk if they speak out. This is why creating a safe space for all youth through the Youth Network, is so important."
-----
Looking for other ways to stay in touch with the CCR and refugee and immigration issues?  Subscribe to receive updates from the CCR on Twitter and Facebook:
To join the CCR on Facebook: http://www.facebook.com/ccrweb
To follow the CCR on Twitter: http://twitter.com/ccrweb
To view CCR videos on YouTube: http://www.youtube.com/ccrwebvideos