***
CONTENTS:
a) Canada's 'most wanted' list
b) Humanitarian Crisis in Horn of Africa Needs Strong Canadian Response
c) Immigration Levels, CCR Priorities for 2011
d) Update: Refugees in Cairo get a new interview
e) New Refugee Determination System Date set for June 2012
f) Speak Up!  Apply to the new CCR Youth Network program
g) Participate in the CCR Summer Working Group meetings in Montreal, 9-10 September 2011
h) Faces of the CCR: Munira Abukar, CCR Youth Network
i) New from the CCR
- Database of resources relating to trafficking
- Children and Youth Rights: Canada has work to do
- CCR Spring Consultation 2011 Report
-----
a) Canada's 'most wanted' list
In July 2011, the Canadian government published a list of 30 individuals described as "suspected war criminals", asking the public for help in tracking them down so that they can be deported. A number of organizations, including the Canadian Council for Refugees, raised concerns with this approach. Among the concerns:
The "war criminal" label is unfair: many of the men so identified are not even alleged to be war criminals. They were found inadmissible under broad provisions that cover people with only distant connections to any crime (for example, a driver or a computer technician working for a government that committed gross human rights abuses).
Canada has obligations to ensure that war criminals are brought to justice. That duty is not met if people who have in fact committed these serious crimes are deported to a country that lacks the capacity or will to prosecute them in a fair trial.
The publication of the "war criminal" list, as well as of a second list of "serious criminals", contributes to a negative perception of non-citizens as dangerous criminals. The intensive media focus is likely to reinforce existing xenophobia, hurting all newcomers, particularly in the context of repeated recent government messaging associating refugees and immigrants with criminality, fraud and abuse.
Related articles:
Alex Neve, Canada has an obligation, even to the 'most wanted', 25 August 2011, http://bit.ly/o7VB6d
Rick Goldman, Turn down the heat on refugee issues, 28 July 2011, http://bit.ly/nXhEyT
Vincent Larouche, « Mon père n'est pas un criminel de guerre », 28 July 2011, http://bit.ly/nVq78Y
b) Humanitarian Crisis in Horn of Africa Needs Strong Canadian Response
In mid-July, the CCR and other allied groups called on Canada to show strong leadership in responding to the humanitarian crisis in the Horn of Africa. Thousands of people have fled conflict and famine in Somalia. Children are dying from starvation before they can reach safety.
Shortcomings in Canadian refugee policy are highlighted by the current acute crisis. Canada's Nairobi visa office, which covers the Horn of Africa, has excruciatingly slow processing times for refugees (37 months for government-assisted refugees, 51 months for privately sponsored refugees). Because the backlog at Nairobi of refugees awaiting resettlement is so large, the Canadian government has asked the UNHCR to stop referring refugees to Nairobi and has required private sponsors to reduce the numbers of refugee applications they submit to Nairobi.
This means that Canada is not able to help relieve the pressure on the Dadaab refugee camp through resettlement or respond effectively to newly arrived refugees in the region who need urgent protection.
To address these shortcomings, the CCR calls on the Canadian government to:
Meet with the Somali communities in Canada to discuss how they can work together to find solutions to the humanitarian crisis in Somalia.
Address the barriers and delays facing Somalis, as well as refugees from other countries, at the Nairobi visa office.
Respond quickly to particular resettlement needs arising out of the current crisis, as it has done in other similar situations, including the unrest in Libya.
Impose a Temporary Suspension of Removals to Somalia. The current acute crisis heightens the need for this measure, which would give Somalis in Canada basic protection from deportation.
For the complete CCR press release, see: http://ccrweb.ca/en/bulletin/11/07/13
For an example of one baby's separation from her mother, see http://ccrweb.ca/en/zeynab-timeline.
For more information on the long delays at Canada's Nairobi visa office, see http://ccrweb.ca/en/nairobi.
Read related articles and editorials at: http://ccrweb.ca/en/media_somalia
c) Immigration  Levels, CCR Priorities for 2011
Over the summer, Citizenship and Immigration Canada (CIC) launched a series of cross-country consultations and meetings to get feedback from the Canadian public on present immigration levels and proportions, and on future changes to Canada's immigration priorities.
In response, the CCR has identified priorities and concerns. These include:
Family reunification
Respecting international legal obligations
Children
These are issues that too often seem to be neglected in discussion of plans for Canada's immigration program.
You can raise these priorities – and any others on the CCR list – in response to the online questionnaire recently posted by CIC on immigration levels: http://www.cic.gc.ca/english/department/media/releases/2011/2011-08-29.asp (deadline 19 September)
For related news stories, see: http://ccrweb.ca/en/taxonomy/term/524
d) Update: Refugees in Cairo get a new interview
37 refugees in Cairo, whose applications to Canada were unfairly rejected, are all being given a new interview with a different visa officer. This new development follows the decision in May by the Federal Court in four lead cases from this group, concluding that there were numerous serious errors made by the visa officer (see http://ccrweb.ca/en/bulletin/11/06/02#a). In light
of that decision, the government has agreed that all the other cases in the group should also be sent back to the visa office.
The Federal Court also awarded costs to the applicants, noting that the government could have avoided the litigation by carefully investigating the complaints raised by the CCR about these cases back in 2009. Justice Snider writes that: "when a reputable organization brings to [the Minister's] attention a number of similar issues, arising from the same visa post, common sense and fairness leads me to conclude that the Minister ought to have taken the complaint more seriously."
Related article: Carol Sanders, New immigration interviews ordered for Eritreans grilled by suspicious visa officer, 5 August 2011, http://bit.ly/p1SYwm
e) New Refugee Determination System Date set for June 2012
In late August, Citizenship and Immigration Canada announced that the major changes to Canada's refugee determination system will be implemented on 29 June 2012.
These changes are part of Bill C-11, approved in 2010. For more information about the changes and for updates, see:
http://ccrweb.ca/en/refugee-reform.
f) Speak Up!  Apply to the new CCR Youth Network program
Do you want to help ensure that non-citizen children and youth rights are respected in Canada?
Apply for a Speak Up! grant with the CCR Youth Network!
The CCR Youth Network is offering funding and support to groups of newcomer youth from across Canada to develop creative public education or advocacy resources that promote the rights of non-citizen children and youth.
Short videos, music videos, workshop outlines, popular theatre scripts, podcasts, speakers' bureau, online resource collections... whatever you can think of!
Project proposals must fall within the scope of the Children and Youth Rights under the Canadian Immigration System campaign.
Deadline for applications: September 19th, 2011
Grant amount: up to $1500
For more information: ccrweb.ca/en/speak-up
g) Participate in the CCR Summer Working Group meetings in Montreal, 9-10 September 2011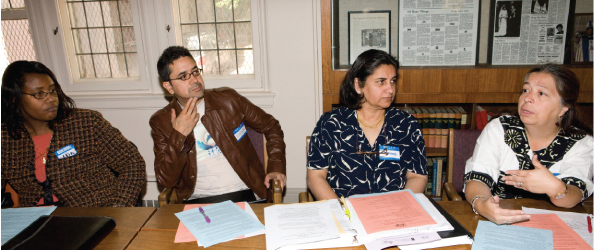 Do you want to be part of efforts to promote rights for refugees? Want to participate in in-depth discussions on pressing issues affecting refugees and immigrants in Canada?  Looking to share information and strategies with others from across Canada? 
Participate in the CCR Summer Working Group meetings in Montreal, 9-10 September 2011!
When: 9-10 September 2011, 9:30am - 5 pm
Friday 9 September, 9:30am - 5pm: Overseas Protection & Sponsorship
Saturday 10 September, 9:30am - 5pm: Inland Protection; Immigration & Settlement
Where: Anglican Diocese of Montreal, 1444 Union (metro: McGill), Montreal
Who: All interested NGO representatives and individuals.  The CCR encourages broad participation.  The meetings are closed to government and media. There is no cost to participate in the meetings and no registration is necessary.
For more information and for a pamphlet about the Working Group meetings, see: http://ccrweb.ca/en/meetings
h) Faces of the CCR: Munira Abukar, CCR Youth Network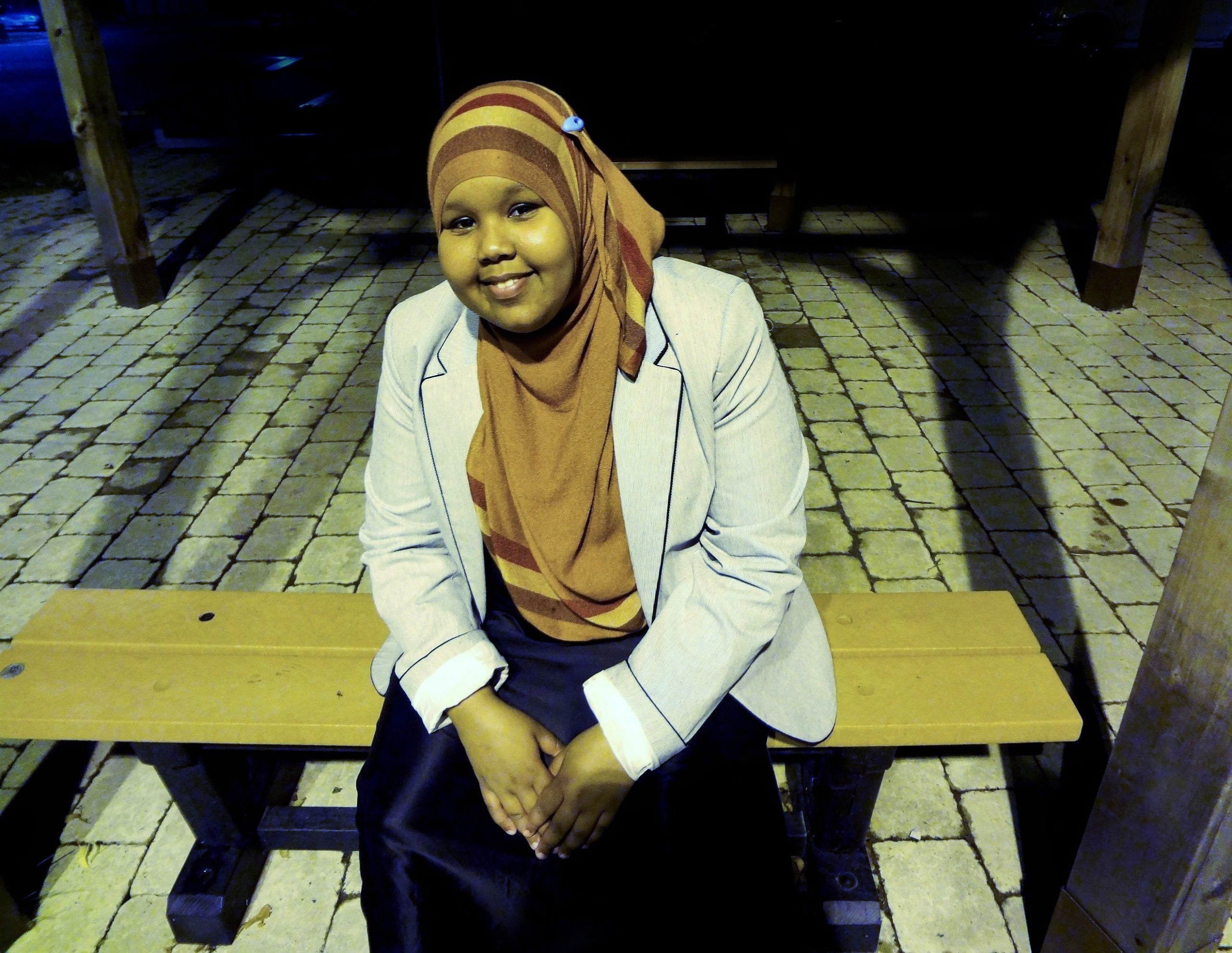 Munira Abukar was born and raised within the walls of Toronto Community Housing. "It's an overall great community," she says. However "growing up in an underprivileged neighbourhood, you face extreme discrimination. I really do love my community and it is great to be a builder in this large structure of unity."  The daughter of Somali immigrants, Munira finds passion not in herself, but in the strength of others: her parents, her older siblings and her Toronto community. "It is with their support that I have the passion to do what I love: giving back."
'Involved' is the understated adjective Munira uses to describe herself. She is an active member of nearly a dozen committees in the Toronto area and has been recently elected to the Board of Directors of Toronto Community Housing. "What I am really passionate about is trying to find a balance for equality, justice and helping others. My passion for the wellbeing of others spills over into other aspects of my life."
What drives her? "We see so much apathy and violence in youth today, so I have chosen to be involved and to fight back against the many stereotypes I hear about.  One has to wonder what made [youth feel apathetic]. People aren't born apathetic, they become this way because they give up on a problem they think is unchangeable. These youth aren't apathetic, just misguided."
Munira became involved with the CCR because of these experiences, first attending the Consultation in Windsor in 2009.  Highlights for her included meeting many new faces, working with amazing people and helping to pass five action items. "The CCR has really changed my personal and professional life. My hopes for the CCR Youth Network would be to have a participatory club in every high school across Canada learning about the CCR.  I believe that the CCR Youth Network will expand to a point of emerging as a policy-changing force in Canada." 
i) New from the CCR
Database of resources relating to trafficking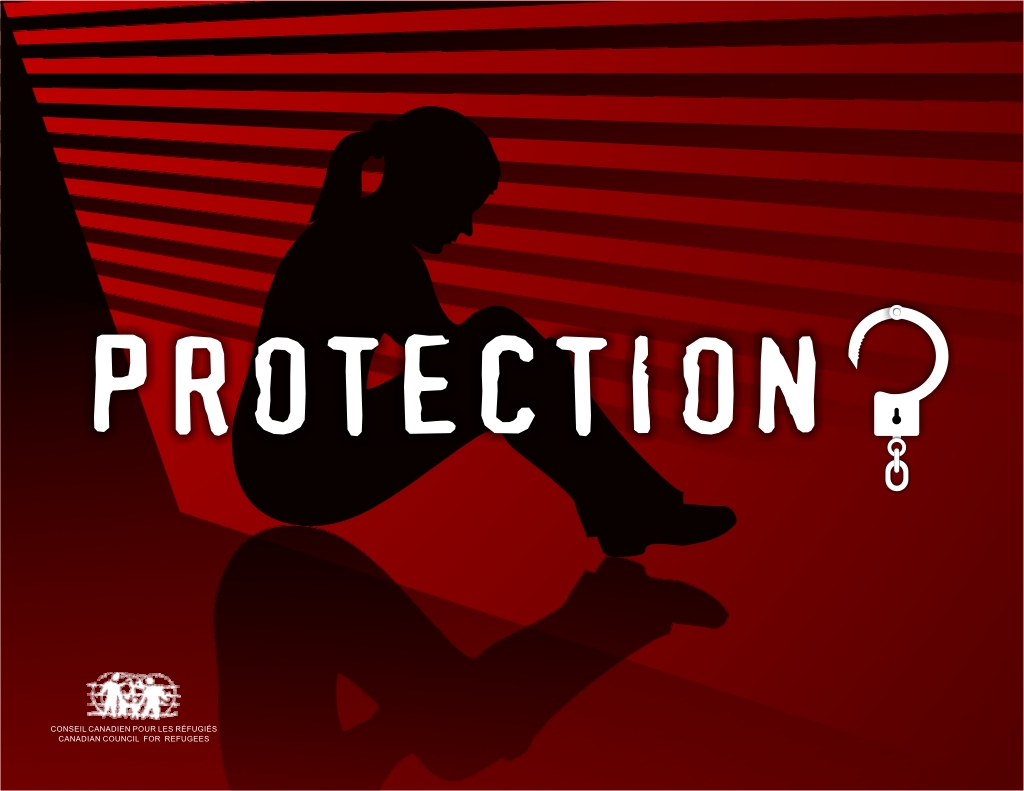 Are you involved in raising awareness about human trafficking?  Browse the CCR's *new* database of Canadian and international resources.
Available at: http://ccrweb.ca/en/trafficking-resources, this database was made possible through funding from Justice Canada.
For more information about the CCR's campaign for the protection of trafficked persons in Canada, see: http://trafficking.ca
Children and Youth Rights: Canada has work to do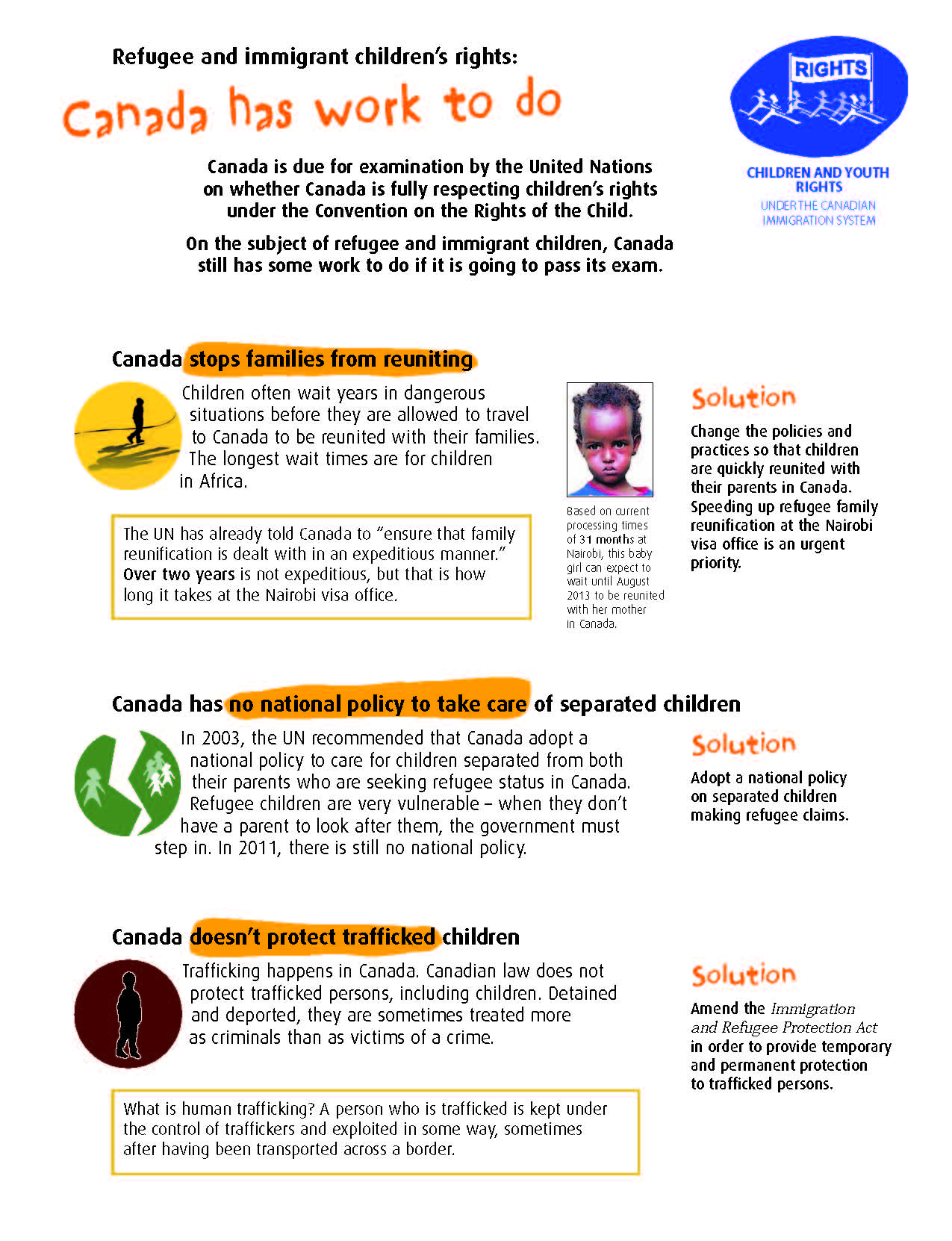 The United Nations will soon examine Canada on its respect for children's rights
under the Convention on the Rights of the Child. Canada still has work to do on refugee and immigrant children's rights if it wants to pass the exam. Leading up to this examination, the Youth Network has come up with some key issues of concern that Canada should focus on.
Canada has work to do is a handy two-page backgrounder that outlines these concerns and can be printed out or ordered from the CCR office.  Use it to talk about children and youth rights in your community or as a part of the Children and Youth Rights under the Canadian Immigration System campaign this fall, leading up to the Universal Children's Day on 20 November.
CCR Spring Consultation 2011 Report
The report of CCR's Spring Consultation on the theme of Honouring Refugee Rights: 60th
anniversary of the Refugee Convention (Hamilton, May 2011) is now available at:
http://ccrweb.ca/sites/ccrweb.ca/files/conference_report_may2011.pdf
Many thanks to all who contributed in different ways to the success of the Consultation!  Stay tuned for information about the upcoming CCR Fall Consultation in Montreal, 24-26 November 2011.  Details about the Consultation will be posted at: http://ccrweb.ca/en/meetings in mid-September.
-----
Looking for other ways to stay in touch with the CCR and refugee and immigration issues?  Subscribe to receive updates from the CCR on Twitter and Facebook:
To join the CCR on Facebook: http://www.facebook.com/ccrweb
To follow the CCR on Twitter: http://twitter.com/ccrweb
To view CCR videos on YouTube: http://www.youtube.com/ccrwebvideos