Address
St. James United Church
1435, rue City Councillors
Montreal QC H3A 2E4
Canada
Join us 28 - 29 August 2015 for the Working Group meetings in Montreal.
FRIDAY 28 AUGUST:
9:30am - 5pm: Overseas Protection & Sponsorship Working Group meeting
SATURDAY 29 AUGUST:
9:30am - 5pm: Inland Protection Working Group meeting
9:30am - 5pm: Immigration and Settlement Working Group meeting
Location
St. James United Church
1435, rue City Councillors
Montreal, QC H3A 2E4
About CCR Working Group meetings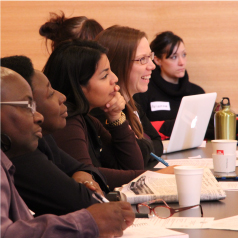 The CCR's three Working Groups provide forums for CCR members and other refugee and immigrant rights advocates to exchange information, network and develop policy positions in particular areas of concern.  Each Working Group is responsible for preparing resolutions, following up on action items, and planning workshops for the consultations, as well as for advising the CCR Executive on policy.  The Working Group meetings are closed to representatives of government and the media.
The CCR Working Groups meet four times a year.  Two of these meetings take place during our Spring and Fall Consultations.  The other two series of working group meetings take place in February (in Toronto) and in September (in Montreal).
The working group meetings offer an excellent opportunity to:
Participate in efforts to promote refugee protection and resettlement, and the settlement of refugees and immigrants
Discuss in depth pressing issues affecting refugees and immigrants in Canada
Share information and strategies with others from across Canada.
All CCR members are encouraged to attend the Working Group meetings.  Anyone who is interested is welcome to participate, however meetings are closed to media and government employees.