How are you Walking with refugees?
An early start… Anderson and Ta Hay Tha lead Skiing with refugees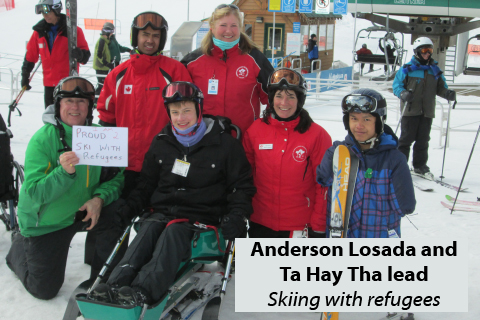 The Walk with refugees got an early start in 2014 at highest point of one of the highest cities in Canada - and with skiing rather than walking!
For amputees – and former refugees – Anderson and Ta Hay Tha, skiing is much easier. They've both adopted the iconic Canadian winter sport like fish to water.
"Skiing makes me feel happy and excited. It is one of the few sports we can both really do well," says Anderson Losada, a 16-year-old land-mine survivor from Colombia who has learned to race a 3-track ski together with Ta Hay Tha, a 15-year-old Karen, who uses a unique set of skis designed for him.
Together in March they led skiers and instructors at the Annual National Festival for the Canadian Association of Disabled Skiers (CADS) in a 2020-km warm-up version of a Walk with refugees.
Anderson is member of the CADS Alberta ski team and qualified to compete at the Canadian national finals for disabled skiers this year. But not quite... During the event, CADS participants learned that Anderson and Ta Hay Tha, and other former refugee youth, can't qualify to compete at national CADS races because they aren't officially 'Canadian'.
Anderson, Ta Hay Tha and their family members have been living here for years, but don't qualify for Canadian citizenship. New rules mean that they have to wait even longer and pass stricter tests. Anderson has to wait at least two years before he can apply for citizenship on his own. Until then, he cannot meet his full potential - or participate - in all that Canada and his skiing talents have to offer. Meanwhile, it's the rest of us who miss out on meeting athletes like Anderson and Ta Hay Tha who make Canada proud.
For more about Anderson Losada, Ta Hay Tha and their accomplishments, read this article in the Kimberley Daily Bulletin: http://www.dailybulletin.ca/ourtown/250972651.html
Click here to see how other groups are Walking with refugees this June.
---
Victoria as home… through new eyes
The Central Branch of the Greater Victoria Public Library will be home base for a Walk with refugees on 21 June 2014, the day after World Refugee Day. Organized by a diverse group from around Victoria, the Walk will invite participants to make different stops along the way for reflection and engagement.
Confirmed stops include:
Newcomer youth performances on their experiences in the city: What do we mean when we ask 'Where is home?'
Social justice quilt-making
A maze with thought-provoking questions
A photo booth
… and more!
The library will provide more than bookends for the Walk too. Its outdoor courtyard will host cultural activities, food, entertainment and information about local groups working together with newcomers to make Victoria a welcoming community for all – and how Walk participants can join in the welcome!
For more information, check the Victoria listing on the Walk with refugees map.
---
The Walk with refugees... an old tradition in Trois-Rivières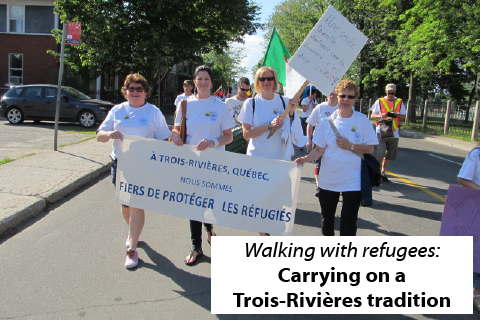 Ivan Suaza, Director of Service d'accueil des nouveaux arrivants de Trois-Rivières (SANA) and a resettled refugee himself, began World Refugee Day the tradition of solidarity walks with refugees in 2007. This year's Walk with refugees will carry on that tradition this 20 June 2014. The 8th edition of this Walk will take place on World Refugee Day (20 June).
The Walk will start at SANA, wind its way through the main streets of the city centre to attract the attention of sidewalk café onlookers, with a grand finale at Trois-Rivière's Harbour front Park. A colourful performance with refugee testimonies and speeches by dignitaries will end the day on a hopeful note.
Participants will walk Trois-Rivières' streets to the sound of drums, with flags and banners in hand. Passersby will receive flyers, buttons and answers to their questions about refugees. The first 100 Walkers to arrive at Harbour front Park will also receive a free t-shirt, as a gesture of solidarity and an ongoing symbol of being Proud to Protect Refugees every day.
Local media will also join the gathering of newcomers, volunteers and members of SANA, partners, MPs, community organizations others in Trois-Rivières. Media coverage of past Trois-Rivières Walk events has highlighted the strengths of refugees and their contributions to the community. This year will see that tradition continue.