Canadian Council for Refugees
Public statement
June 14, 2023
CCR welcomes Co-Executive Directors
The Executive Committee of the Canadian Council for Refugees (CCR) is pleased to announce the appointment of its new Co-Executive Directors, marking a transition to an exciting new model of leadership that centers power-sharing.
Image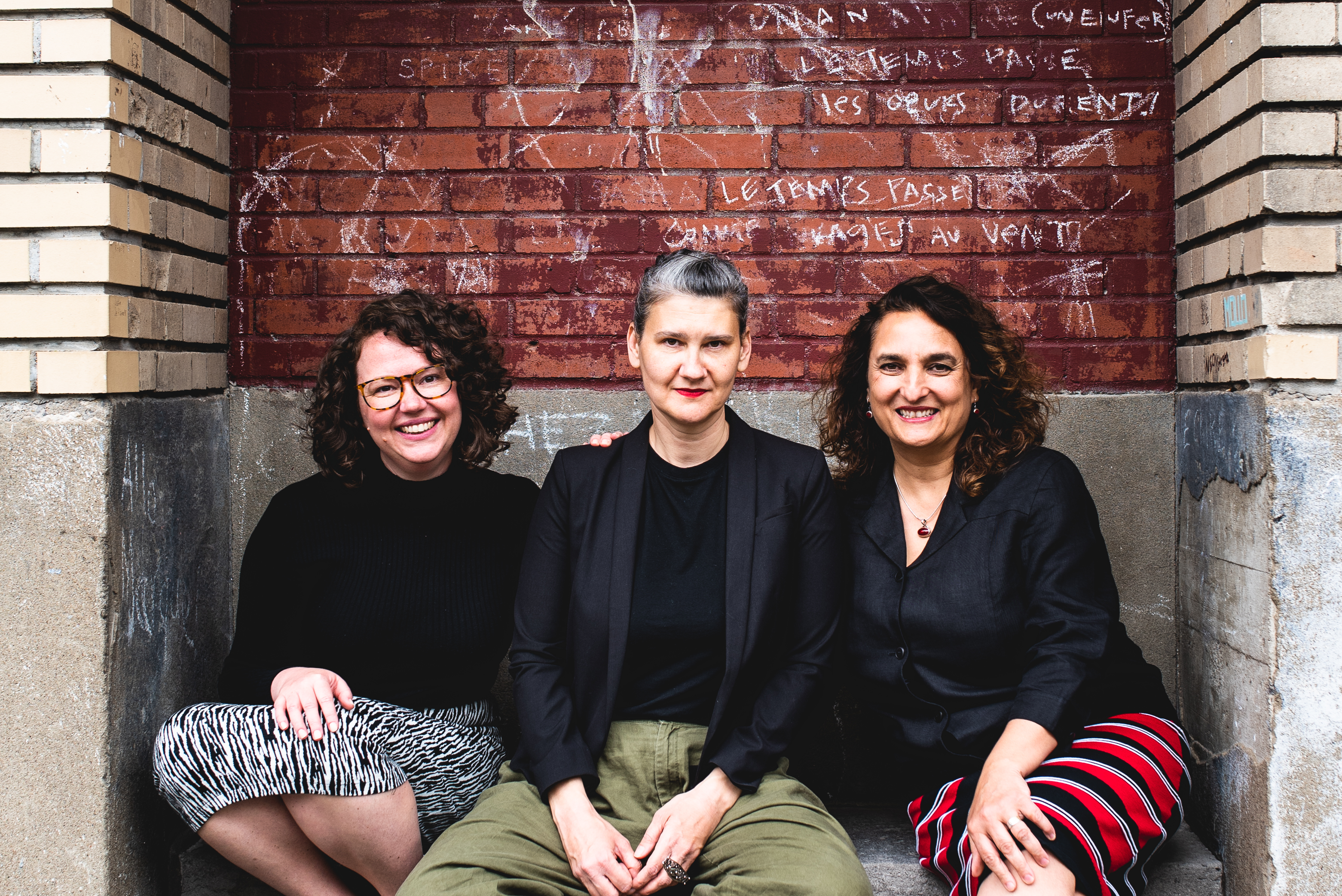 CCR President Aleks Dughman-Manzur welcomes Co-Executive Directors Lauren Lallemand (Finance and Operations), Tanja Maleska (Communications and Development), and Gauri Sreenivasan (Policy and Advocacy) to the Canadian Council for Refugees. Together they form a new tripartite leadership team at the CCR, inspired by a feminist tradition of power-sharing. They will each function as lead in their portfolio of responsibilities, while seeking input from their peers and striving for consensus in decisions impacting the whole of the organization.
"On behalf of the CCR Executive Committee, I am delighted to welcome Gauri, Lauren, and Tanja as our new Co-Executive Directors," said CCR President Aleks Dughman-Manzur. "Individually and as a team, they bring a wealth of expertise, knowledge, and compassion, as well as a diverse combination of complementary skills and lived experience. We look forward to working with them as we continue to stand in solidarity with and advocate for refugee and migrant rights and fulfill our strategic goals."
This new leadership model was introduced as part of the CCR's 2022-2026 Strategic Plan, as a reflection of the organization's values of power sharing, mutual support, collaboration, and learning from diverse skills and experiences.
Biographical notes
Lauren Lallemand (she/elle) is a passionate advocate for human rights and social justice with over 10 years of experience working in international development and refugee advocacy. In this work she has focused on the intersections of gender, food security, foreign policy, and forced migration, with a particular focus on bringing multiple stakeholders together to enact collective change.
Lauren is originally from Tiohtià:ke (Montreal) and has lived and worked across the globe including in Latin America, Europe and South Asia. She has worked in operations and program coordination at a number of different non-profits in Canada, including the Canadian Council for Refugees, Action Réfugiés Montréal, and Montréal City Mission. Through these experiences she brings extensive knowledge and expertise related to the refugee sector in Canada, in particular related to refugee sponsorship and migrants without status. Prior to joining CCR, Lauren worked as the coordinator on a pilot project launched by the Just Solutions Legal Clinic (Montreal City Mission). Lauren is committed to bringing an intersectional feminist lens to her work in order to facilitate social justice and transformation.
Lauren has an MSc in International Development from Ghent University, an MSc in Gender, Development and Globalisation from the London School of Economics, and is fluent in English, French and Spanish. She is currently based in Tiohtià:ke (Montreal).
Tanja Maleska (she/elle) is an activist and a feminist with over fifteen years of experience in non-profit management, communications, and development. Tanja spent over a decade in the role of Co-Director, Policy and Strategy with the Macedonian feminist think-tank Reactor – Research in Action, where she shared power in a three-member team under a collaborative leadership model. In that role she also helped build youth and feminist coalitions and managed member relationships. She has led communications and/or development for various non-profits, including Habitat for Humanity North Macedonia and the Global Centre for Pluralism in Ottawa. She is committed to positive, hope-based communications that imagine better worlds and looks forward to using the CCR platform to help build a Canada in which refugees and other newcomers can take up space and thrive.
Tanja is a new settler who immigrated to Canada as an adult. Born in Yugoslavia (now North Macedonia), she lived in Ethiopia, Austria and then back in North Macedonia before making her way to Turtle Island. Having spent years navigating the Canadian immigration system, she brings important lived experience to the CCR leadership.
She lives in Tiohtià:ke (Montreal) with her partner and two kids.
Gauri Sreenivasan  (she/elle) is a leading policy advocate and strategist for human rights, equity and a thriving planet. Gauri brings over 30 years of experience working in leadership roles across civil society, Parliament Hill, and with academia and researchers to build alliances for change on Turtle Island and around the world. She was most recently Policy and Campaigns Director for Nature Canada. Gauri also worked for 15 years at the Canadian Council for International Cooperation (CCIC) as a senior analyst and team leader, as the Director of Parliamentary Affairs for the Official Opposition, and as a Policy and Research Director at the Federation for the Humanities and Social Sciences and the Canadian Centre for Policy Alternatives.
Born in Treaty 7 territory (Calgary), the daughter of immigrants from India and the US, Gauri is a fierce feminist and passionate about building Canadian leadership at a local, national and global level to secure a just and secure future for all. Gauri is fluent in both of Canada's official languages, with some Spanish as well. Outside of Turtle Island she has lived and worked with community and human rights organizations in Central America and India.
Gauri has an MA in International Affairs from Carleton University and lives in Anishinabe Algonquin territory (Ottawa) with her partner, while adjusting to an emptying nest.
About the Canadian Council for Refugees
The Canadian Council for Refugees is a national non-profit umbrella organization committed to the rights and protection of refugees and other vulnerable migrants in Canada and around the world and to the settlement of refugees and immigrants in Canada. The membership is made up of organizations involved in the settlement, sponsorship and protection of refugees and immigrants. The Council serves the networking, information-exchange and advocacy needs of its membership.
The CCR was created in 1978 and has grown steadily since then. It has come to be recognized as a key advocate for refugee and immigrant rights in Canada, educating the public and putting issues onto the national agenda.