Canadian Council for Refugees E-Chronicle Vol. 7 #2, 1 May 2012
CONTENTS:
New resources from the CCR

- Updated resources at ccrweb.ca/en/migrant-workers
---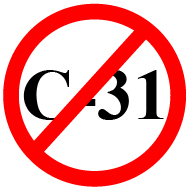 Bill C-31 has now finished debate at second reading in the House of Commons and it now being studied by the Parliamentary Standing Committee on Citizenship and Immigration. Witnesses from community groups and other interests will be presenting their views on Bill C-31 and its potential impacts in the next two weeks.
These presentations can be watched via online video at: http://bit.ly/Ikbvfq
It's not too late to speak with Members of Parliament about Bill C-31, especially Conservative Party MPs and MPs on the Parliamentary Standing Committee on Citizenship and Immigration. You'll find resources to contact MPs with your concerns on Bill C-31 at: http://ccrweb.ca/en/write-your-member-parliament
Contact details for MPs on the Parliamentary Standing Committee are available at: http://ccrweb.ca/sites/ccrweb.ca/files/cimm042012.xls
Please encourage others to do the same.
Go Public: Talk about the impacts of Bill C-31 with neighbours, friends and others in your community
Demonstrating the human impacts of this bill is one of the best ways to speak out against it. Talk to friends about the potential impacts on individual refugee claimants. Show your opposition to the Bill in public demonstrations. Use individual stories when talking to the media. Each story, each case can convince others that Bill C-31 is a bad policy for refugees and for Canadians.
Some groups in cities across the country have started to organize weekly vigils about Bill C-31 and its impacts. To see how you can do something similar, follow https://www.facebook.com/stopbillc31
Speak out against Bill C-31 through social media networks
If you use Facebook and Twitter, use your social networks to speak out against Bill C-31. For more information on how to get involved (and for model tweets!), see: http://ccrweb.ca/en/social-media-c31
Background:
On 16 February 2012, the government issued Bill C-31 to reform Canada's refugee determination system.
The CCR is seriously concerned that Bill C-31 will create a two-tier system of refugee protection in Canada. It makes refugee protection in Canada dangerously vulnerable to political whims, rather than ensuring a fair and independent decision about who is a refugee. It also includes costly measures to detain refugee claimants and to revoke the status of refugees who are now permanent residents.
Bill C-31 must be withdrawn and replaced with legislation which is fair, affordable, and independent, and which complies with the Charter and Canada's international obligations.
Despite efforts by the opposition to make amendments to the bill, the government is determined to push it through Parliament quickly. It has presented a motion to limit debate on Bill C-31, which will see the bill voted on and sent to a parliamentary standing committee for study very soon.
For more information, and all of the resources listed above, see: http://ccrweb.ca/en/refugee-reform
 On 25 April, Citizenship and Immigration Canada announced changes in Interim Federal Health (IFH) Program coverage for refugee claimants and protected persons. While the Minister of Citizenship and Immigration claims that the announced changes will only deny services that are not included in basic care for Canadians, in fact they cut much deeper.
The CCR is concerned that these proposed changes unjustly discriminate against people in need and, worse, leave some people to suffer debilitating illnesses or to die without treatment. The changes will deny essential care to individuals and families because of their country of origin or technical mistakes made during the refugee claim process. Some people in need of urgent medical attention will be forced to live with chronic, untreated conditions.
The announced changes will:
Create a two-tier system of refugee care in Canada, discriminating between refugee claimants on the basis of their country of origin
Deny necessary medical care on arrival in Canada to resettled refugees or accepted refugee claimants with acute health needs
Institutionalize gender discrimination
Deny long-term, essential medical coverage to individuals who are living in Canada in limbo
Offload costs to provinces
For further details, see the CCR's press release on changes to the Interim Federal Health program at: http://ccrweb.ca/en/bulletin/12/04/27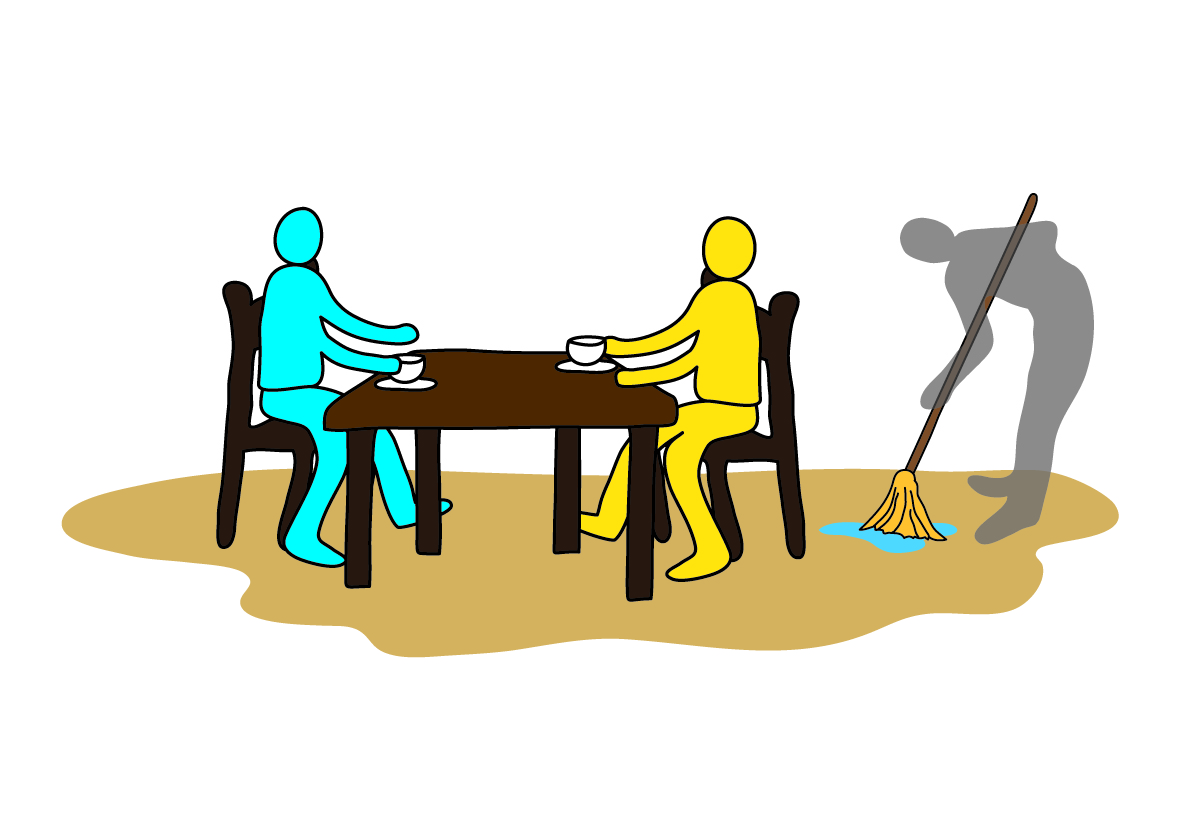 This International Worker's Day (May 1st), the CCR decries the recent announcement by Human Resources and Skills Development Canada introducing unequal wages through the Temporary Foreign Worker Program. HRSDC is fast-tracking processing for employers to bring temporary foreign workers to Canada, and allowing them to pay them 15% below the average wage paid to Canadian workers.
This change will mean that Temporary Foreign Workers with the same skills as Canadian workers will routinely be paid below average wages for doing the same work. The CCR believes that Canadians support principles of fairness and equality, and that the new rules breach those values.
There are already many documented cases of abuse and exploitation of workers under the Temporary Foreign Worker Program. The announced changes will allow workers to be officially taken advantage of and will set a precedent of inequality.
In addition to concerns over discrimination, there is also the worry that offering lower wages to foreign workers will make them more competitive than Canadians, and thus push wages down for all workers.
To read the complete press release, see: http://ccrweb.ca/en/bulletin/12/05/01
The CCR migrant workers campaign has three central demands: protection of workers' rights, access to permanent residence, and access to services (including settlement services).
To find out more about this campaign and how you can get involved: http://ccrweb.ca/en/migrant-workers

In these tough economic times how do we ensure that refugees are treated fairly and honourably, in a process that is independent and affordable? How can we promote immigration policies and practices that avoid unnecessary costs for newcomers and the Canadian taxpayer?
Together with these questions, the Consultation will discuss current issues affecting refugees and newcomers, including the impacts of Bill C-31 which reforms Canada's refugee system. Three government departments (Citizenship and Immigration Canada, Canada Border Services Agency and the Immigration and Refugee Board) will share their perspectives on Bill C-31 and will be available to answer questions during a special plenary session.
In addition to larger plenary sessions, workshops and working sessions will produce strategies for further collaboration and specific actions.  Some of the topics include:
Monitoring mental health: settlement workers, emerging issues, and deportation
Spotlight on Syria: refugee protection in the midst of conflict
Focus on francophone communities: refugee sponsorship and integration services
Addressing the root causes of displacement
Youth issues and the Convention on the Rights of the Child
… and much more
Information about the consultation, consultation program and online registration forms are available at: http://ccrweb.ca/meetings  Register before 11 May to take advantage of the reduced fees! 
Cathy Kolar is an Immigration Specialist at Legal Assistance of Windsor supporting survivors of human trafficking and vulnerable workers living with precarious immigration status. For the past decade, Cathy has been involved in outreach to the migrant and 'undocumented' population living in Southwestern Ontario as a volunteer with the Windsor Refugee Office.
During that time, Cathy has witnessed cases where low-skilled temporary foreign workers fit the definition of trafficking in Canada. The government's approach to labour exploitation has, however, continued to distinguish between undocumented labour exploitation – the common view of 'trafficking' - and labour exploitation in official programs.
According to Cathy, "If we understand human trafficking to be, at its most basic definition, the luring of a person through deception, and the exploitation of that person through the use of force, coercion or manipulation, it is easy to see how the structure of the Temporary Foreign Worker Program facilitates that trafficking of persons."
In Windsor, more than two dozen workers have been recognized as trafficked persons. All entered Canada as temporary foreign workers. What else did these cases have in common?
Recruiters abroad lied to them about wages, housing, and residency to lure them to work in the Temporary Foreign Worker Program.
Unregulated recruitment fees of up to $12,000 led them into debt bondage.
The conditions of the program bound them to their employer in Canada.
All feared financial ruin, harm and ultimately deportation, silencing any opposition to wage theft, poor housing, unsafe working conditions.
Unfortunately, these cases are not unusual. While Cathy supports the CCR's proposal for a legislative amendment to protect survivors of human trafficking in Canada, we must also address similar issues affecting temporary foreign workers. Like trafficked persons, debt is used to silence temporary foreign workers, permits are not issued to escape exploitative employers, and the threat of illegality and deportation, enforced by the federal government, is the punishment for those who would dare question or resist.
While it's clear that government approaches to human trafficking and labour exploitation must adapt to this reality, how can we?
"CCR member organizations need to call the Minister of Citizenship and Immigration to account for expanding programs for temporary foreign workers that, by their own statistics, have resulted in recognized cases of international human trafficking in Canada," says Cathy.
In Cathy's view, to counteract this "we need to consider aligning ourselves where possible with groups to whom the government does listen – businesses - to confront the negative economic costs of impermanent labour."     
Finally Cathy notes that "there are no funded organizations or programs to reach out to temporary foreign workers with information, much less protection. Canadians need to build relationships with the migrant workers and people who have been trafficked, incorporating them not only into our communities, but into any action we take with respect to their interests."
- New and updated resources on migrant workers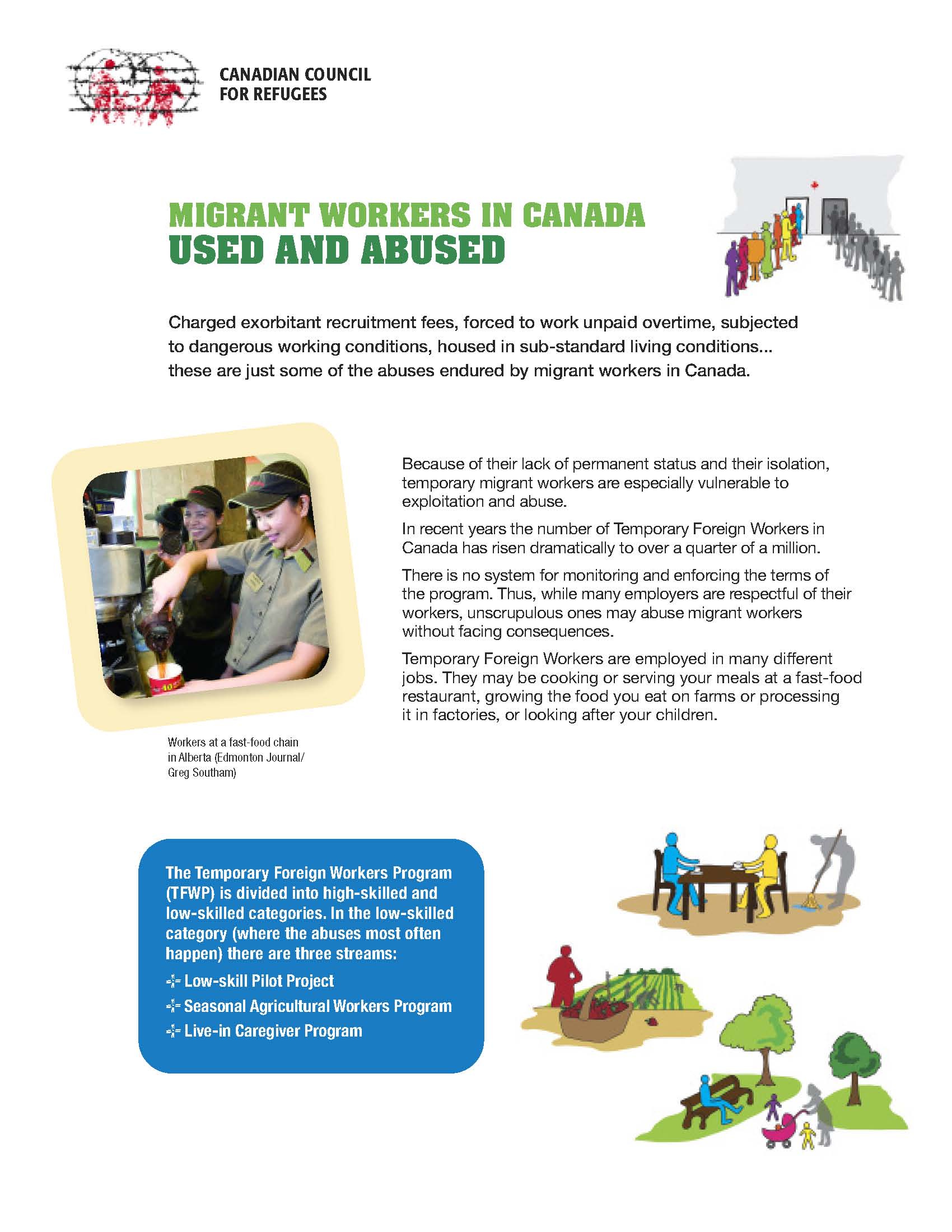 In recognition of International Workers Day on May 1st, the CCR has posted new and updated resources at: http://ccrweb.ca/en/migrant-workers including short videos, information documents which include profiles of migrant workers and much more.
Check them out and share them on Facebook and Twitter using #workersrights
Looking for other ways to stay in touch with the CCR and refugee and immigration issues?  Subscribe to receive updates from the CCR on Twitter and Facebook:
To join the CCR on Facebook: http://www.facebook.com/ccrweb
To follow the CCR on Twitter: http://twitter.com/ccrweb
To view CCR videos on YouTube: http://www.youtube.com/ccrwebvideos