On July 5, 2016, the Government of Canada launched consultations on the immigration program and is inviting input on a series of questions.
The following are the CCR's priority concerns in response to those questions. 
---
Strengthening our Canadian fabric
1. How many newcomers should we welcome to Canada in 2017 and beyond?
Immigration levels should be set at a minimum of 1% of the population. It is important that we also invest the resources needed for successful settlement and integration.
ccrweb.ca/en/res/immigration-levels-one-percent
2. How can we best support newcomers to ensure they become successful members of our communities?
Ensure that immigration policies do not hinder integration. Key factors are:
Speedy and inclusive family reunification (much faster processing and a broad and inclusive definition of family member http://ccrweb.ca/en/family-reunification)
Access to secure status (pathways to permanent residence open to all, including migrant workers, persons who have been trafficked, legacy refugee claimants, long-term residents in limbo, people who fall through the many cracks in the immigration system; reducing loss of permanent residence (e.g. through cessation), and facilitating access to citizenship)
Eliminate long processing delays which cause significant serious stress and postpone integration (processing of permanent residence, work permits, citizenship applications)
Eliminate financial burdens (excessive processing fees, transportation loans)
Avoid immigration detention (even for short periods) – it has long-lasting impact on mental health.
http://ccrweb.ca/en/refugees-newcomers-vision-Canada
Fund strong settlement services
Provide adequate support for settlement services, with improved administration of funding contracts so that organizations can use the funds available more effectively. Implementation of the recommended practices in the 2006 Blue Ribbon report on Grant and Contribution programs would allow settlement funding allocations to be managed in a manner that is respectful of the organizations providing services and sensitive to the impact on the newcomers served. http://ccrweb.ca/en/res/blue-ribbon-report
Increase support for language training, including childminding for those attending language classes, so that newcomers can learn enough English and French to succeed in Canada, taking into consideration particular challenges, such as experiences of extreme trauma or low literacy.
Amend eligibility rules for settlement services so that all newcomers have access, based on need rather than on immigration status or length of time in Canada. This includes making refugee claimants and migrant workers eligible for services.
Combat discrimination
Combat racism, xenophobia and all forms of discrimination. Prejudice against Muslims is a key priority. The government needs to continue to make strong statements about the importance of respecting the rights of refugees and highlighting the contributions refugees and immigrants make.
3. Do we have the balance right among the immigration programs or streams? If not, what priorities should form the foundation of Canada's immigration planning?
The balance between the three main streams (economic, family and refugees) has become seriously distorted in recent years.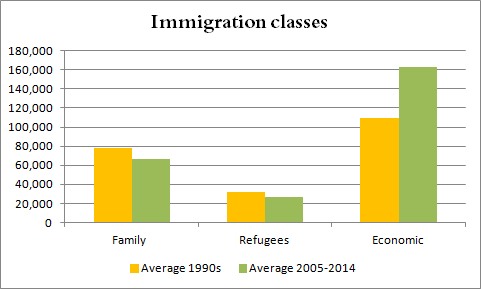 The balance needs to be restored: significantly higher priorities need to be given to family and refugees.
Family Class
Families should make up at least 40% of the total immigration.
http://ccrweb.ca/en/res/increased-commitment-family-reunification
Resettlement levels
The government should plan for significant numbers of refugees to be resettled to Canada in the 2017-2019 immigration levels, both government-assisted refugees and privately sponsored.
Recently the government has begun to open the door wider to refugees. In particular thousands of Syrians have been resettled and welcomed into communities across Canada. It is important that we continue to keep the door open wider to refugees, especially at a time when the UNHCR tells us that there are over a million refugees in need of resettlement. 40% of them are in Africa: Canada needs to respond equitably to refugees other than Syrians.
Canada can and should accept 20,000 Government Assisted Refugees (GAR) a year.
Private sponsorship levels need to be high to respond to Canadians' willingness to sponsor, Private sponsorships must be additional to GAR numbers.
Refugee family reunification
Admission levels for overseas spouses and children of refugees recognized in Canada (DR2) need to be increased. Currently, processing of this category is extremely slow: 34 months. This is twice as long as Family Class spouses and children overseas (17 months)! Part of the reason the processing times are so slow is that the levels are not high enough: once the target for the year is met, visa offices postpone processing of refugee family members until the next year.
Rethinking current categories
It would be useful to consider reframing the current classification itself. The naming of the "economic class" is misleading insofar as it obscures the important economic contributions made by newcomers in other categories.
---
Unlocking Canada's diverse needs
How can immigration play a role in supporting economic growth and innovation in Canada?
Immigration can best support economic growth and innovation by:
Ensuring that selection of immigrants reflects labour needs (i.e. if "low-skilled" workers are needed, they should be selected as permanent residents, rather than brought in as migrant workers)
Newcomers have secure status so that they can contribute to their full potential and are motivated to invest in society.
Should there be more programs for businesses to permanently hire foreign workers if they can't find Canadians to fill the job?
We question whether businesses should take over the government's role in determining who can immigrate to Canada. It is the job of government to select immigrants based on the broad  political, cultural, social, economic and demographic interests of the country. These interests include ensuring respect for human rights and non-discrimination. Businesses act according to their own commercial interests, which may not always align with the national interests.
What is the right balance between attracting global talent for high-growth sectors, on the one hand, and ensuring affordable labour for businesses that have historically seen lower growth, on the other?
Canada needs a wide range of workers in different areas and with different skills. All should be treated equally. Currently there is a hierarchy where "high skilled" workers have many more rights and privileges, while "low-skilled" workers are under-valued and treated as second class, with far fewer rights and privileges (e.g. no access to permanent residence, no right to be accompanied by family).
The need for equal treatment is particularly important given the way the immigration program reinforces inequities based on race. Those entering Canada as low-skilled workers (and thus with distinctly fewer privileges) are predominantly racialized persons, whereas the main source countries for the high skill/high wage workers tend to be highly developed countries (mostly white).  This unequal treatment perpetuates historic racism in Canada's immigration program.
How can immigration fill in the gaps in our demographics and economy?
Newcomers of all categories (economic, refugees and family) flourish in Canada if given the chance.
We should value the full range of contributions made by newcomers: demographic, social, cultural, political and economic. There is a tendency to disproportionately value the economic contribution.
We also note that all categories contribute to the economy. For example, parents and grandparents have too often been unfairly dismissed as being non-contributing, while in fact they make significant contributions, notably by providing childcare and thus enabling younger generations to work in the formal economy.
What Canadian values and traditions are important to share with newcomers to help them integrate into Canadian society?
A recognition of the First Peoples' history and current realities and of the treaties is required, for newcomers as for all Canadians. (As directed by the Truth and Reconciliation Commission's calls 93 and 94, the Welcome to Canada guide and the Discover Canada guide need to be updated with appropriate inclusion of Indigenous Peoples and the citizenship oath needs to be amended to refer to the treaties).
http://ccrweb.ca/en/res/truth-and-reconciliation-commission-call-action
---
Modernizing our immigration system
Currently, immigration levels are planned yearly. Do you agree with the thinking that planning should be multi-year?
We welcome the current consultations and emphasize the importance of having a meaningful consultation with NGO stakeholders at all stages of review.
http://ccrweb.ca/en/res/immigration-levels
What modernization techniques should Canada invest in for processing of applications?
Modernization needs to be done with a focus on the newcomer, especially the most vulnerable including many refugees, and without creating extra burdens on the NGOs that assist them.
Too many modernization techniques have been completely impractical for many refugees, e.g.:
Forms that must be completed online, even if the applicant is living in a precarious situation without access to internet.
Online payment of fees, including permanent residence application fees, which many refugees cannot use because (a) they do not have a credit card, and (b) the fees exceed the maximum allowed for Interac or pre-paid credit cards.
NGOs serving newcomers have also experienced much of what IRCC describes as modernization as a downloading to NGOs (for which they are not paid).
What should Canada do to ensure its immigration system is modern and efficient?
Simplify and reduce applications wherever possible, e.g.:
Issue refugee claimants a work permit automatically rather than requiring them to apply for one.
Provide for automatic permanent residence for persons found to be a Protected Person and their family members. (If necessary, the law could provide that this does not apply where CBSA /IRCC has raised an issue of potential inadmissibility.)  
Improve the online immigration application status tool by, for example, ensuring consistency of information entered, and adding date stamps to entries.
Is there any rationale for providing options to those willing to pay higher fees for an expedited process?
Absolutely not. It is completely unacceptable to discriminate based on the wealth of the individual. Many of those most in need of expedited processing (e.g. refugees with family members at risk) are the least able to pay even the existing fees.
Cases should be expedited based on rights issues: e.g. to protect the best interests of a child, to protect someone whose life, liberty and security are at risk.
---
Leadership in global migration and immigration
Is it important for Canada to continue to show leadership in global migration? If so, how can we best do that?
Yes, Canada is well-placed to play a constructive leadership role, including with respect to the protection of refugees. In the context of worrying increases in xenophobia and the closing of doors on refugees, it is particularly important that Canada play a strong international role.

Canada should:

Reform the refugee determination system so that it conforms to all human rights obligations and is fair and efficient for all claimants. (see our detailed recommendations)
Sign the 1954 Statelessness Convention and provide for protection for stateless people (as a ground for protection in the refugee claim process).
Set high levels for resettlement of both Government-Assisted and Privately Sponsored Refugees.
Provide effective opportunities for regularization for people in Canada without status.
Work more closely with NGOs serving refugees on an ongoing basis to shape Canada's refugee policies and programs.
How can Canada attract the best global talent and international students?
In what ways can Canada be a model to the world on refugees, migration and immigration?
Show scrupulous respect for human rights.
Ensure that children and their families are not held in immigration detention.
Maintain strong messaging about the positive contributions of all classes of newcomers.
Deliver effective services that treat applicants with respect.
Continue engagement of civil society in newcomer settlement and integration, e.g., through the Private Sponsorship of Refugees program and through funded programs aiming at connecting established residents with newcomers.
Actively work to counter racism and xenophobia, with specific attention to the impact on immigrants and refugees. http://ccrweb.ca/en/res/racism-and-xenophobia