Help organize a flashmob in your city for non-citizen children and youth rights!
Join the national mobilisation happening in several Canadian cities around November 20th, the Universal Day of the Child!
A flashmob is a group of people who gather suddenly in a public place, in order to perform something planned in advance (a street theatre act, a dance etc.). The goals are is to catch people's attention and  raise awareness on specific issues.
In order to raise awareness amongst Canadian citizens about the fact Canada does not respect non-citizen children and youth rights, the CCR Youth Network is preparing several flashmobs throughout Canada. This period of the year is a strategic moment since the United Nations is ready to examine Canada (November 2011-June 2012) on its respect of children rights. In addition, the objective of the flashmobs will be to gather signatures on a petition about non-citizen children and youth, so that we can then meet with Canadian MPs and give them the petitions.  
If you want to help organize a flashmob, collect petition signatures, or plan a meeting with your Member of Parliament, get in touch with the organizers in the following cities.
Your city is not on the list yet? Launch a group in your own city! Call us at 514-277-7223, ext. 3, or email us at cbeaudry@ccrweb.ca
Are you planning a flashmob-related event (info session, meeting, practice, etc.)? Let us know at cbeaudry@ccrweb.ca so that we can advertise it on our calendar.
***
Vancouver: Date TBA
Mustafa Delsoz: mdelsoz@gmail.com
***
Edmonton : November 20th
Juliana Andrea Cortes (CCR Youth Network Edmonton with the support of APIRG and Catholic Social Services in Edmonton): giuliana226@hotmail.com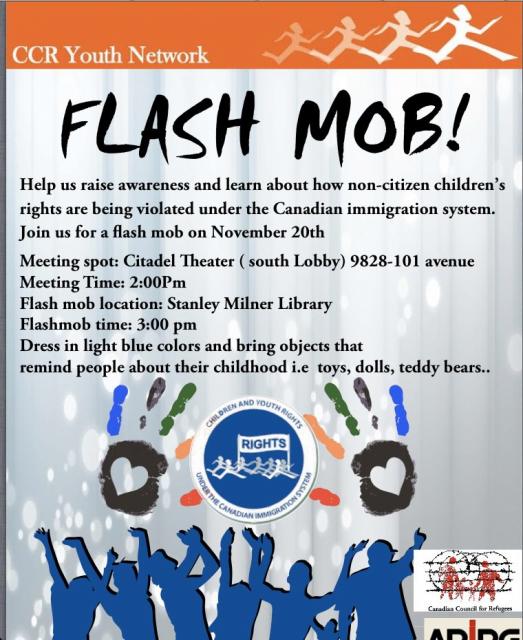 ***
Lethbridge : November 18th
Dugi Berisha (Lethbridge Family Services): dugi.berisha@uleth.ca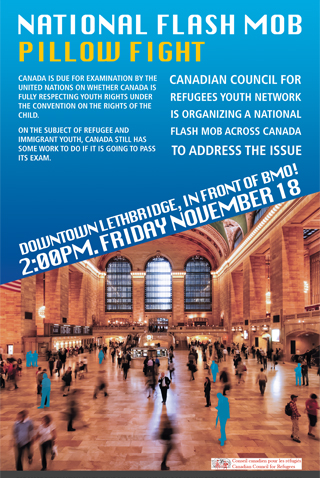 ***
Winnipeg : date TBA
Muuxi Adames: muuxi25@hotmail.com 
***
Toronto : November 18th
Kalsang Dolma (Parkdale Community Information Centre Youth Program): kalsang@pcic.ca 
***
Kitchener: December, December 10th
Kimberley Walker (Menonite Coalition for Refugee Support): kimberz_88@hotmail.com
***
Montreal : November 25th
Olivia Doggett (B.Refuge): olivia.doggett@mail.mcgill.ca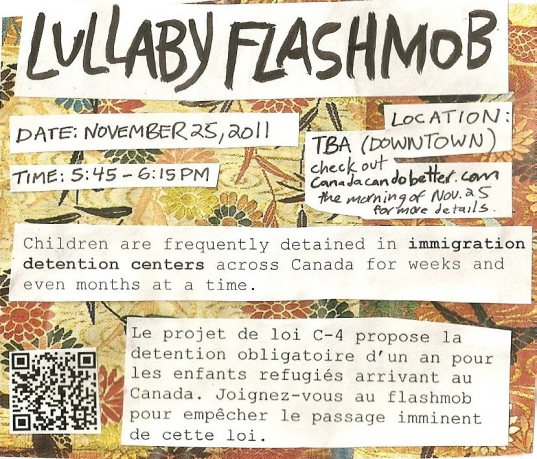 ***
St John's: November 22nd
Ashika Iqbal (Refugee and Immigrant Advisory Council): ashika.iqbal@gmail.com

***
Fredericton: November 19th
Saa Andrew (Multicultural Association of Fredericton Inc.): saaandrew@mcaf.nb.ca
***
Click here to see all flashmob media articles and here to see all campaign videos.