Project location: Toronto, Ontario
Organizing team Members: Julia Salmon, Chinué Bute, Rosa Solorzano, Maria Alejandra Ramírez Bolaños
Supported by: The FCJ Refugee Centre
The project
The FCJ Youth Network actively works at offering a space for precarious status newcomer youth to share, support each other and mobilize around the common issues that they face. Through this Newcomer Youth Civic Engagement (NYCE) project, the youth team lead by Julia wanted to introduce the graffiti art for newcomer youth to express themselves on the key issues and barriers they face. Working on the subject from an art-based approach was for the FCJ youth a fun and educating way to share (through art and storytelling) their own experiences. 
Expressing themselves through Graffiti art
On January 18th, all 25 youth participants had to find a picture that illustrated their story, in order to transform that picture into a beautiful piece of graffiti art. This first step consisted in exploring their own stories, their own narratives and symbolize it in a stencil to soon become a piece of graffiti art. Looking back at their journey, the youth shared the common challenges they faced. The experience helped the youth feel that they are not alone and that the issues they face aren't individual issues.
Together they gathered the biggest challenge the faced:
Access to education (secondary and post-secondary) for precarious migrant youth
Issues with identification (mistakes, difficulty obtaining it and replacing it) 
Access to safe, affordable and sustainable housing
Racism and discrimination
Misguidance/misinformation from trusted intermediaries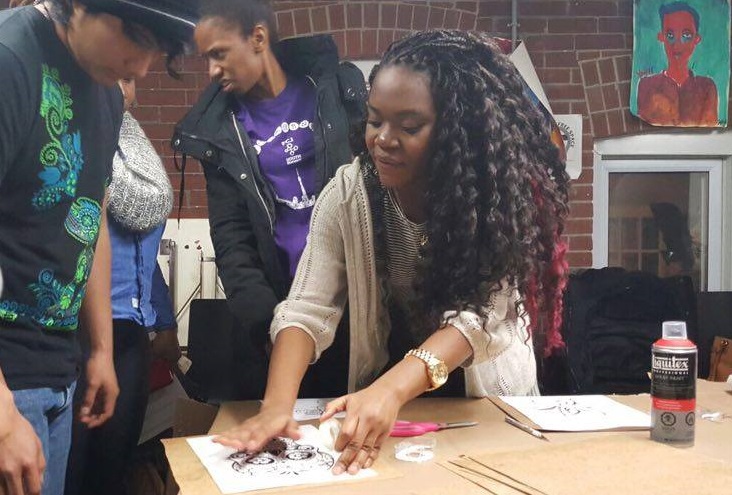 Taking Action!
On February 17th, the youth team presented their creative activism piece to a community roundtable of many community stakeholders, namely teachers, on access to education for precarious migrant and newcomer youth. Their piece was in the form of grafitti, and emphasized the many forms expression and action can take. They then had a panel and discssuion on these issues and how they manifest in Ontario. Afterwards, they moved into different group activities to help participants engage in the recognition of these issues, so they could work on understanding and coming up with creative solutions for their own communities and work places. 
Contact
Philip Ackerman
Resource Development and Youth Coordinator
FCJ Refugee Centre
Téléphone : 416-469-9754  ext. 228
packerman@fcjrefugeecentre.org