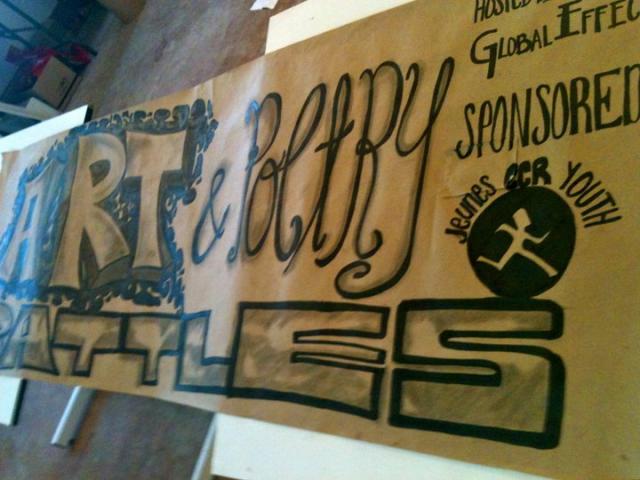 Global Effects:
Global Effects is a community group that brings together youth leaders from different parts of the world to educate other youth about the global effects of using drugs. They do this through dramatization, documentary video presentations and conversations.
The Story of the Art and Poetry Battles: 
On a Saturday afternoon, Global Effects held a community discussion on the myths and stereotypes that newcomer youth face in Edmonton and identify powerful messages and images that could help to debunk these myths. The Battles brought together approximately 20-30 newcomer youth, and the event was open to all young artists and poets/wordsmiths, novice and experienced alike.
Local artists then facilitated an art workshop with the youth, inspiring and encouraging them to express visually their own ideas about the CCR Youth Network's Debunking Myths about Newcomer Youth campaign.
Global Effects then used the best design and poem to produce thought-provoking T-Shirts that they then shared with youth and community organizations in Edmonton.
"It says "Where are you from?" and the world is upside down, implying that it doesn't matter where you're from, it's a confusing world, you could be from one country but end up in another."
The youth who've been wearing the t-shirts have experienced people asking questions about the T-shirt's meaning and starting dialogues with other youth on the issues.
"It attracts attention and creates curiosity about the meaning. The youth wearing the shirt becomes a messenger and educator about the subject, addressing the issues with those who ask."
The Battles not only served to develop an original tool to spark conversation about newcomer youth realities, it also helped to build new connections and motivation between newcomer youth in Edmonton.
"Newcomer youth that were not aware that people cared about these issues realized that there are people who are doing things. Participants realized there is hope in fighting for those things. It encouraged our group in pursuing more action and created more solidarity among our group and network."