Pinku's story
Pinku* is a teenage boy who last saw his father in 2017, and his mother in early 2018. When his parents were forced, one after the other, to flee their home in India, Pinku was left in the care of elderly relatives. His older brother, Sanju, is studying in another city.

Pinku's parents have been accepted as Convention refugees in Canada. They both suffered violent attacks after Pinku's father refused attempts from the local ruling political party to extort political contributions.

Unfortunately in the absence of the parents, the party men quickly located and retrained their targets on their children, Sanju and Pinku. They have been stalked and threatened. In one violent encounter, they chased Sanju, threw him off his motorbike and severely beat him. There have been incidents where it appeared men were attempting to kidnap Pinku.

The pandemic lockdown provided the family a respite from these threats, although Pinku and his elderly relatives suffered from lack of food and lost their roof in a severe storm. After schools reopened in the fall 2020, Pinku opted to continue to study online, fearful that the stalking, harassment and assault would otherwise resume. The threats remain, as the men still know where Pinku is living, and where Sanju attends school.

Pinku's father says: "We are extremely fearful that they will once again threaten them when life returns back to normal.  The party members did not get the money they sought to extort from us, and we are afraid, it means nothing to them to kill our children.

We worry especially about our younger child's safety, because they know exactly where to find him.  He cannot hide.  He has nowhere to go.  He has no money or means to escape.

My wife is frightened, stressed every day, worried sick about our kids.  With the elections soon finishing, I see her getting more frantic. It would be a tremendous relief for us if our children could be brought here quickly."
*All names are fictitious to protect identities
---
Dina says: Reunite kids with their parents!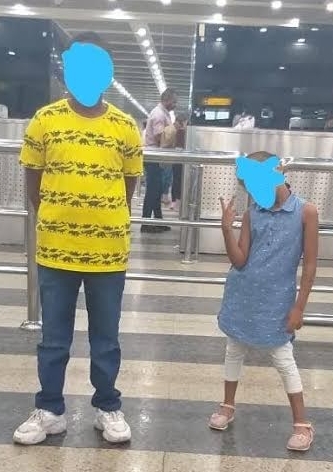 Dina is the mother of Josseph and Jasmeen. She writes: I have not seen my kids for 2 years, 3 months and 9 days (yes I am counting the days and hours and so do my kids). My kids are living with their great grandmother who is having lots of health issues. Their father is working in one of the Gulf countries so both my husband and I are not able to see my kids.
My children have already gone through so much. They witnessed the death of their great grandpa and now they are worried about my grandmother's health as well. Who will take care of them if anything happens to her?
My daughter Jasmeen who is 9 years old now is always drawing very sad stories. One time she drew me and her sister together and she was trying to reach the plane but when she was almost there she died and couldn't reach the plane. This image made me feel how horrible mother I am to leave her kids and be unable to reunite with them. But I am trying my best by sending letters to the Minister of Immigration, IRCC and Members of Parliament. I tried also to apply for visitor visas and Temporary Resident Permits for my kids, but unfortunately both were denied. Now the only hope is the permanent residence application which also takes a long time. I hate life without my kids.
My other daughter who is 4 years old here in Canada is dreaming to see her family.She has a big box putting presents and drawings for her siblings and father. When she sees families together at the playground she comes to me and asks me "Mom, I have a family too right?"
When I come to Canada I was sure that Canada is a country of human rights that cares for the welfare and the best interests not only of the children, but of everyone. Please prioritize kids. Reunite kids with their parents!
---
Benjamin, Beth and Ally's story
11-year-old Benjamin* and his sisters Beth [13] and Ally [17] are waiting in Nigeria to be reunited with their parents in Canada. At the time of escaping Nigeria, their parents could not obtain visas for the children so they had to leave them with a friend in a rural location.
Allan [54] and Jennie [47] fled Nigeria in 2017. They were persecuted on ethnicity and religious grounds and had to relocate within Nigeria multiple times before fleeing the country. They have since been recognized in Canada as refugees.
There is no schooling for the children currently because of hostilities in the area and as a result of the pandemic. The children and parents are desperate to be together after years of separation. The emotional price they are all paying is very high. Allan broke down describing how the children cry over the telephone every day when they speak. Jennie and Allan are worried about the children's safety, and the separation affects their ability to lead a normal and productive life in Canada.
Jennie says that the prolonged processing is damaging to families and the children: "Nowhere in the whole world should parents and children be separated for such a long time. The children I carried are not with me. What I feel inside me every day, the emotional pain, prevents me from being the person I can be. My children are at risk and I live in fear and desperation."
Allan and Jennie applied in October 2020 for permanent residence for themselves and their children.
*All names are fictitious to protect identities
---
Media release: Separated children must be reunited with a parent in Canada in 6 months or less
Action call: Reunite separated children with a parent in Canada in 6 months or less!