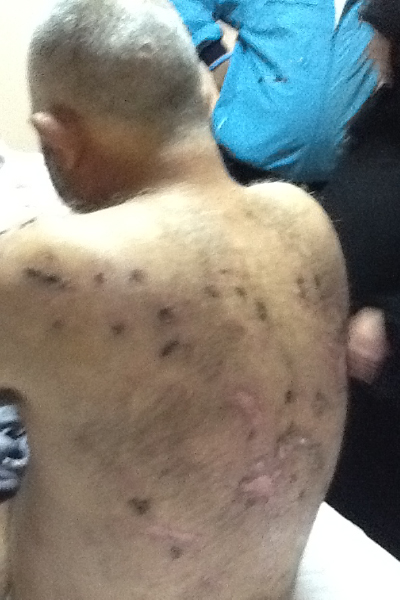 Abdurrahman seeking medical attention in Turkey
Cases of Syrians with family in Canada
The following are a few of the many Syrians with family in Canada who are in need of a safe place to live. Their family members in Canada are in deep anguish as they struggle to find a solution for them.
Brother – survivor of torture – in Turkey
Abdurrahman was taken hostage and tortured in Syria. After his brother in Canada paid a ransom for him, he was left by a river on the Turkish border. A Turkish passerby found him and got him medical assistance. Abdurrahman remains in Turkey, in a precarious situation. His brother is anxious to bring him to safety here, but Abdurrahman can't be privately sponsored because of current Canadian restrictions on the sponsorship of refugees in Turkey.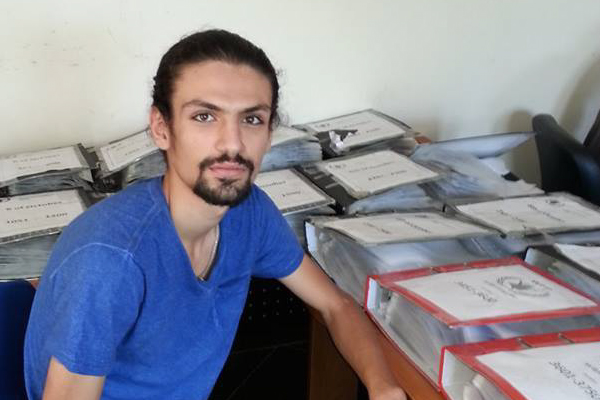 Sadek volunteers in Egypt while he and his family are refugees there
Young student refused student visa
Sadek is a 19-year-old who was hoping to study in Canada. Although he was accepted by two universities and has financial sponsorship, he was refused a student visa because Citizenship and Immigration Canada doesn't believe he will return to Syria after he completes his degree. Sadek is currently in Egypt with his family, but the situation for refugees in that country has become much worse following recent political events. The family's home in the Damascus suburbs was destroyed by heavy shelling. Sadek has suffered personally from the conflict in Syria: he was arrested and beaten by the authorities, shot in the leg and suffered malnutrition. His aunt in Canada is supporting the family financially, and his Canadian cousin, Loubna, who considers him like a brother, would dearly like to help him, and the rest of the family.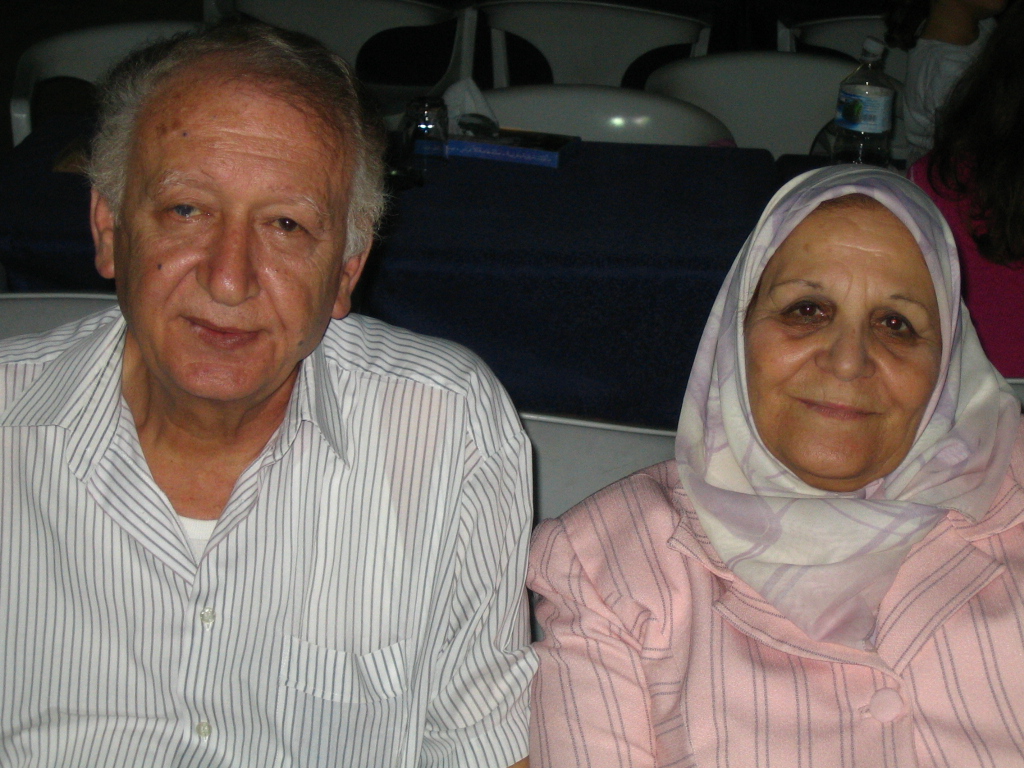 Zafer and Layla were refused a super-visa
Parents in Homs
Dima, a Canadian citizen since 2011, is very concerned about her parents, Zafer and Layla, who are still in Homs, a city under siege. Food is scarce, as are the other basic necessities of life. They applied for a super-visa, but it was refused. Dima tried to follow up with Citizenship and Immigration Canada, but they won't give her any information as she doesn't have a formal authorization from her father (he has no fax or internet to send a written authorization) and he has been unable to get through on the phone. Dima is so anxious about what will happen to her parents that she cannot sleep.
UNHCR's call for pledges for resettlement of Syrian refugees
In response to UNHCR's earlier call for admissions of 30,000 Syrians by the end of 2014, States have made pledges that meet or exceed that goal.
UNHCR is now calling for 100,000 additional places for Syrian refugees in 2015-2016.
UNHCR is asking that:
the places for Syrians be over and above regular resettlement places
at least half of the places be allocated for vulnerable refugees referred by UNHCR.
Germany has led the way in pledges, having committed to 20,000 places for Syrians. In addition, Germany has offered visas to approximately 5,500 Syrians with relatives in Germany.
In all, 22 countries have offered places for Syrian refugees so far. The majority of offers to date come from European states.
Canada's response
In July 2013, the Canadian government committed to resettling 200 Syrians as Government Assisted Refugees by the end of 2014. No statistics have been publicly reported on how many Syrians have arrived to date, but there are indications that the target will likely be met.
The Canadian government also announced that 1,100 Syrians would be resettled by private sponsors, although the organizations currently involved in refugee sponsorship were not consulted before this promise was made. Given the significant barriers in the private sponsorship program, it is not expected that many privately sponsored Syrian refugees will arrive by end 2014.
Responding to the most vulnerable refugees
UNHCR urges States to allocate at least half of the Syrian places to vulnerable refugees referred by UNHCR: in the Canadian context, this means Government Assisted Refugees (GARs).
The CCR is hoping that the Canadian government will make a significant public commitment of GARs, towards the 100,000 target. The Syrian refugees should be over and above the regular GAR numbers (the GAR target for 2014 is 7,100).
In December 2011, the Canadian government pledged to increase the number of refugees resettled to Canada by 20%. This pledge has not yet been met: in fact numbers in 2012 went down. Resettlement numbers for 2013 have not yet been made public. However, the number of UNHCR referred-cases arriving in Canada (representing roughly the number of GARs) remained low in 2013.
UNHCR Resettlement Departures to Canada

Year

2009

2010

2011

2012

2013

Number

6,582

6,706

6,827

4,755

5,140

Source: UNHCR Projected Resettlement Needs 2015
On a per capita basis, Canada declined to 6th place among resettlement countries.
Per capita Resettlement by country of resettlement in 2013

 

Population per refugee resettled

Australia

         1:2,015

Sweden

         1:5,121

Norway

         1:5,198

New Zealand

         1:6,405

USA

         1:6,522

Canada

         1:6,639

Source: UNHCR Projected Resettlement Needs 2015
Canada has an opportunity to re-assert its global leadership in refugee resettlement, and honour its pledge to increase resettlement in Canada, by promising a significant number of GAR places for Syrians, over and above regular resettlement commitments. A formal pledge of 10,000 made now by Canada towards the 100,000 goal will help to encourage other countries to step forward.
An additional 5,000 GAR places in each of 2015 and 2016 would mean a total annual number of 12,000 Government Assisted Refugees. This is less than the average number (12,300) of Government Assisted Refugees resettled to Canada in the 1980s.
Family-linked admissions
UNHCR is encouraging humanitarian admissions for Syrians, in addition to formal resettlement places, including family-linked admissions.
It makes sense for Canada to open its doors to Syrians with family connections, since many Syrian Canadians are deeply anxious about family members, and having family here makes it is easier to settle.
Since UNHCR has limited capacity to make referrals of Syrians, opening the door to some Syrians on the basis of family linkages is a useful way to support the international effort.
Germany has already issued approximately 5,500 visas to Syrians with relatives in Germany.
The CCR urges the Canadian government to introduce flexible provisions to allow family members of Canadian citizens, permanent residents and accepted refugees to come to Canada, at least on a temporary basis (through the issuance of a Temporary Resident Permit, for example).
Temporary visas are much quicker to process. Some family members may not want to live permanently in Canada and will want to return to Syria once the conflict is resolved. On the other hand, if return is not feasible, Canada can and should allow them to apply for permanent residence.
Family reunification measures can respond to family members who are still in Syria (unlike refugee resettlement, which only applies to people outside Syria).
If admitted on a temporary basis, it is essential that family members be provided with basic rights, including to work, to study, and to health care.
Private Sponsorship of Refugees
In 2013, the Canadian government announced that 1,100 resettlement spaces would be set aside for privately sponsored Syrians, to the end of 2014. While private sponsors are keen to support resettlement of Syrians, it is unrealistic to expect them to bear the principal responsibility, including financial, of Canada's response. Sponsors face many challenges, including:
Legal challenges: Groups of 5 cannot sponsor Syrian refugees (the regulations now require refugees to have an individual refugee determination by either UNHCR or the host state, which Syrian refugees don't have); until recently Sponsorship Agreement Holders have not been allowed to sponsor Syrian refugees in Turkey.
Financial challenges: Sponsors must be able to support refugees financially for their first year in Canada, which represents a huge commitment. In addition, following the 2012 cuts to the Interim Federal Health Program, sponsors face the risk of huge potential costs, in the case of a catastrophic illness or injury of a sponsored refugee during their first year in Canada.
Capacity: Sponsors are already committed to supporting other groups of refugees, including priorities earlier named by the government, such as Iraqi refugees. They have limited capacity for the time-consuming work of establishing connections with Syrian Canadian communities, promoting and fundraising for Syrian sponsorships, and preparing the extensive forms required for a sponsorship application.
For more information, see "Important changes in Canada's Private Sponsorship of Refugees Program" http://ccrweb.ca/en/changes-private-sponsorship-refugees
With some simple policy changes (such as restoring the full Interim Federal Health Program) and some creative solutions, private sponsors would be able to contribute more substantially towards Canada's response to Syrian refugees. The CCR looks forward to consultations between the government and private sponsors to find innovative solutions to these challenges.