Many people in Canada have no status or only precarious status. The reasons for this are many and often related to barriers and delays in immigration and refugee laws and practices.
Image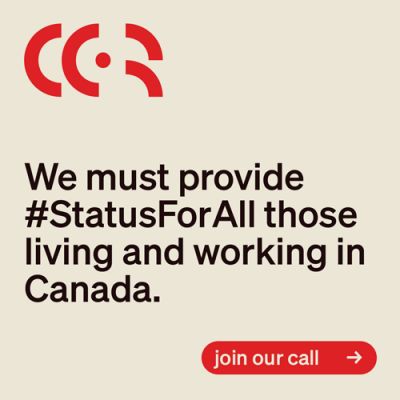 Most of those with precarious or no status are racialized and many are women. The immigration system is a reflection of our societies' major flaws: racism, sexism, inequity, and other isms making people yet more vulnerable to oppression based on their race, economic status, sexuality, gender identity/expression, and other prohibited grounds. In maintaining and enforcing oppressive immigration rules, Canada is complicit with those in our society who exploit people's labour or engage in intimate partner violence.
We call on the Canadian government to reform the immigration system to bring an end to our two-tiered society and to provide permanent status to all those living and working here, recognizing their dignity and rights as human beings.
Many allies across the country are working on different approaches to demand status for all. Here's an overview of what the CCR specifically been doing in the past year:
Use the form below to write a letter to Minister Fraser and/or your Member of Parliament