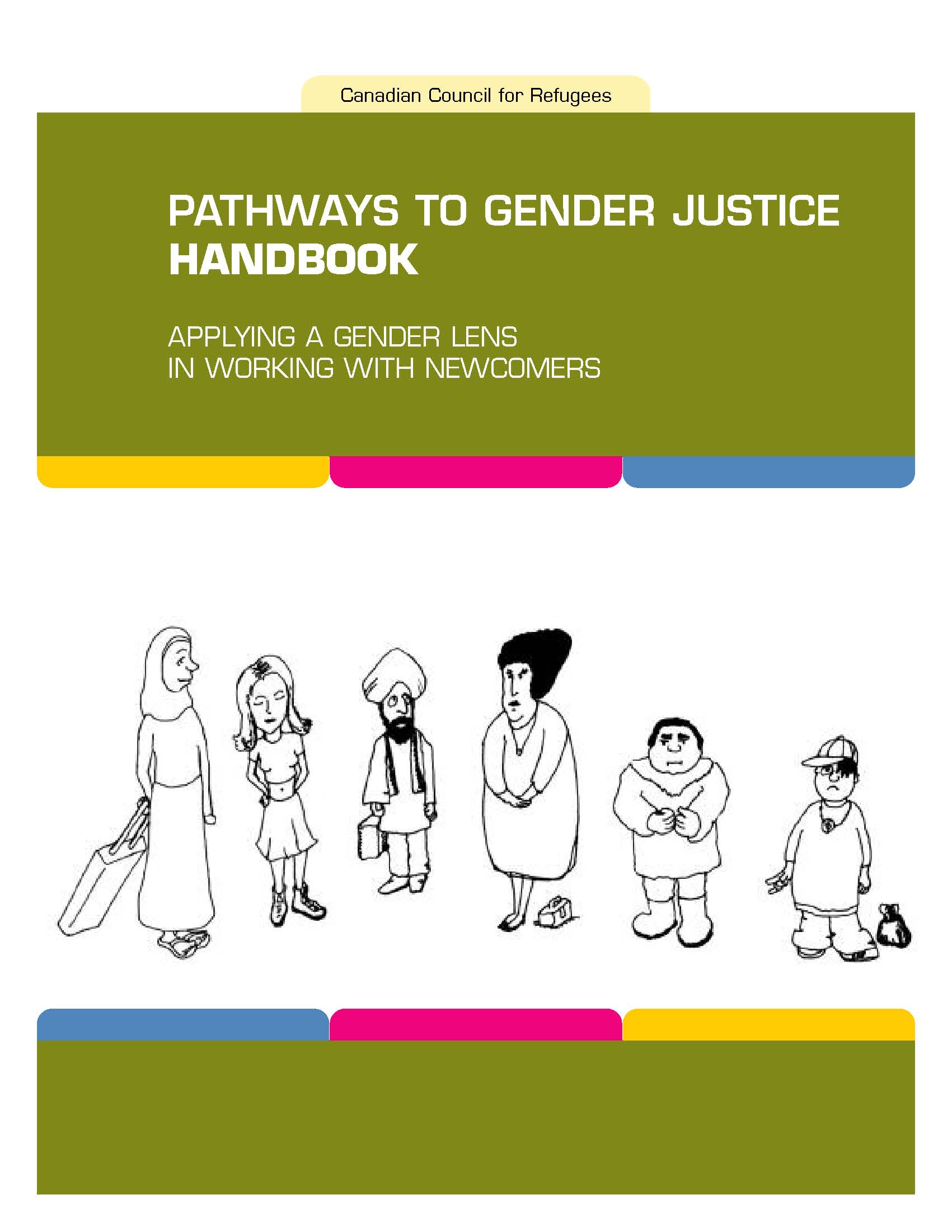 How does gender affect newcomers' experience of migration and settlement? What does gender mean? Are only women affected by gender issues? If you work or volunteer in an organization serving newcomers, you may want to deepen your understanding of gender and how it affects the experience of newcomers, in order to better adapt your services to the different realities of immigrant and refugee women and men.
The Canadian Council for Refugees is launching a new tool, the Pathways to Gender Justice Handbook, that aims at enhancing the capacity of organizations to use a gender-based approach in their work with newcomers. The Handbook is a practical guide that can be used in different areas of an organization, such as governance, management and direct services.
Significant attention has been paid to gender in recent decades, but there is still a need within the immigrant and refugee serving sector to better understand gender issues and to effectively apply a gender-based analysis within the service delivery framework. A gender-based approach ensures that policies and services are designed, analyzed, implemented and monitored with an appreciation for gender differences. 
Gender roles often change after a person or a family arrives in Canada and these changes affect relationships between women and men, as well as girls and boys. Changes in gender roles can empower some family members, with various possible repercussions for family relationships. Looking at the process of migration and settlement with a "gender lens" may help improve programs, services and policies. However, in order to succeed, a gender-based approach to settlement work needs to involve everyone, including men.
The Handbook was developed by an active Advisory Committee, made up of people from across Canada active in the immigrant and refugee serving sector – most of whom themselves have a refugee or immigrant background. To make it as concrete as possible, the Handbook was piloted by 7 organizations across Canada. The pilot was done with the input and participation of refugee and immigrant women clients of the organizations.
The Handbook is a flexible tool that offers a variety of entry points and encourages organizations to make the process their own. It includes suggestions of self evaluation, action plans, references and examples and can be adapted to different sizes and types of organizations across Canada. The Handbook's approach is to use open questions that can help organizations find their own pathway to gender justice. For example, the following questions are included regarding case intervention:  
What are our assumptions about why our intervention is needed?
Who benefits from our intervention? Why?
Whose needs are not being addressed? Why? How can those needs be met?
Who is excluded? Why?  What can be done about it?
Will our intervention lead to greater/lesser/same levels of equity? In the short term? In the long term?
The Handbook was developed with an understanding that different forms of oppression intersect and create different experiences of the migration and settlement process. Power in relationships also plays a special role in shaping newcomer experiences. For example, when a service user enters a settlement agency for the first time, the following factors should be considered by staff, as they affect the settlement process: family dynamics, domestic violence, mental health before/after migration; race; status in Canada; surviving rape, torture and crimes against humanity, among others.
"Solitude can be a heavy burden, especially for women who find themselves at home with small children, without the opportunity to learn English, build a new social network. They often do not want to burden family members back home with their emotional struggles in Canada."
"There needs to be more programs for men and how to look at the cultural differences. Men need help in looking at the changing roles."
The Pathways to Gender Justice Handbook is available on the CCR website at www.ccrweb.ca/Genderhandbook.pdf.  
You can also order copies from the CCR using the order form www.ccrweb.ca/documents/publicationsorderform.pdf
The Handbook complements the CCR's Pathways to Gender Justice Toolkit, also available online at www.ccrweb.ca/Gender.pdf . The Toolkit, launched in 2006, is a reference document that includes background information, theory and exercises about gender analysis.
The project to develop the Handbook received funding from the Women's Program, Status of Women Canada.