Address
Brock University, Thistle Complex
1812 Sir Isaac Brock Way
St. Catharines ON L2S 3A1
Canada
Deadline extended! Register online by Sunday 26 November.  Register online, as spaces are limited! 
For information on accommodations: ccrweb.ca/en/accommodations-forum
Para tener informaciones en español sobre este evento, haga click aquí
This full-day meeting will offer an opportunity for migrant workers to gather together with other participants (including advocates for migrant justice, front-line workers involved in settlement or other service delivery, and those involved in human rights or labour organizing) and share information and strategies on providing support to and advocating for the rights of migrant workers.
The meeting takes place on December 3rd, directly after the CCR Fall Consultation, November 30-December 2, in Niagara Falls.
The objectives of the meeting are to:
Create a space for sharing and learning among migrant workers, grassroots support groups, social service providers and migrant rights advocates
Offer practical information to migrant workers
Share strategies and solutions for case work with migrant workers
Discuss policy advocacy and common campaign strategies
Provide an opportunity for networking among migrant workers and individuals and groups working on issues related to migrant workers
You should attend this meeting if you are: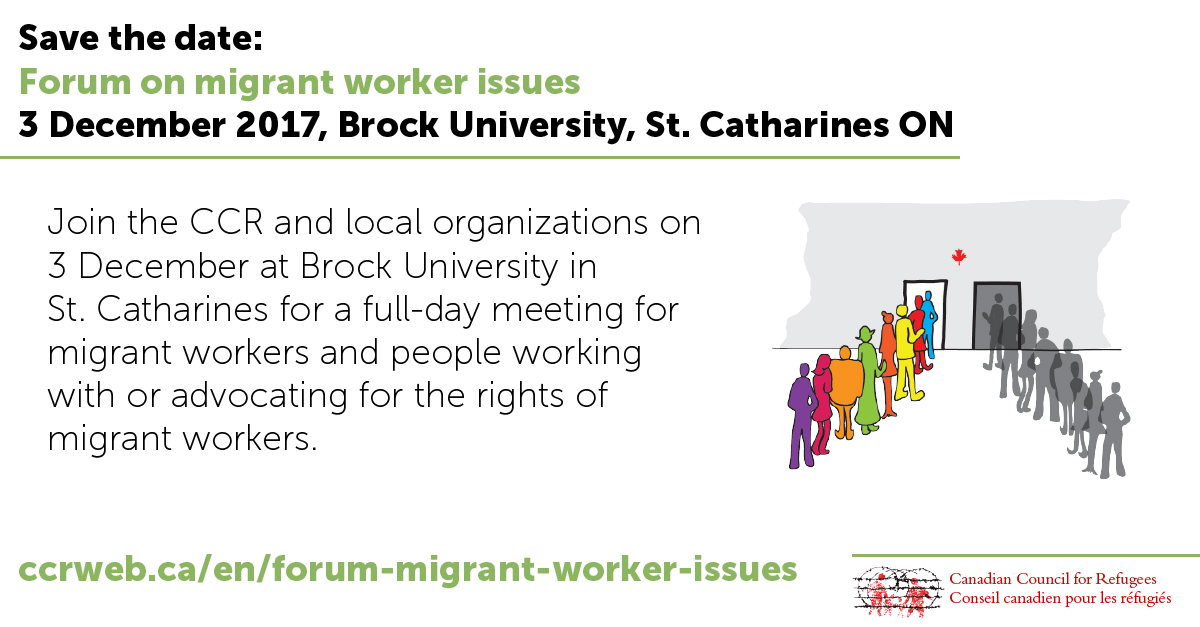 migrant worker in Canada
an advocate for migrant justice and human rights
a front-line worker in settlement or other support service delivery
involved in the movement for worker's rights
Please note that this forum is not appropriate for recruiters or immigration consultants who work with migrant workers on a for-profit basis.
"Migrant workers" describes the workers in the low-skill/low-wage categories of Canada's temporary labour migration programs: those participating in the Temporary Foreign Worker Program, Seasonal Agricultural Worker Program and the Caregiver Program.
CCR Contact: mberrymendez@ccrweb.ca
Learn more about the CCR's work on migrant worker issues: ccrweb.ca/en/migrant-workers
This meeting is co-hosted by the Canadian Council for Refugees and the Niagara Migrant Workers Interest Group, and is sponsored by the Brock University Community Outreach Course.
Also involved in organizing the meeting are: Immigrant Worker's Centre (Montreal), International Migration Research Centre (Waterloo), Ontario Council of Agencies Serving Immigrants (OCASI), Occupational Health Clinics for Ontario Workers (Hamilton), Thorncliffe Neighbourhood Office (Toronto). 
Host (organizer of event)
Canadian Council for Refugees