Overall levels
The CCR welcomes the fact that, at 300,000 new permanent residents, the overall immigration level for 2017 remains above the levels in recent years (the average annual level 2000-2015 was 250,000). Nevertheless, we are disappointed that the number is not higher. CCR believes that immigration levels should be set at a minimum of 1% of the population (which would be 350,000). It is important that we also invest the resources needed for successful settlement and integration.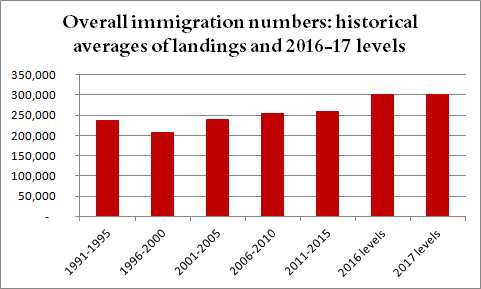 Multi-year levels
The CCR is surprised and disappointed that the government did not announce multi-year levels, as they had indicated they would do.
Refugee resettlement levels
The CCR is deeply disappointed at the low level (7,500) for Government-Assisted Refugees (GARs). The 2017 level is below the annual average of GAR arrivals of 7,600 from 2000 to 2015. It is particularly distressing that Canada would  not increase its commitment at a time when the global need for resettlement places for refugees is greater than ever (UNHCR projects needs for 1,190,000 refugees to be resettled in 2017).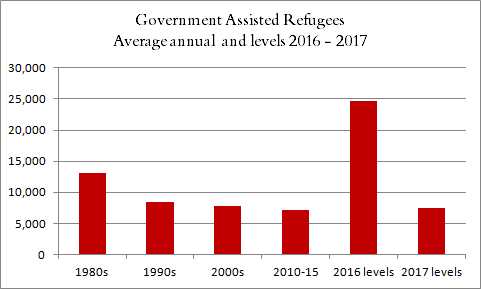 The low GAR numbers for 2017 are also out of step with Canada's efforts to promote a strong international response to refugees. Canada is ill-placed to ask other countries to do more for refugee resettlement, when it is not increasing its own commitment.
CCR urges the government to aim to resettle 20,000 GARs annually.
The CCR welcomes the level of 16,000 for Privately Sponsored Refugees (PSRs), which represents an increase over previous years. However, CCR is concerned that the number for PSRs is significantly higher than for GARs. This represents a privatization of the commitment to refugees. We emphasize that private sponsorship should never take the place of government responsibility towards refugees. As a principle, government resettlement numbers should always be higher than the numbers resettled by civil society. However, according to the 2017 levels plan, privately sponsored refugees will make up 64% of the total number of refugees resettled to Canada.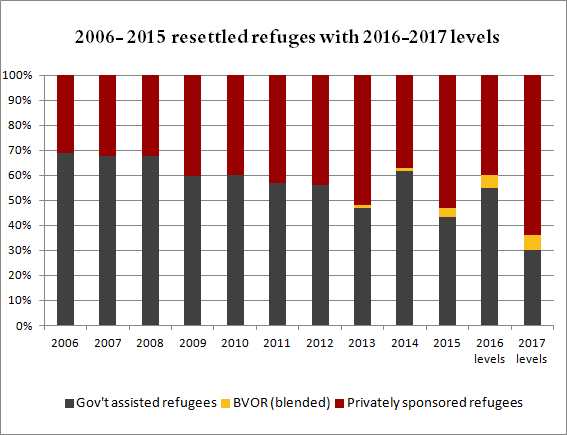 Although the private sponsorship numbers are higher than in most recent years, the target is not large enough to accommodate the people whose applications for resettlement have been awaiting processing for years (many of whom are in Africa), as well as the surge of refugee applications submitted in response to the Syrian crisis.
| | | | |
| --- | --- | --- | --- |
|   | Target 2016 | Target 2017 | Applications pending June 2016 |
| Privately sponsored refugees | 17,800 | 16,000 | 33,884 |
The target for 2017 certainly does not have space to accommodate applications submitted to respond to the many requests for family reunification for recently arrived Syrians and other refugees, known as the "echo effect." It is clear from the numbers that new applications submitted now likely cannot arrive until 2018 at the earliest and will probably arrive much later than that.
The CCR recommends that the government introduce flexible mechanisms to allow for family reunification in situations of crisis, as was done for example in the case of Haitians. The CCR has made detailed recommendations for family admissions for Syrians.
Regarding PSR levels, the CCR urges that the first priority be to eliminate the backlogs, particularly at visa offices such as Nairobi where refugee applicants have been waiting for many years (68 months is the most recent processing time for applicants located in Kenya).
Refugees in Canada
The category "Protected Persons in Canada and Dependants Abroad" covers persons who have been found to be refugees after making a claim in Canada, as well as their spouses and children abroad. Even though the level for this category is to increase to 15,000 (from 11,000 in 2016), that number is too low for the number of applications pending in June 2016. This is particularly a concern given the fact that the number of claims made in 2016 has been increasing. This means that more applications from accepted refugees will be submitted in the second half of 2016. Will they have to wait longer to become permanent residents because the 2017 target is too low?
The impact of the target hits family members particularly hard. When the target is too low, processing is delayed, and the spouses and children of refugees wait longer, often in precarious and even dangerous situations. IRCC has ceased publishing any statistics on processing times for dependants abroad of refugees, but in 2015 it was 38 months.
| | | | |
| --- | --- | --- | --- |
|   | Target 2016 | Target 2017 | Applications pending June 2016 |
| Protected Persons in Canada and Dependants Abroad | 11,000 | 15,000 | 26,349 |
Refugee and Family Class overall
In recent years the balance between the three main immigration streams (economic, family and refugees) has become seriously distorted. The CCR welcomes a move towards more equity between the streams.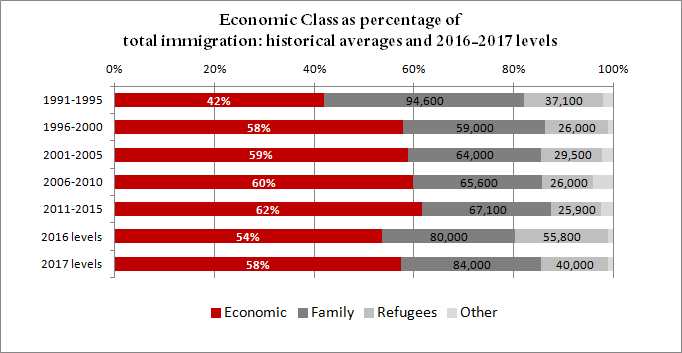 ---
See also CCR's comments for the 2016 Immigration Consultations