Project location: New Westminster, BC
Organizing team Members: Narges Samimi, Tenzin Phantok, Thea Udwadia & the LOVE BC Team  
Supported by: Immigrant Services Society of BC
The project
The NYCE project in British Columbia supported by ISS of BC decided to bring up education-related issues including the recognition of previous experience and knowledge acquired in the country of origin. The LOVE (Leave out violence) team collaborated using media arts to document their experiences and to share their views of the world. The youth team believes that the newcomer community and the host society need to engage more, by building a better connection with local youth born in Canada as well as immigrant youth. 
All education counts!
On January 28th, the BC youth team gathered to discuss their barriers through art. The session started with putting up a map on the wall and asking the youth to draw a line from their country to Canada to show the diversity of the group; everyone proudly shared their own trajectories. They launched a discussion asking two questions: What is great about being a newcomer? What is difficult about being a newcomer? Different voices and perspectives were videotaped. Sharing the challenges they face helped them identify what is of most importance to them, and what needs to be tackled through their project.
Together they want to push for change in education, concretely they want to focus on:
 
Recognition 

(credits for ELL classes and recognition of home country certificates/credits) 

Adapted counselling system (g

etting the right information on the Canadian system & future career possibilities) 

Bridging cultures (connecting newcomer culture & host country culture)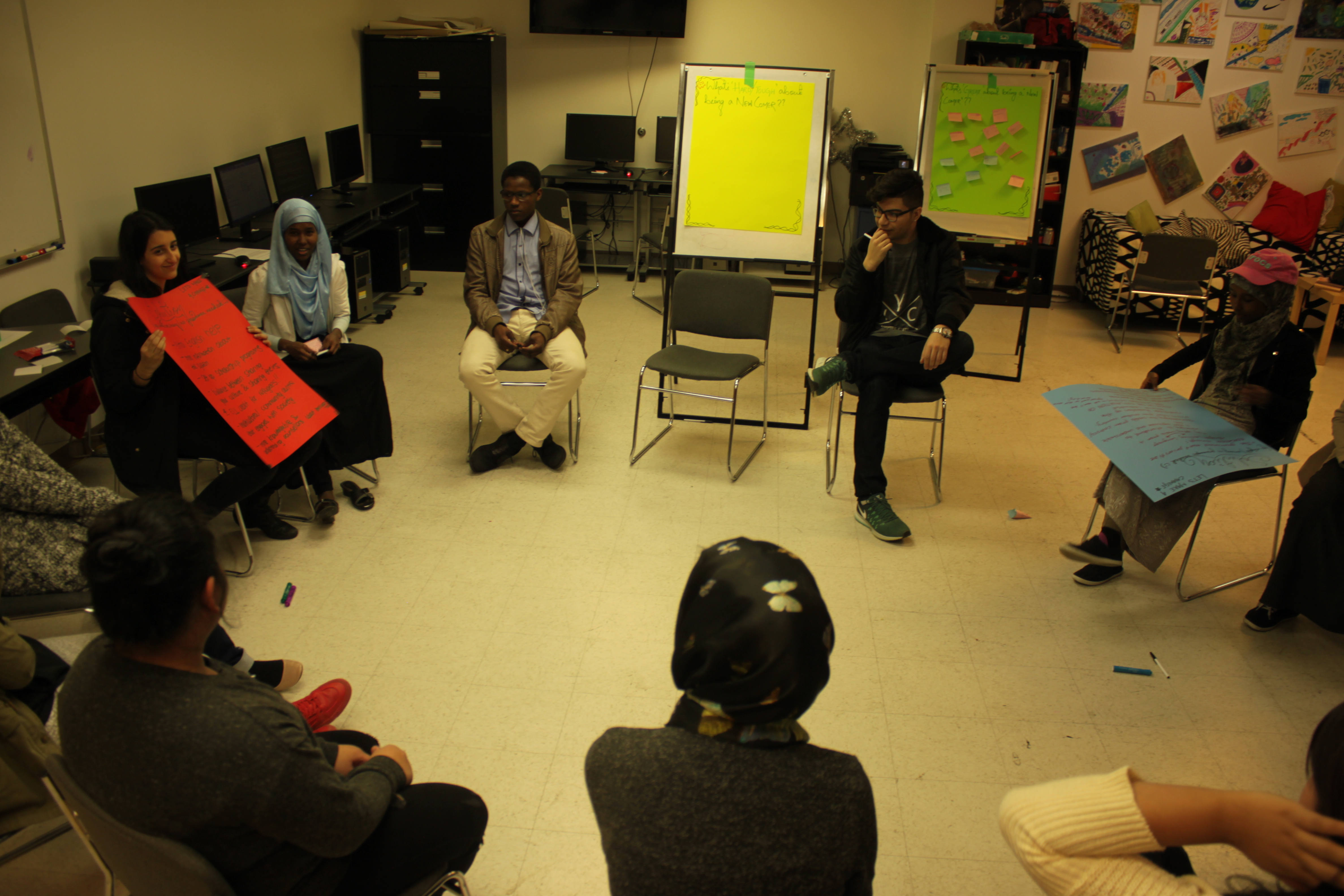 Taking Action!
The second session of the NYCE project happened on February 11, 2017, The youth team invited educators from the school district  to share the challenges of young immigrants and refugees. They opened by sitting in a circle with their principal and acknowleding the land - they then screend the video they'd made of youth addressing the issues they've faced since coming to Canada. The youth present continued to share more of their experiences and their principal recognized the importance of addressing and solving these problems that newcomers face - speficially focusing on not getting credit for ELL classes, putting students across a large age range in the same classes, not getting clear information from counselors about the graduation system, and spending time redoing courses that youth had already done, The solutions they discussed involve dividing ELL classes by age and thus being able to add a more academic focus to them and get credit, that clear information is given about graduation requirements, and to educate counselors about the different education systems newcomers are coming from to help recongize transfer credits. Moreover, their principal committed to implementing the solutions they discussed in the Byrne Creek School and then sending on the recommendations to other school districts.