9 March 2017
Welcoming refugees at our borders: a moral and legal imperative
The Canadian Council for Refugees urges Canadians to respond positively to refugee claimants who have been arriving at our borders in increased numbers in recent months. We have the opportunity and the obligation to give protection to people whose lives are at risk and who come with the urgent hope that Canada will offer them security. Only a tiny percentage of the millions of refugees in the world will ever make their way to Canada: but for those who do, we must live up to our reputation as a haven for refugees by giving them a warm welcome.
Although there has been an increase in refugee claims, the numbers remain well within the range of what Canada has seen in the past. After a period with unusually low numbers of claims, Canada is returning to the more traditional rates. Even if numbers were to go higher in 2017, we are confident that Canadians are fully able to meet the challenge, building on past experience and taking advantage of the positive energy around welcoming Syrian refugees.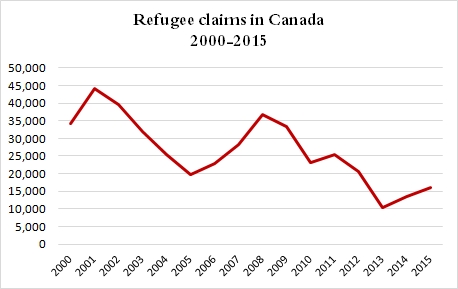 We must respond because refugee claimants have an even higher call on us than resettled refugees, including the 40,000 Syrians welcomed in recent months. This is because we have legal obligations towards claimants who arrive at our borders. Under international law and as guaranteed by the Canadian Charter of Rights and Freedoms, Canada must not send refugees back to face persecution. This is the central principle of the Refugee Convention, which was carefully crafted after the Second World War. Some people have wrongly spoken of refugee claimants arriving "illegally", but in fact they are asserting their legal right to seek asylum. It is Canada that would be acting illegally if it denied refugee claimants the right to be heard, or sent refugees back to face persecution.
Canada acts honourably when we protect additional refugees through resettlement, by which we select refugees from a third country. However, our primary and legal responsibility lies towards the protection of refugees at our borders or on our territory.
All refugees deserve the same welcome, whether they are resettled to Canada or they make their own way to our borders in search of asylum. We must not make distinctions between human beings in need of protection.
Because of Canada's geographic location, we receive very few refugee claimants compared to many other countries. In 2015, Germany received close to 900,000 refugee claimants. Lebanon hosts a million Syrian refugees. The UNHCR anticipates the number of Burundians fleeing to neighbouring countries will reach 500,000 in 2017. In this context, the numbers of refugee claimants in Canada seem very modest (the highest number in a year was under 45,000 in 2001).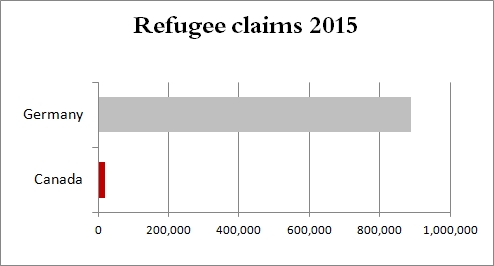 The CCR commends the many communities, organizations and individuals that are already working to ensure a warm welcome is offered to refugee claimants. In some centres, there are meetings to plan and coordinate. People involved in private sponsorship are stepping up to support refugee claimants, as are settlement agencies and faith communities. Among those responding are people who themselves came to Canada as refugees.
Unfortunately community efforts are particularly necessary as the federal government does not fund settlement services for refugee claimants: the CCR urges the government to extend eligibility to cover refugee claimants.
Contact:
Colleen French, Communication and Networking Coordinator, (514) 277-7223, ext. 1, (514) 602-2098 (cell),
media@ccrweb.ca