Dear Friends,
Welcome to the Canadian Council for Refugees' (CCR) electronic bulletin on trafficking. This e-bulletin contains updates on trafficking issues, including different organizations' responses to trafficking and other information and resources for non-governmental organizations and others working on these issues. This is part of a wider effort to share information, ideas and strategies across Canada.
The CCR e-bulletin on trafficking will be published every two months. If you would like to contribute to future issues, please forward your suggestions with related links and/or attachments to traffickingbulletin@ccrweb.ca. We also invite you to send us any feedback you might deem relevant on the content for us to consider for future issues.
We hope you will find this e-bulletin useful and interesting.
E-BULLETIN CONTENTS
Important Policy Developments on Trafficking
Bill C-310 Passes Second Reading in Senate, to be Reviewed by the Senate Committee on Legal and Constitutional Affairs
Bill C-310 introduced by Joy Smith, Member of Parliament for Kildonan-St. Paul, Manitoba, on October 2011, was debated on April 27th, passing the House of Commons with unanimous support and passed Second Reading on May 15th in the Senate. The bill has been referred to the Senate Committee on Legal and Constitutional Affairs. Review by the Senate Committee is anticipated for June.
This bill amends the Criminal Code to allow Canadian citizens or permanent residents to be prosecuted in Canada for trafficking-in-persons offences committed outside Canada. It also amends the definition of exploitation by adding factors that the Court may consider when determining what constitutes exploitation, including threat or the use of force, coercion, deception, or the abuse of power or trust.
Details on the status of Bill C-310 can be found at: http://www.parl.gc.ca/LegisInfo/BillDetails.aspx?Language=E&Mode=1&Bill=C310&Parl=41&Ses=1.
Further information about the bill is also available at: http://www.joysmith.ca/main.asp?fxoid=FXMenu,9&cat_ID=27&sub_ID=112.
Manitoba Provincial Legislation on Trafficking: Child Sexual Exploitation and Human Trafficking Act Enacted, April 30, 2012
The Child Sexual Exploitation and Human Trafficking Act was implemented on April 30, 2012 as part of Manitoba's efforts to address sexual exploitation and human trafficking by offering protection and restitution measures to human trafficking survivors.
The legislation specifically allows protection orders to be granted to child survivors of sexual exploitation or adult or child survivors of human trafficking. It also allows human trafficking survivors to demand compensation for damages, to demand that the trafficker be held accountable for the profits generated as a result of trafficking the victim, and to call on the court to issue an injunction requiring the trafficker to cease trafficking activity. The law specifically targets the property of human traffickers and pimps for the purpose of procuring restitution for human trafficking survivors, making it the first provincial law in Canada to do so.
For more information, see:
Government of Manitoba, News Release: http://news.gov.mb.ca/news/index.html?item=13953
Manitoba Justice, The Child Sexual Exploitation and Human Trafficking Act: http://www.gov.mb.ca/justice/csehtact.html
Bill 29: The Child Sexual Exploitation and Human Trafficking Act: http://web2.gov.mb.ca/bills/39-5/pdf/b029.pdf
International Developments
Providing Safe Accommodation for Child Survivors of Trafficking, ECPAT UK
A publication developed by ECPAT UK (End Child Prostitution, Child Pornography and the Trafficking of Children for Sexual Purposes) explores the challenges faced in procuring protection for trafficked children through safe accommodation. On the Safe Side: Principles for the safe accommodation of child victims of trafficking provides guidelines for practitioners working with trafficked children or with suspected child victims of trafficking, to enable them to meet the standards of safe accommodation and to adequately address the psychological, emotional and physical needs of trafficked children, namely by placing the best interest of the child at the centre of all decisions.
The publication is available online at: http://www.ecpat.org.uk/sites/default/files/on_the_safe_side.pdf.
E-learning: a Valuable Training Tool on Human Trafficking, United Nations Office on Drugs and Crime and International Organization for Migration
Representatives from the United Nations Office on Drugs and Crime (UNODC) and the International Organization for Migration (IOM) emphasized the importance of e-learning as an innovative training tool on human trafficking during the twenty-first session of the Commission on Crime Prevention and Criminal Justice in Vienna, which took place from 23 - 27 April, 2012. Among the tools highlighted are computer-based trainings, webinar series and e-learning programs. The need to widen the target audience by reaching out to the private sector through e-learning tools such as the UN.GIFT's e-learning tool for business was identified "as [a] successful example [of] how technology can be used to reach vast and diverse audiences."
Further details are available at:
"The expanding role of e-learning in the fight against human trafficking," Global Initiative to Fight Human Trafficking, UN.GIFT, http://bit.ly/KeFxCp.
Reports and media
FCJ Refugee Centre Forum Report: Human Trafficking and Migration: Building Community Response

The summary report of the FCJ Refugee Centre Forum on Human Trafficking and Migration: Building Community Response, held on April 24, 2012 in Toronto, ON, is now available online at: http://www.fcjrefugeecentre.org/?p=2630.
The Forum was organized by the FCJ Refugee Centre and took place during the National Victims of Crime Awareness Week 2012, whose theme was 'Moving Forward.' The forum, funded by the Department of Justice Canada, focused on internationally trafficked persons and existing barriers to services and protection for them. Approximately 150 participants, mostly from Toronto and the Greater Toronto Area, took part in the event.
The Forum's objectives were to:
Increase awareness of human trafficking issues among organizations and professionals from diverse sectors.
Highlight the existing gaps in services and protection for internationally trafficked persons.
Develop policy recommendations and response strategies to offset the identified gaps.
Foster cooperation among stakeholders, which is essential to provide holistic services to assist internationally trafficked persons to move forward.
The FCJ Refugee Centre presented a draft request for action directed to all levels of government in Canada for policies for protection and services tailored to meet the needs of internationally trafficked persons. The two-session forum discussed international practices and trends concerning the 4Ps (Protection, Prevention, Prosecution and Partnership), best practices in services to internationally trafficked persons, and Canadian policies and gaps to address the needs of internationally trafficked persons. In addition, two simultaneous workshops focused on "Canadian policies and awareness-raising," including a discussion on the negative impact of the proposed changes to the immigration and refugee system through Bill C-31, specifically on trafficked persons, the lack of a national action plan, and a discussion on the "Integrated service approach: best practices."
The request for action, the summary report and the forum's presentations can be accessed at:
Request for action: http://www.fcjrefugeecentre.org/?p=2587
Summary report and presentations: http://www.fcjrefugeecentre.org/?p=2630
Report: Human Trafficking in Calgary: Informing a Localized Response
ACT Alberta and The Centre for Criminology and Research at Mount Royal University have released a joint report on developing a Calgary-based response to human trafficking. This research represents the first Canadian study to document how a major urban centre is addressing the rights and needs of trafficked persons. The report includes a number of recommendations to address human trafficking in Calgary, including the need for further research.
The full report is available at:
ACT Alberta: http://www.actalberta.org/wp-content/uploads/2012/03/Human-Trafficking-in-Calgary-Informing-a-Localized-Response2.pdf
CCR Human Trafficking Resources Database: http://ccrweb.ca/en/human-trafficking-calgary-informing-localized-response.
Media Releases on Human Trafficking
Manitoba Law against Human Traffickers:
The Vancouver Sun: http://bit.ly/JZHQcl
Winnipeg Free Press: http://bit.ly/Jl73qT
Calgary: New massage parlour restrictions pondered by city, May 9 2012, CBC News Calgary: http://bit.ly/KduM2u
Human Trafficking Growing in Peel, May 7 2012, Mississauga News: http://bit.ly/JcqFyR
Human Trafficking Affects Foreign Workers, 29 March 2012, Fast Forward Weekly - Calgary: http://bit.ly/H48TvQ
Announcements
Saskatchewan Youth Forum on Human Trafficking Successful
On May 3rd and 4th, 2012, the organization NASHI: Our Children successfully hosted a Youth Forum on Human Trafficking in Saskatoon, SK hosting approximately 1100 students, from grades 6 to 12.
The purpose of the event was to provide information to youth across Saskatchewan and Canada about the magnitude of human trafficking, it also sought to teach youth about actions to take to help combat human trafficking in Canada and internationally and about precaution measures to take. Break out sessions were facilitated by Thrive, Saskatoon Police Services, The Saskatoon Community Youth Arts Programming Inc. (SCYAP) and NASHI.
NASHI is a Saskatoon-based organization that focuses on human trafficking education and awareness-raising. The organization works with partners locally and internationally.
Presentations, photographs and videos of the event will be made available weekly via the event website at: http://www.youthunchained.org/event.php. Visit the website for regular updates.
Protecting Migrant Workers' Rights in Canada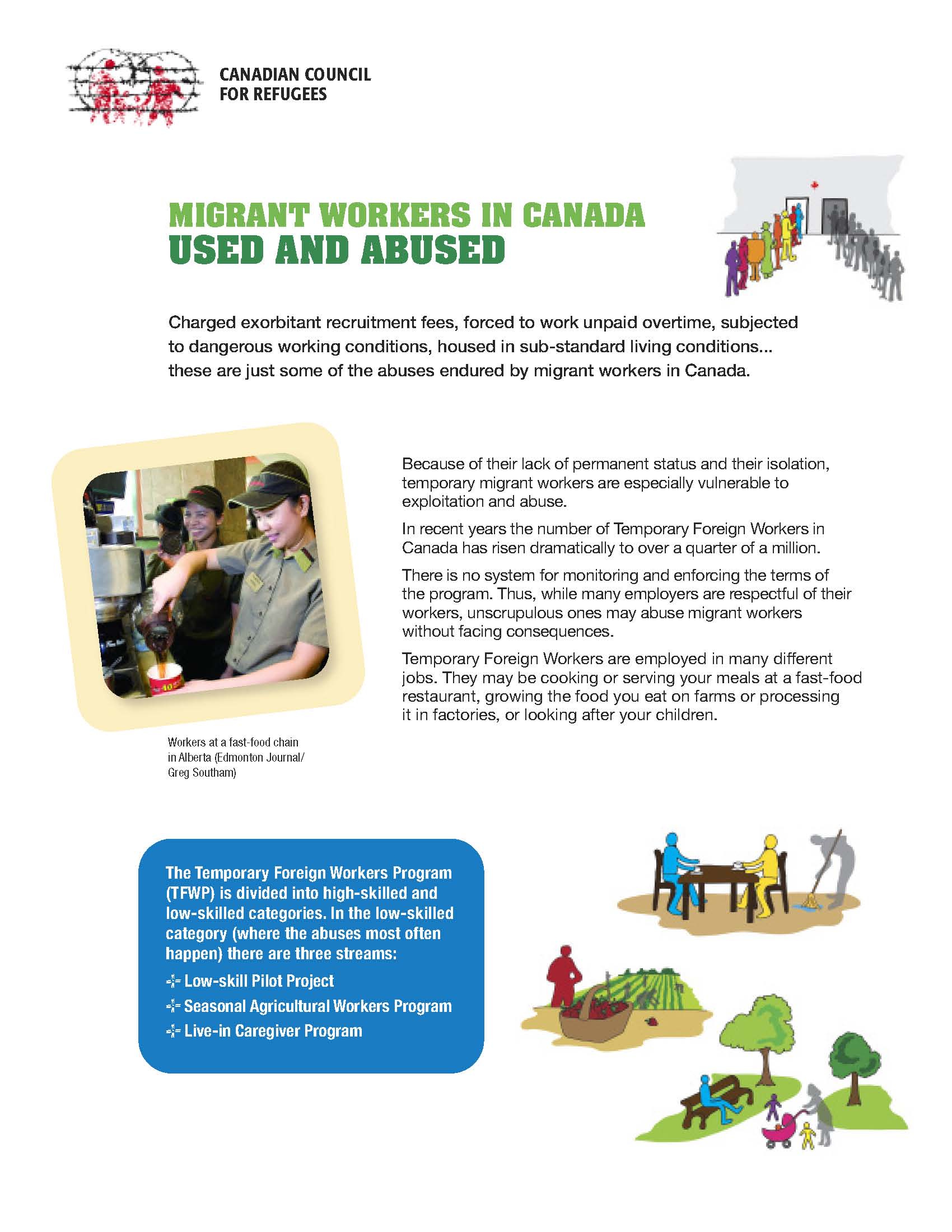 On May 1st, International Workers' Day, the CCR posted new and updated resources on migrant workers, reaffirming the CCR migrant workers campaign's three central demands: protection of workers' rights, access to permanent residence, and access to services (including settlement services).
The CCR's new awareness-raising 4-pager Used and Abused: Migrant Workers in Canada, focuses on the abuses and exploitation that occur in the Temporary Foreign Worker Program (TFWP). The resource also brings attention to the risk of human trafficking brought about by the structure of the TFWP, namely through features such as employer-specific work permits, Human Resources and Skills Development Canada's hands-off approach to contracts, and a deficient monitoring system for employers.
Used and Abused: Migrant Workers in Canada is available at: http://ccrweb.ca/sites/ccrweb.ca/files/migrantworkers4pager.pdf.
For other resources on migrant workers in Canada, including short videos, information documents, which include profiles of migrant workers, and more, visit: http://ccrweb.ca/en/migrant-workers.
Trafficking-related events
Labour Exploitation: Intersections between migrant workers and trafficking, Caucus meeting, CCR Spring Consultation, Fredericton, NB, 31 May, 2012
The CCR Spring Consultation on the theme of Cent-sible Justice: Affordable solutions for refugees and immigrants will be held from 31 May - 2 June 2012. A Caucus meeting will take place on Thursday, 31 May from 12:30 - 2pm to explore the intersections between trafficking and migrant worker issues, to discuss CCR policy with regards to the forced labour-trafficking continuum, and to develop next steps.
Further information about the CCR Spring Consultation and online registration are available at: http://ccrweb.ca/en/meetings.
Consultation of Quebec Organizations Working to Assist Trafficked Persons, Montreal, QC, June 2012
Organizations from Quebec will unite to create a consultative body in order to improve access to services and assistance for people who have experienced trafficking in the greater Montreal area. This dialogue was originally established in June 2011, as an initiative led by the Comité d'action contre la traite humaine interne et internationale (CATHII). The organizations met a second time on November 8, 2011, which helped to consolidate the project and identify areas for future action.
This consultation aims to combine and share existing resources and practices and has made possible the exchange of updated information and of trafficking in persons cases. It also functions to improve the protection of victims and their access to adequate services by promoting a coordinated and multi-sector approach.
More than 15 organizations from different sectors working to assist trafficked persons attended the first two consultations, which made identifying existing resources possible. The following one scheduled for June will seek to define and establish the process to be implemented to better meet the needs of survivors.
For further information, please contact: info@cathii.org.
Alliance Against Modern Slavery Third Annual Conference, 26-27 October, 2012
The Alliance Against Modern Slavery (AAMS) will be holding its third annual conference, Modern Slavery in Ontario and the World, from the 26-27 October, 2012.
The conference will comprise of the following:
a. Release and dissemination of research findings and report
b. Targeted thematic and sector-specific breakout sessions led by ad hoc steering committee members
c. Ontario Coalition meeting
d. Next steps / strategy moving forward
For more information, please contact info@allianceagainstmodernslavery.org.
Details and updates are available at: http://allianceagainstmodernslavery.org/node/173.
Quick links
CCR Trafficking page: http://trafficking.ca
CCR Database of Human Trafficking Resources: http://ccrweb.ca/en/trafficking-resources