We are extremely happy to announce that this year's Summer Working Group meetings will take place in person, in Montreal!
The meetings offer an excellent opportunity to:
Participate in efforts to promote refugee and immigrant protection and resettlement
Discuss in depth pressing issues affecting refugees and immigrants in Canada
Share information and strategies with others across Canada
Anyone interested in these issues is welcome to participate, especially CCR members; meetings are closed to media and government. 
Image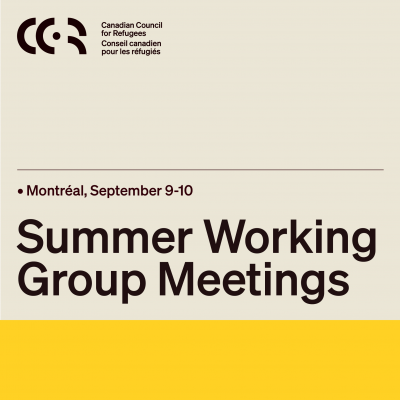 Where: at the Palais des Congrès, 201 Av. Viger O., Montréal.
Click here for a map of the area. The venue is located by the Place d'Armes metro station, indoor paid parking is available as well. Lunch will not be provided during the meetings.
Schedule:
Friday, Sept. 9, 9:00am - 5:00pm: Overseas Protection and Resettlement (OPR)
Saturday, Sept. 10, 9:00am - 5:00pm: Inland Protection (IP) 
Saturday, Sept. 10, 9:00am - 5:00pm: Immigration and Settlement (I&S)
A broad range of topics will be on the agenda, including emerging issues :
For all Working Groups: we will discuss IRCC's anti-racism efforts, quality of services in immigration and refugee processing
For OPR: the latest on resettlement processing, equity in resettlement, follow up from the Annual Tripartite Consultations on Resettlement
For IP: the latest on refugee claim processing, refugee family reunification, regularization
Can't be in Montreal? The CCR will be holding a virtual meeting on Wednesday September 7 for members who may be unable to participate in person. Members can click here to register.
Please note that while registration is not mandatory for members who wish to participate, we encourage you to sign up in order to facilitate planning and logistics on our end.