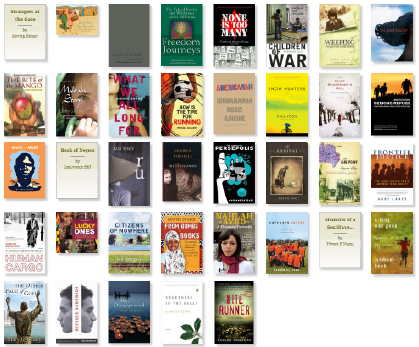 Looking for a book group selection that will spark discussion? Or an inspiring read for yourself?
Check your local library or online for some of these suggested titles, ranging from fiction, non-fiction, for younger readers, ainsi que quelques sélections en français.
And there's more!
Ready reads for your book group
Some of these selections have ready-made group discussion guides, including:
The Lucky Ones: African refugees' stories of extraordinary courage by Anne Mahon (click here for the discussion guide)
What We All Long For by Dionne Brand (click here for the discussion guide - also a selection for the Amnesty International Canada monthly book club)
Public library selections
Ask your local public library to make and promote a suggested reading list of books about refugees and their experiences. They likely have many from this list on the shelves!
Here's a selection the Kitchener-Waterloo Public Library put together for World Refugee Day (June 2014).
Online books
A number of lesser-known books are available online as web apps. Check out this web comic Over, under, sideways, down: Ebrahim's story by Karrie Fransman in partnership with the British Red Cross. It offers a poignant look at what it's like to seek asylum from the point-of-view of a 15-year-old Kurdish Iranian without identity papers. Even though cars drive on the opposite side of the street in the United Kingdom, Ebrahim's experience mirrors those of unaccompanied minors seeking asylum in Canada.
-----
Have ideas to add to this list of suggestions? Send them by email to Colleen French (cfrench@ccrweb.ca)