Venue

The CCR International Refugee Rights Conference will take place at York University, Toronto, Canada.
The welcome desk (to pick up conference kits and name tags, and to pay) is in the entrance of the Accolades East building, near the York University subway exit.
Information about getting to the conference venue
Details about various options for travelling to York University are available here.
Statement regarding strike at York University
The Canadian Council for Refugees regrets that our International Refugee Rights Conference is taking place at a location (York University), where workers are on strike.
The CCR supports efforts by workers to protect their labour rights. Many refugees have fled persecution that targeted them because they were engaged in collective action to resist unfair working conditions.
Unfortunately it was not possible to move the conference to another location, given its size.
The CCR wishes to express its solidarity with the York University Teaching Assistants, Contract Faculty, and Graduate Assistants, represented by the Canadian Union of Public Employees Local 3903 (CUPE 3903), who are on strike to protest precarious employment, low wages and arbitrary changes to working conditions.
Accommodation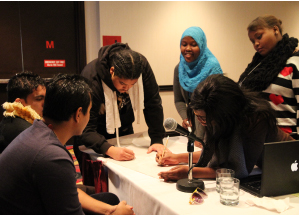 Participants must make their own reservations.
York University
Due to unforeseen circumstances York University's residences are unfortunately no longer available for conference participants.
We are very sorry for the inconvenience that this may cause.
We recommend making accommodation bookings at one of the options below.
Near York University
The CCR has obtained a negotiated rate at the Extended Stay Toronto Vaughan Suites, including daily buffet breakfast.
Rates are:
$124 + tax for room with one queen bed
$134 + tax for room with two queen beds
$174 + tax for two-bedroom suite with three beds
The hotel is located a 10 minute drive and 20 minute public transit ride from York campus. To book a room, call the hotel directly at 905-856-9600 and request the *York University Rate*.
Downtown
The CCR has reserved a block of single and double rooms at University of Toronto's Chestnut Residence which is centrally located in downtown Toronto, for participants who prefer to stay downtown. The residence is on the subway line, and is about 40 minutes from the York University conference location via public transit. All rooms are private with ensuite washroom, linen and towels are provided. Housekeeping services the rooms weekly. Complimentary wifi is included. Find out more about the residence: www.chestnut.utoronto.ca/home/summer/
Single and double rooms cost $119/night + HST and include a full buffet breakfast (for maximum 2 guests per room). 
Reservations can be made by emailing frontdesk.chestnut@utoronto.ca or by calling 416-977-0707, ext. 0 and referring to the International Refugee Rights Conference. Cancellation policy is 48 hours in advance and a credit card number will be required to hold the space.
Other options
If you prefer to stay elsewhere, we suggest that you look for accommodations on the subway line for easy access to York University.
Members of the International Conference local organizing committee have compiled this list of options.