Venue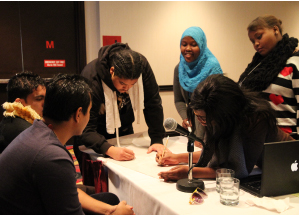 The CCR Fall Consultation sessions from 30 November to 2 December 2017 will take place at the Crowne Plaza Niagara Falls, 5685 Falls Avenue, Niagara Falls.
Accommodation
A block of rooms has been set aside for CCR Consultation participants at the Crowne Plaza Niagara Falls. Participants must make their own reservations.
Standard suite with 2 queen-sized beds: $99/night
Standard suite with 2 queen-sized beds and a view of the Falls: $129/night
Participants must make their own reservations. To reserve rooms at negotiated rates, book your room as soon as possible and by 7 November 2017. Rooms may be available after this date, subject to availability. 
Participants can reserve their rooms online here or by phone at 1-800-519-9911. When making a reservation, say you are with the Canadian Council for Refugees conference to receive the quoted rate.
For billeting possibilities, email marisa@ccrweb.ca by Friday 10 November. A member of the local committee will try to meet your request.
Getting to the CCR Consultation
From Toronto Pearson International Airport: Conference shuttle service is offered by Niagara Airbus for $88 round trip or $64 one way per person (plus tax) to and from Toronto Pearson Airport (YYZ). Reserve at niagaraairbus.com or by calling 905-374-8111. Use promotional code 494.
From downtown Toronto (Union station): There are several Go buses daily, with transfers in Burlington. A one-way fare is approximately $20.
Click here for Toronto - Niagara Falls schedules
Click here for Niagara Falls - Toronto schedules
From the Niagara bus station and VIA Rail train station: Located across the street from one other, on the corner of Bridge Street and Erie Avenue. A taxi from the bus and train station is approximately $10.
Public transit routes: Plan your route at: niagarafalls.ca/living/transit/bus-routes.aspx Cash fare $3, or $2.75 for seniors and students. Exact change is required.
By car: Directions to the Crowne Plaza Niagara Falls are available at: niagarafallscrowneplazahotel.com/information/hotel-driving-directions/
Parking: Parking for guests staying overnight, with in and out privileges, is $29 (plus tax). Parking is a flat fee of $35 for day visitors. Street parking options may be available.
Meals are not included in Consultation registration fees. The Consultation participant's kit will include a list of nearby, affordable places for meals during breaks.
Display Tables
Click here
for information about reserving a display table in the common area at the Consultation.