Most of the claimants from the Czech Republic are Roma, a minority group subject to well-documented harassment, racist attacks and societal discrimination. In 2008, 43% of claimants from the Czech Republic were determined to be refugees. The positive decisions reflect the country information that clearly documents human rights abuses against the Roma.
Some Roma claimants are refused because they are determined to be fleeing discrimination, rather than persecution. It is unfair to call them "false" claimants simply because the harm they are fleeing is bad but not quite severe enough for them to meet the narrow definition of a refugee.
"The Roma, once known as Gypsies, describe living conditions that might fit the image of the Southern U.S. during racial segregation. They say they face a constant threat of neo-Nazi attacks and hateful demonstrations, where marchers head into Roma communities and call them 'parasites'" – Peter O'Neil, Canwest News Service3
The Minister of Citizenship and Immigration has recently been quoted expressing concerns about "false refugee claimants" from the Czech Republic.4 It is inappropriate for the Minister to comment on who is a refugee, since refugee determination is the task of the Immigration and Refugee Board, an independent quasi-judicial tribunal. Since the Minister recommendations to Cabinet about which members should be reappointed at the end of their term, such comments may influence Board members deciding Czech claims, especially those approaching the end of their term.
Petra is a 22-year-old woman who fled to Canada in November 2007, following a brutal attack by skinheads that left her hospitalized.
As a Roma, Petra had been subjected to discrimination and verbal abuse throughout her childhood. She was called names such as "black" and "dirty gypsy". Non-Roma children would not sit next to her for fear of catching some "gypsy disease". The teachers did nothing to protect the Roma children. Outside school too, Petra and her Roma friends constantly faced discrimination: for example, they would often be turned away from discotheques or restaurants.
One day, Petra and another Roma woman were attacked on their way home from work. A group of skinheads swore at them and then hit them, knocking them down to the ground where they kicked them until they were unconscious. They woke up in the hospital, Petra with concussion. The other woman had damage to her uterus. When they reported the attack to the police, the police refused to investigate, saying that the Roma women could not provide sufficiently clear descriptions of their attackers or their actual names.
Petra came to Canada hoping to be able to live without fear for her life.
The Minister's comments also send the wrong message to the Czech Republic, which should be encouraged to act more firmly to protect the rights of its Roma citizens, rather than urged to prevent persecuted Roma from fleeing the country.5
"Under international law, asylum claims must be determined individually. We cannot say that Czech Roma in Canada collectively have a well-founded fear of persecution, just as it is inappropriate for Canadian officials to assert that they do not have a well-founded fear. What we can say is that in the Czech Republic, systemic discrimination and exclusion remain the reality for Roma: systemic segregation of Romani children in schools and housing, poor school completion rates, discrimination in employment and massive unemployment, to name just a few examples. Moreover, there has been an increase in the visibility and activity of extremist groups in the Czech Republic, creating a real threat of violence against Romani people. Finally, there is also a lack of political will at all levels in the Czech Republic to address these issues of discrimination and exclusion." – Rob Kushen, Managing Director, European Roma Rights Centre
"Amnesty International continues to receive reports on forced evictions, segregation in education and racially motivated violence against the Roma community in the Czech Republic. As recently as 2006, it was noted by the Committee on the Elimination of Racial Discrimination that Roma women have been subjected to sterilization procedures without their full and informed consent, a violation that the Czech government did not take sufficient action to impede. Moreover, the Roma community has been denied justice when seeking redress for abuses against them.
The documented information by human rights organizations and UN Committees make it clear that the Roma in the Czech Republic continue to suffer discrimination at the hands of both public officials and private individuals and that there are individuals who require protection.
Amnesty International has noted an increase in extremism targeted at Roma in the Czech Republic, and has called on the Czech authorities to comply with their national and international obligations to ensure that the Roma enjoy their rights, and to stand up to growing extremism.
In light of the continued discrimination against the Roma community, Amnesty International is very concerned with Minister Kenney's comments, which call into question the legitimacy of all refugee claims arriving from the Czech Republic. These comments essentially prejudge asylum claims. This goes against international refugee law, which requires that every asylum claim must be determined on their individual merits. It is simply unacceptable to prejudge asylum claims, or to presume that one type of refugee is inherently more deserving than another."
Gloria Nafziger, Amnesty International Canada
Stefan and Ivana (not their real names) fled the Czech Republic with their young daughter, following years of abuse suffered because they are Roma.
Stefan has been physically attacked numerous times, leading to him being hospitalized more than once. His leg is crooked as a result of a brick thrown at him. On another occasion, he was beaten by skinheads with a baseball bat. He woke up in a hospital with concussion. He has been assaulted in front of his daughter. The attacks were regularly accompanied by racist abuse. Even though Stefan reported the attacks, the police never attempted to find the assailants nor made any effort to protect Stefan.
Stefan had difficulty finding work: employment agencies regularly refuse to hire Roma.
Ivana was forcibly sterilized, without her informed consent, about five years ago. She had complained of some pain in her abdomen during a medical check-up. The hospital told her she needed surgery to stop the pain. The next morning, the doctors informed her that her uterus had been removed during the surgery and she can no longer have children.
Their daughter was attacked at school by fellow pupils. The teacher did nothing to intervene and the girls threatened to beat her up again if they had the opportunity.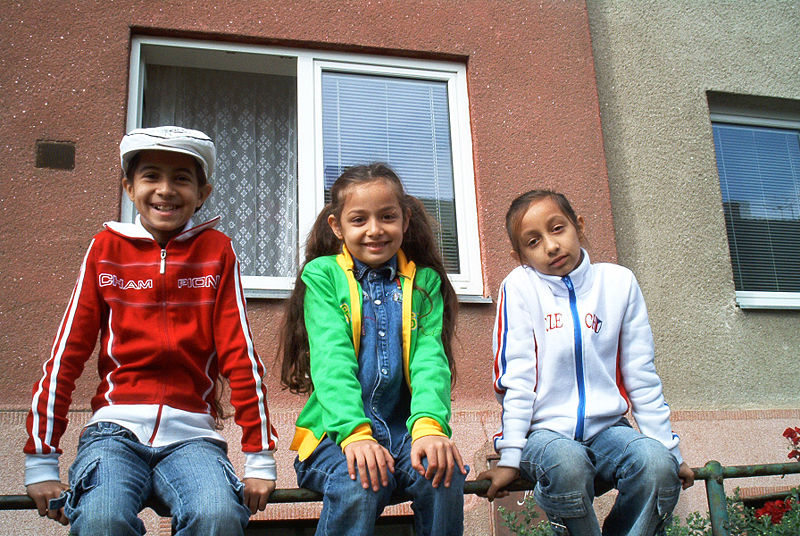 Many Roma children in the Czech Republic, like Stefan and Ivana's daughter and those pictured, face discrimination. Photo credit: Wikipedia commons/Anglos
---
3. "Roma face discrimination, attacks in Czech Republic", by Peter O'Neil, Canwest News Service, 8 May 2009, http://tinyurl.com/obayyh
4. "Canada flooded with Czech Roma refugee claims", by Peter O'Neil, Canwest News Service, 15 April 2009, http://tinyurl.com/dfacyk