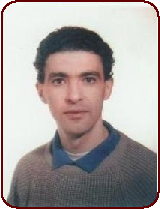 Djamel Ameziane, one of the sponsored detainees. Photo credit: Center for Constitutional Rights
The Honourable Jason Kenney, P.C., M.P.
Minister of Citizenship and Immigration
Citizenship and Immigration Canada
Ottawa, Ontario, K1A 1L1
Dear Minister
Points you could include:
Ask the Minister to resettle without delay the five men in Guantanamo sponsored by private groups in Canada. These men have been arbitrarily detained for seven years and resettlement in a country like Canada is their only hope to rebuild their lives. The Anglican Diocese of Montreal, the Catholic Diocese of Montreal and United Church congregations in Toronto have submitted private sponsorship applications on their behalf.
Urge the Minister to ensure that the applications are processed according to Citizenship and Immigration Canada's guidelines for applicants in urgent need of protection. The situation of these men needs urgent attention because they will otherwise remain in arbitrary imprisonment. There is also a risk that they could be forcibly returned to their home countries where they face incommunicado detention, torture and ill-treatment, and other human rights violations.
Highlight that each of these men has been arbitrarily detained for nearly seven years and has no imminent safe prospects of release, unless Canada resettles them. According to the Immigration and Refugee Protection Regulations, a person who is under immediate threat of arbitrary threat of arbitrary imprisonment is in "urgent need of protection". Each of these men faces not just a threat of arbitrary imprisonment, but they are presently arbitrarily imprisoned.
Note that the US government has not laid any criminal charges against these men, even though they have had over six years to investigate their cases.
Encourage the Canadian government to be a part of the solution for the detainees held in Guantanamo.