Janet Dench, Executive Director, represented the CCR at the Citizenship and Immigration Canada (CIC) national consultation on instructions as mandated by Bill C-50, passed by Parliament in the spring. The legislative change allows the Minister of Citizenship and Immigration to issue instructions affecting which immigrant applications are processed on a priority basis (or at all).
At the consultation, it appeared that the Minister is heading towards instructions that will favour applicants in certain occupations, such as skilled trades, health professionals, financial services, resource extraction, aerospace and defence, and post-secondary education. There was also mention of the needs for workers in entry level jobs, although those at the consultation interpreted "entry level" in different ways.
The focus on the consultation was on labour market needs, although the CCR and a number of other groups present emphasized the need to take a broader view of immigration and to give high priority to family reunification.
In discussion, CIC mentioned that they are concerned about temporary foreign workers being treated unfairly, and spoke of measures planned to improve respect of their rights.
The CCR's comments prepared for the consultations on C-50 instructions can be found at:
http://www.ccrweb.ca/documents/c50consultations.htm
.
In August, CIC announced the details of the new Canadian Experience Class (CEC), which will offer the possibility of permanent residence to some temporary workers in Canada, based on "skilled" work experience.
The CCR believes that all workers on temporary permits should have the right to apply for permanent residence, and is thus deeply concerned with the many exclusions of the CEC, such as the exclusion of temporary workers in the "lower" skill category. The CCR is also concerned about the stated aim of the CEC to attract more temporary workers to Canada. The increase in temporary workers in recent years is a worrying trend: Canada needs immigrants and refugees with permanent status to contribute as nation builders, not as disposable economic units.
The CCR has presented a position on the CEC, adopted by the CCR membership in May 2008 (available at http://www.ccrweb.ca/documents/CECcomments.pdf )
For CIC information on the proposed CEC, see the Backgrounder, http://tinyurl.com/54svax.
In September, the CCR will be launching a new campaign to demand the elimination of transportation loans for resettled refugees.
A number of groups are already doing advocacy on this issue in various regions in Canada, including active coalitions in Vancouver, Edmonton and Winnipeg. If you and your organization are interested in working together on the campaign to end the burden of loans for resettled refugees and dependants of refugees in Canada, contact Janet Dench at: jdench@ccrweb.ca
For the resolution on transportation loans adopted by the CCR membership at the 2008 Spring Consultation in Winnipeg, see Resolution 5: http://www.ccrweb.ca/documents/resmay08.htm
For recent news stories highlighting the effects of loan repayment on refugee families, see:
'Refugees Welcome?', The Vancouver Sun, 24 July 2008, http://tinyurl.com/59rjsm
'Systematic barriers give immigrants a raw deal', The Winnipeg Free Press, 13 August 2008, http://tinyurl.com/6yv74t
'African Refugee Faces Up to Homeless Misery', The Georgia Straight, 21 August 2008, http://www.straight.com/article-158385/african-faces-housing-crisis
In early July, the CCR together with Amnesty International, the Canadian Council of Churches and John Doe expressed their dismay with the Federal Court of Appeal ruling on the Safe Third Country Agreement. The appeal court overturned an earlier Federal Court decision which found the United States does not comply with the Refugee Convention and Convention against Torture and that the Safe Third Country Agreement is in breach of Canada's Charter obligations.
Under the Safe Third Country Agreement, most refugee claimants arriving in Canada at the US border are ineligible to make a claim and instead must claim in the US. The groups argued that the United States does not comply with its international human rights obligations under the Refugee Convention and Convention against Torture.
In his majority reasons for the Federal Court of Appeal, Justice Noël wrote that the lower court's conclusion, based on voluminous evidence, "that the US does not 'actually' comply is irrelevant." He determined that so long as Cabinet had "considered" the human rights situation in the US and was not acting in bad faith in entering into the agreement, the reality facing refugees affected by the agreement does not matter. He also ruled that a challenge to the designation of the US as a safe third country could only be brought by a refugee who has been denied entry to Canada and is facing a real risk of return to torture or persecution.
The organizations will be appealing the Federal Court of Appeal ruling to the Supreme Court.
For a copy of the Federal Court decision, see:
http://decisions.fca-caf.gc.ca/en/2008/2008fca229/2008fca229.html
For the press release announcing the decision, see: http://www.ccrweb.ca/eng/media/pressreleases/02july08.htm
e) Reminder: CCR Summer Working Group meetings, 5-6 September 2008, Montreal
Do you want to be part of efforts to promote rights for refugees? Want to participate in in-depth discussions on pressing issues affecting refugees and immigrants in Canada? Looking to share information and strategies with others from across Canada? Come to the CCR Summer Working Group meetings in Montreal!
Moving forward on issues, Getting involved: The Working Group meetings are a chance to:
advance many of the projects and positions adopted during CCR Consultations.
look at issues in greater depth and plan local and national actions, all in a setting that encourages greater individual participation.
become more involved in CCR activities at the national level, lending your experience and perspectives to the CCR's work.
Networking, Learning: The Working Group meetings provide an excellent opportunity to:
get to know others working on issues affecting refugees and immigrants.
see links between many issues nationally and locally, and how they are relevant to our work with refugees and immigrants.
When: 5-6 September 2008, 9:30am – 5 pm
Where: St. James the Apostle Church, 1439 Ste Catherine Street W., Montreal
For more information
and for a copy of the Working Group promotional pamphlet, see:
http://www.ccrweb.ca/eng/about/meetings.htm
The Executive has twelve elected members (plus Past President ex officio). At this year's Annual General Meeting on Saturday, 29 November 2008 in Toronto, 4 positions come open for election: Secretary, Treasurer and 2 counsellors (members-at-large of the Executive).
Perhaps you are someone with a strong interest in CCR issues but you are hesitating because you have never been on a Board. If this is the case, we can offer you support by matching you with an existing Executive member for the initial stages of your term.
The CCR takes the following criteria to take into consideration in electing the Executive: balance between the issues and working groups, representation of refugees, immigrants and people of colour, gender balance, French/English balance, regional representation, representation of youth, commitment, time, and fundraising and management skills. Executive members must represent a member organization of the CCR that supports the nomination.
In addition, the Nominating Committee has identified needs for at least one representative from the Atlantic (two would be nice), and notes that Quebec and BC are under-represented. Traditionally, the Executive has had a lawyer, and we therefore need to elect or re-elect a lawyer. The Nominating Committee would urge members fitting these roles to come forward. Otherwise, the Executive is relatively well balanced, and so anybody able to contribute should consider stepping forward.
Additional information and nomination forms can be requested by sending an email to: jdench@ccrweb.ca
Nominations are to be submitted as soon as possible and before 25 October 2008.
Save the date! On the evening of Thursday, November 27th, the CCR will be hosting a gala celebration in Toronto to mark its 30th anniversary. As part of the Fall Consultation which will be taking place in Toronto 27-29 November, the Gala is an opportunity to raise the profile of refugee and immigrant rights in Canada. Information on where to purchase tickets will soon be available on the CCR website. Special rates will be offered to refugee and youth participants.
A special thank you! To sponsors from across the country who have already made contributions to the CCR 30th anniversary. Organizations and donors are invited to sponsor one of the CCR's 30 years in celebration of our anniversary. Sponsors are recognized on the CCR's virtual 'honour wall' at: http://www.ccrweb.ca/30anniv/wall.htm Interested in sponsoring a year? Please contact 30th anniversary coordinator, Faith Shamonda, at: ccr30@ccrweb.ca for more information.
A special thank you also goes to Chris Wulff of the Ontario Council of Agencies Serving Immigrants (OCASI) who 'built' the wall!
Get the gear! Celebrate the CCR's 30th anniversary by raising awareness of refugee and immigrant rights in your community. Materials such as pamphlets, booklets, DVDs, posters, stickers, buttons and much more can be ordered from the CCR office for use at local CCR 30th anniversary celebration or your next local event.
To order, download, fill out and submit the publication order form at: http://www.ccrweb.ca/documents/publicationsorderform.pdf or call Guadalupe Macias at the CCR office (514-277-7223). CCR members now receive a 10% discount on orders of CCR materials. Please allow 2 -3 weeks for delivery.
About the CCR's 30th anniversary:
For more information about the CCR's 30th anniversary and ideas for celebrating in your community, see: http://www.ccrweb.ca/30anniv/home.htm or click on the CCR 30th anniversary logo at: www.ccrweb.ca
- 30 Years of the Canadian Council for Refugees: A brief historical overview (booklet)
Have you ever asked how the CCR got started?
Have you wondered what the biggest challenges to refugee and immigrants rights have been?
What policies and events have shaped refugee protection and newcomer settlement in Canada since 1978?
Find out at: http://www.ccrweb.ca/documents/CCRHistory.pdf (only available electronically)
Join in celebrating the CCR's 30 years of building a home of justice for refugees and immigrants: Share the CCR's history in your efforts to raise awareness of the challenges that refugees and immigrants in Canada have faced in recent history. See section g) above for more information on CCR's 30th anniversary resources.
- CCR: Working together on behalf of refugees and immigrants (pamphlet)
A pamphlet outlining the Canadian Council for Refugees from A to Z: the CCR's goals, activities, beliefs and campaigns. Great for introducing organizations, board members and members of the community to the Canadian Council for Refugees. Take some to your next board, staff or community meeting!
- Available soon: State of Refugees in Canada: An introduction to refugee and immigrant issues in Canada (booklet)
An 8-page booklet outlining international refugee definitions, Canada's roles in protecting refugees and refugee claimants, and our responsibility to protect the rights of non-citizens in Canada. Illustrated with photos from CCR member organizations, fast facts to bust myths about refugees and immigrants, statistics and charts to help navigate Canada's refugee determination system. Great for general audiences. Be sure to have copies on hand for your next table display!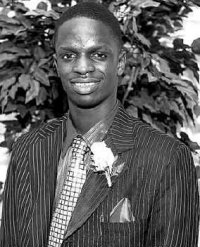 Leo Nupolu Johnson fled Liberia at 16 and lived as a refugee in Ivory Coast and Ghana. He worked for several humanitarian organizations ranging from grassroots groups to the UNHCR before being resettled to Canada in 2006. Currently, Leo is a second-year student at McMaster University, works as a bank customer service representation and is involved with a number of community projects in the Hamilton area.
In addition to working with Hamilton's Settlement and Integration Services Organization (SISO) as a life skills trainer and youth volunteer, Leo founded and directs Care for Underprivileged and Refugee Empowerment (CURE), which focuses on education, injustice and conflict issues. CURE projects include: the AIDS awareness theatre production ShAIDS of Grey; CURE Community Homework Club, a free, after-school program and tutoring service for underprivileged and refugee students; and Day @ MAC, which provides Hamilton high school students a chance to attend McMaster University for a day with student mentors and shows them opportunities for attending university.
Leo first became involved with the CCR in 2006 and is an Amina Malko Fund recipient. Why does he advocate for the rights of refugees and refugee families? "I cannot afford to see young people live the harsh realities of life as refugees, homeless people and child soldiers. I survived it, so I have a responsibility to prevent it and stop it." The greatest challenges that he sees are lack of inclusion and systemic discrimination: "We need to allow refugees and immigrants access and participation at all levels of decision-making… No one can solve the problems faced by immigrants and refugees in Canada and elsewhere, except for themselves. All they need is access to resources, inclusion and equal opportunities to realize their potential."
Fresh from a 2,500 km bike tour 'Love, Sweat + Gears', to raise awareness of the situations faced by refugees in Canada and around the globe, these days Leo is involved in
Ride for Refugees
– a cycling fundraiser. Gear up for the October 18th event and find out how you can become involved at:
www.rideforrefugees.com