Why endorse the Manifesto on Family Reunification and support this campaign? Because...
"It's more than a nightmare for me. The stress is making me ill [...] Sometimes [my wife] asks herself what she is doing here, that she should be in Algeria with her daughters."
Mahmoud, whose two eldest daughters were left behind in Algeria more than 5 years ago
"Can Canadians themselves accept being separated from their children and their wives for 2 or 3 years? Dad, ask one of the officials who is married and has children if he could bear such a thing."
The eldest son of Irénée, who has been waiting to be reunited with his wife and six children
"It is one of the enduring mysteries why Canada, a country committed to and with highly developed competence in immigration, should not succeed in making its immigration program fulfill the declared and widely popular objective of reuniting families."
Janet Dench, CCR Executive Director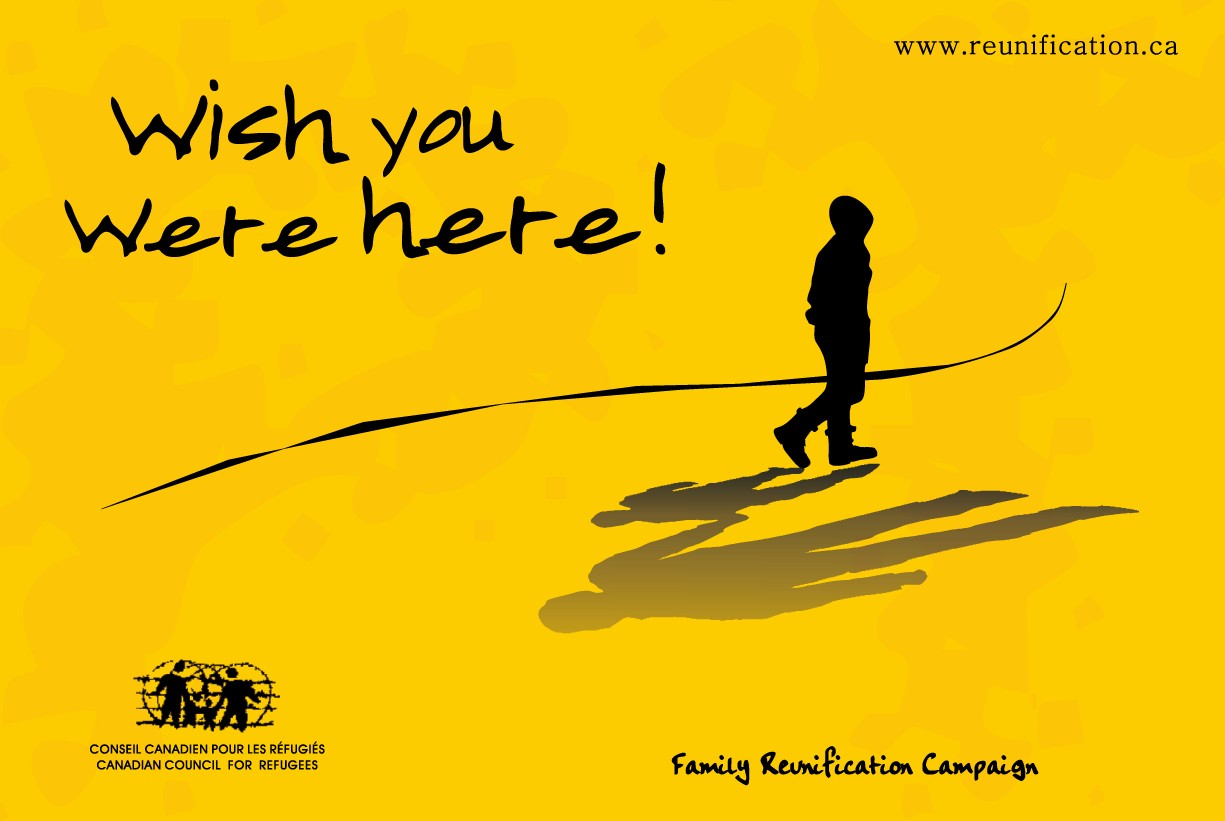 Introduction
Refugee and immigrant families are frequently separated for prolonged periods or indefinitely, due to policies and practices that block or delay reunification.
The barriers include a narrow definition of family (excluding for example non-biological children), costly and time-consuming DNA testing, bars on sponsorship if the sponsor is receiving social assistance, a category of "excluded family members" and administrative delays.
Refugees are among those hardest hit. They are sometimes forced to wait years to be reunited with their spouses and children overseas, who can be in situations of danger and persecution.
For more on this issue, see CCR report "More Than a Nightmare: Delays in Refugee Family Reunification" at www.web.ca/ccr/nightmare.pdf
Members of the CCR have decided that after years of seeing the pain experienced by these separated families, it's time to make more Canadians, especially politicians, aware of the devastating impact of refugee and immigrant family separation, and of recommendations for change. Together those of us who care about refugee and immigrants' rights can do it. Our credibility, know-how, grass-roots contacts across Canada and links to the families involved, make us ideally placed to publicize the problem and press for change.
Goals of this campaign
To persuade politicians that policies and practices must be changed to promote speedy family reunification
To encourage the federal government to make speedy family reunification a priority
To make the public more aware of the unnecessary and painful costs of family separation and the benefits of speedy family reunification
To reach out to allies (community, health, education and faith-based organizations, city councils, for example) to strengthen the campaign
Key messages
Canada needs to give a larger place to family reunification in the immigration program by re-thinking the 60/40 economic/non-economic split and by increasing the overall numbers of immigrants.
We need to eliminate the barriers to family reunification (e.g. excluded family members, DNA testing, slow processing times, financial requirements).
We need to expand the definition of family members who can benefit from family reunification (e.g. more categories of family member, older children, non-biological children).
Refugee families and others whose families are at risk deserve special consideration
Government accountability is not just about money, it is about people's lives. The government must be accountable for families kept separated. We expect the government to answer for money wasted - it is at least as important to hold the government accountable for lives wasted - when for example government action or inaction keeps children separated from their parents for years.
Take Action
Endorse the Manifesto on Family Reunification - Pledge to put families first!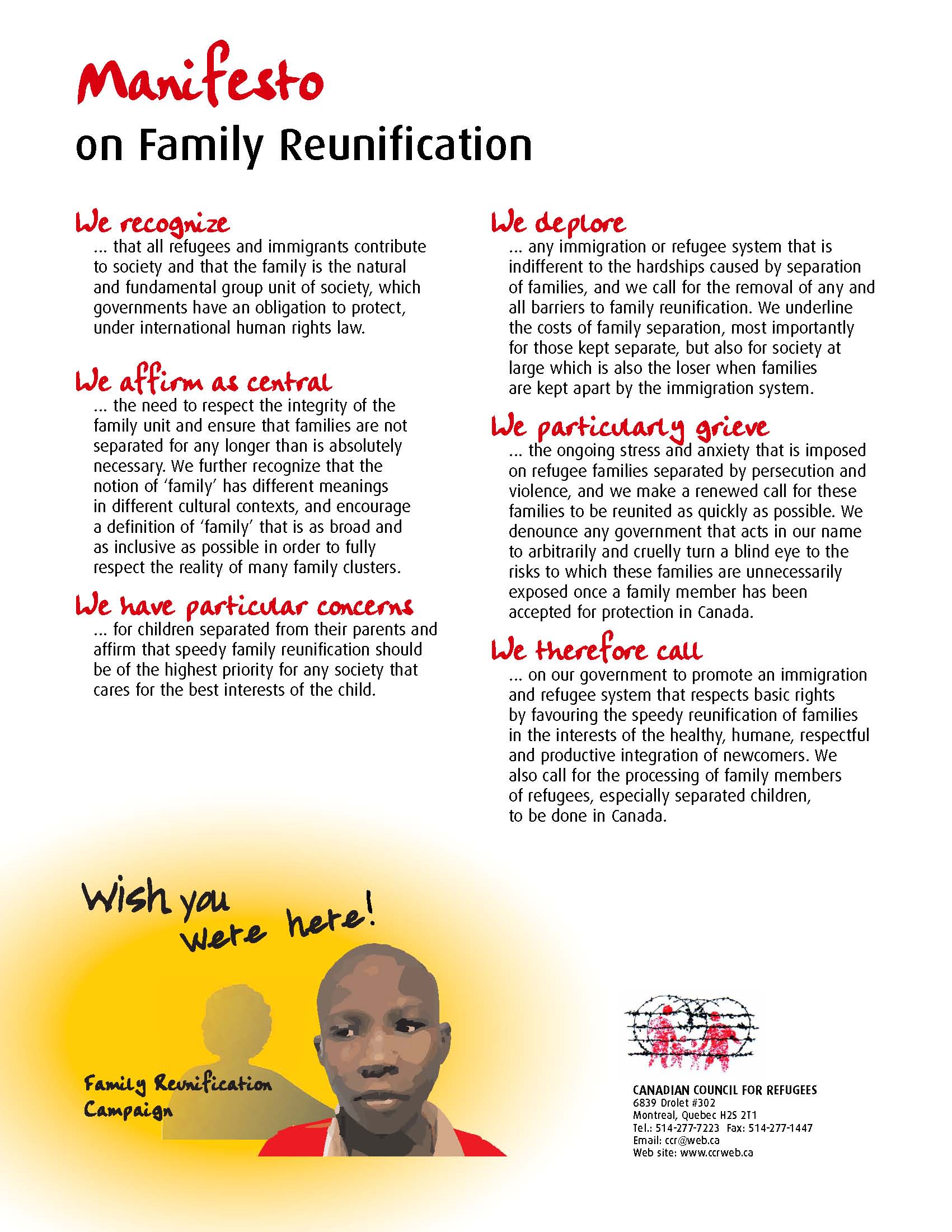 In endorsing the Canadian Council for Refugees Manifesto on Family Reunification, you and your organization are making an important commitment to reuniting refugees with their families in Canada without delay and are calling on the government to do the same.
Endorsing the Manifesto on Family Reunification is an easy three-step process:
After discussing and approving the Manifesto within your organization, post it in a visible location testifying to your commitment.
Let the office of Canadian Council for Refugees know that you have signed on to the Manifesto at cfrench@ccrweb.ca, so that we can add your organization's name to the growing list of groups that have endorsed it.
Talk to other groups in your community that might support the CCR Manifesto on Family Reunification: community service organizations; unions; professional associations; faith assemblies; school, college and university groups; your city or town council among others. Having a broad range of voices supporting the Manifesto on Family Reunification will strengthen its impact when we present it to Ottawa.
Manifesto on Family Reunification
We recognize that all refugees and immigrants contribute to society and that the family is the natural and fundamental group unit of society, which governments have an obligation to protect, under international human rights law.

We affirm as central the need to respect the integrity of the family unit and ensure that families are not separated for any longer than is absolutely necessary. We further recognize that the notion of 'family' has different meanings in different cultural contexts, and encourage a definition of 'family' that is as broad and as inclusive as possible in order to fully respect the reality of many family clusters.

We have particular concerns for children separated from their parents and affirm that speedy family reunification should be of the highest priority for any society that cares for the best interests of the child.

We deplore any immigration or refugee system that is indifferent to the hardships caused by separation of families, and we call for the removal of any and all barriers to family reunification. We underline the costs of family separation, most importantly for those kept separate, but also for society at large which is also the loser when families are kept apart by the immigration system.

We particularly grieve the ongoing stress and anxiety that is imposed on refugee families separated by persecution and violence, and we make a renewed call for these families to be reunited as quickly as possible. We denounce any government that acts in our name to arbitrarily and cruelly turn a blind eye to the risks to which these families are unnecessarily exposed once a family member has been accepted for protection in Canada.

We therefore call on our government to promote an immigration and refugee system that respects basic rights by favouring the speedy reunification of families in the interests of the healthy, humane, respectful and productive integration of newcomers. We also call for the processing of family members of refugees, especially separated children, to be done in Canada.
Download the manifesto from here => Manifesto on Family Reunification. April 2006.

Or use the following version with image

or a second version with image.

* Encourage any individuals wanting to endorse the Manifesto to have organizations that they are involved in to sign on (we are not seeking endorsements from individuals).
Reach out to potential campaign allies in your community
Get the campaign started by inviting people to meet - people likely to be supportive of refugees and immigrants' rights, and/or are personally affected by the problem (and don't overlook refugees and immigrants themselves):
Refugee and immigrant communities
Provincial governments
Municipalities (city/town councils)
Social service organizations
Rights groups
Women's groups
Unions
Professional associations
Faith communities
Sympathetic MPs
Academics/researchers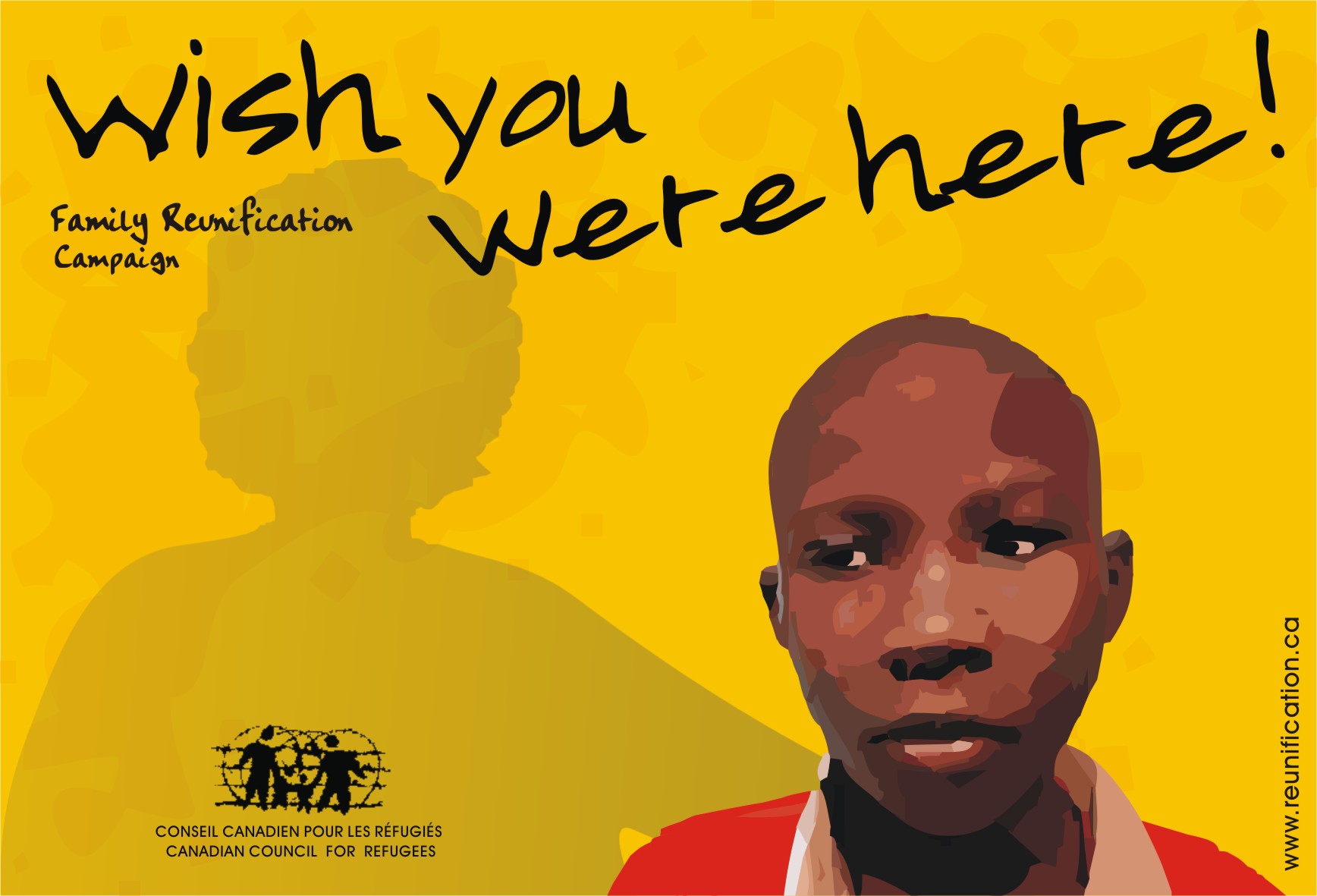 At the meeting describe the campaign goals, messages etc. and show the documents (see the section Resources and Tools below). Brainstorm actions and activities to bring the issue alive to politicians, the media and the public. Select one or two actions, and plan the next steps needed. Contact the CCR office at cfrench@ccrweb.ca with any ideas or additional resource requests.
Activities
Seek support of potential allies (see suggested list above)
Visit your Member of Parliament (see below)
Call a press conference on Mother's Day/ Father's Day to bring attention to separated family members.
Support separated family members in their efforts and if they are willing to speak to the media
Use the images posted on this website – post them on your website, in your mailings, in presentations and other public education materials
Create a pamphlet aimed at the general public with anecdotes of local people who have been separated from their families.
Use the images to create other resources: greeting cards (Mother's Day, Father's Day, for example), stickers, campaign buttons, etc.
Organize a community event focusing on family reunification (Refugee Rights Day – April 4th is a great time to do this!)
Visit your Member of Parliament (MP)
We encourage supporters to visit MPs in their ridings to deliver the campaign documents, explain the issue and present the CCR's recommendations.
Most MPs are eager to meet with their constituents. Your opinions are valuable to your federal government representative, and your meeting is likely to be very influential. Keep in mind that you don't have to be an expert to get your point across. The message you will bring to your meeting is that of a concerned citizen who wants to uphold Canada's values by ensuring that immigrants and refugees are treated fairly.
Campaign documents and supporting materials to help you arrange and run your meeting are available in the following section.
Resources and Tools
1. The Manifesto on Family Reunification. Or use one of the "postcard" versions: child's head

or child with shadow.

2. Fact sheets with: a) the key messages, b) examples of the problems and c) recommendations. To give to politicians at meetings, and to introduce the problem to potential allies. See also the November 2007 two-pager: Making Speedy Family Reunification a Priority

and the April 2008 backgrounder Families Never to be United: Excluded Family Members (R. 117(9)(d)), backgrounder and case profiles, April 2008

, and the pamphlet on delays at Nairobi.
3. DVD, 'The Cost of Separation', 9 minutes. The film highlights the impacts of prolonged family separation on three parents who are recognized as refugees in Canada. Available for order, $5 (includes shipping).
4. More comprehensive documents with all the family reunification issues of concern, for those who want to know the issues more in depth, and to ask potential allies to contribute. These are intended for reference purposes rather than as a handout:
a) Nairobi: Protection delayed, protection denied, October 2009

b) Impacts on Children of the Immigration and Refugee Protection Act, November 2004

b) More than a Nightmare: Delays in Refugee Family Reunification, November 2004
5. 'Wish you were here…': Family reunification campaign images (see images above)
6. Handouts for MP:
7. Refugee Rights Day Virtual Toolkit
8. Strategies for intervening in family reunification cases: Practical guide
Intended for organizations working with refugees and immigrants struggling with barriers to family reunification, this guide addresses: A. Children overseas separated from refugee parents in Canada; B. Excluded family members (s. 117(9)(d)); C. Landing of refugees with family members whose files are not finalized; D. DNA testing; E. Beginning processing of dependants overseas of protected persons.
For more information on the Family Reunification campaign, notification of endorsements and additional questions, please contact Colleen French at the CCR office: cfrench@ccrweb.ca