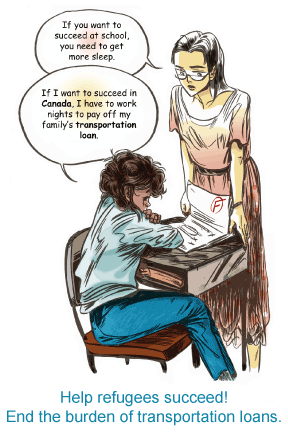 SEND your postcard to:
The Minister of Finance. Hon. Jim Flaherty
Or
The Minister of Citizenship and Immigration, Hon. Jason Kenney
Or
WRITE A SHORT TEXT on the back of the postcard:
Ask for an end to the burden of refugee transportation loans.
If writing to your MP, ask her/him to work to persuade the government to end the loans.
Say why you think this important.
SOME SUGGESTIONS:
Mention something about yourself (if relevant, example: you are repaying a transportation loan as a refugee)
Contrast Canada's welcome to refugees with their starting debt of up to $10,000.
Highlight ONE of the impacts of this loan burden, for example:

Refugee teenagers struggle with their high school studies while working to pay the loan.
Refugees postpone upgrading language and other skills to work at low-end jobs to meet the monthly loan payments.
Refugee youth sacrifice ambitions of higher education because they must work.
Refugee families paying the loan don't have enough money for basics, including food.
Refugee families in debt cannot get on with their lives: They have limited access to education loans, small business loans, mortgages and the possibility of sponsoring family members.

Mention that the cost of forgiving existing loans and absorbing the expenses for future resettled refugees would not be huge for the government. Investing in success for refugees means success for all Canadians.

Don't forget to sign and print your name at the bottom!
Further information is available at: http://www.ccrweb.ca/transportationloans.htm
To order postcards: Order form