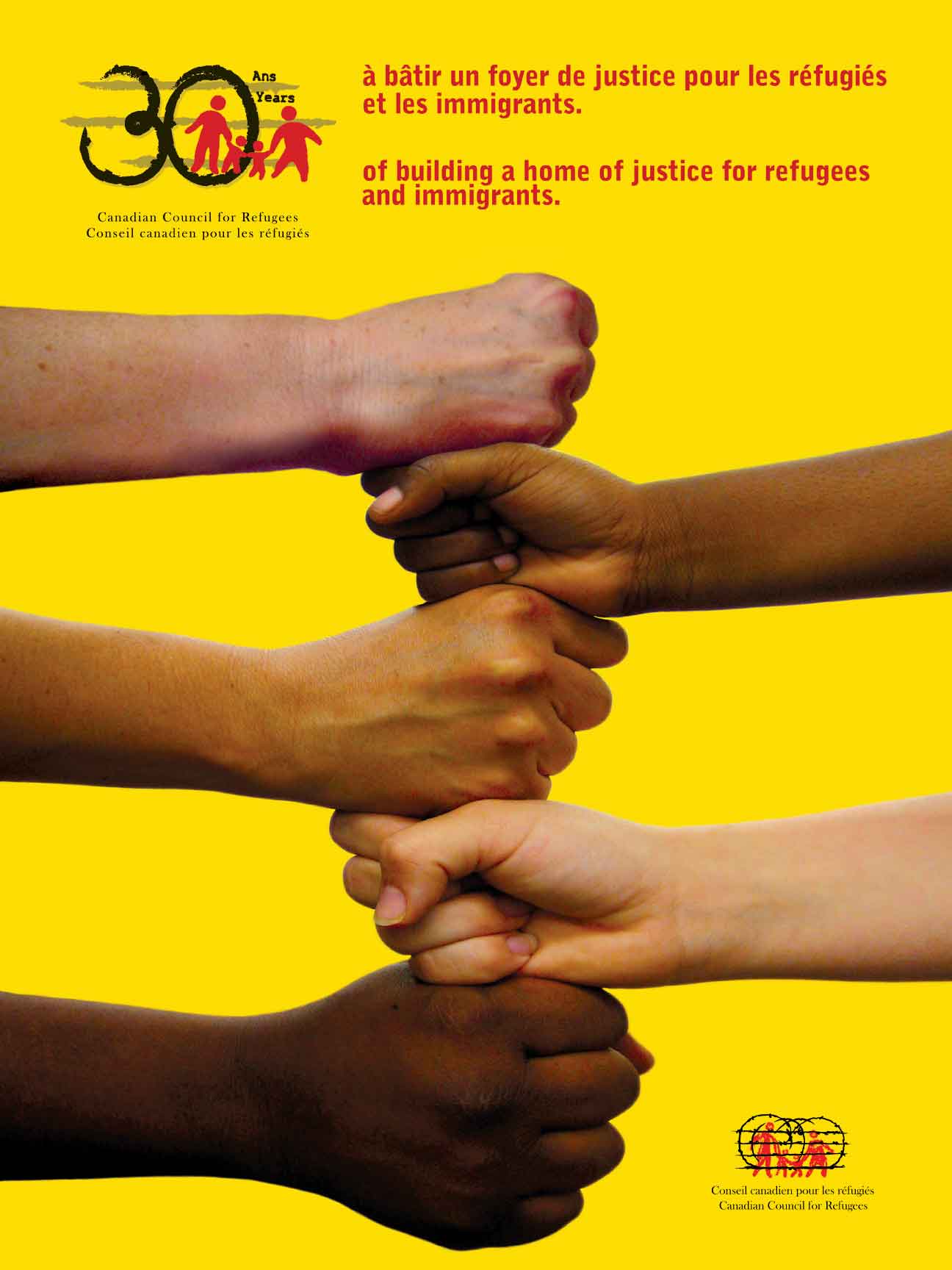 Created in 1978, the Canadian Council for Refugees has established itself as the national voice on refugee protection and newcomer settlement in Canada. Over our 30 years of existence, the CCR and its members have made a profound difference in the lives of refugees and immigrants.
Our three main objectives for the 30th anniversary celebrations are to:
- recruit new members
- fundraise
- educate the public about refugees and immigrants
Celebrate with the CCR at our gala!
On the evening of Thursday, November 27th, the CCR will be hosting a gala celebration in Toronto to mark our 30th anniversary. As part of the CCR Fall Consultation, the Gala is an opportunity to raise the profile of refugee and immigrant rights in Canada.
Latest update: Tickets at the gala are almost sold out. If you would like to find out whether it is still possible to get a ticket, please write to gala@ccrweb.ca.
Celebrate the CCR's 30th anniversary by raising awareness of refugee and immigrant rights in your community. Materials such as pamphlets, booklets, DVDs, posters, stickers, buttons and much more can be ordered from the CCR office for use at local CCR 30th anniversary celebration or your next local event. These are just some of the resources you can use:
-Posters: 30 Years of Building a Home of Justice for Refugees and Immigrants
-Stickers with the CCR's 30th anniversary logo
-Display board: 'Spotlight on Refugee and Immigrant Rights'
- Publications:
- 30 Years of the Canadian Council for Refugees: A brief historical overview (booklet)
- State of Refugees in Canada: An introduction to refugee and immigrant issues in Canada (booklet)
- Justice for Refuges and Immigrants: Some key issues (pamphlet)
- Working Together on Behalf of Refugees and Immigrants (pamphlet about the CCR)
To order these and other resources, download, fill out and submit the publication order form.
One of the best ways to mark the CCR's 30th anniversary and help us meet our fundraising goal is to become - or recruit - a Friend of the CCR (monthly donor).
Please allow 2 -3 weeks for delivery. Note: CCR members now receive a 10% discount on orders of CCR materials.
Celebrate by organizing a local event. An event can be anything that you want it to be – big or small. Some suggestions for events include hosting a fundraising dinner, hosting a refugee poetry evening or a cultural evening of music and dance, and using an event already planned (like a video screening) and highlighting the CCR's 30th Anniversary.
For more information, consult the Guide to planning a 30th Anniversary event.
Celebrate the CCR's anniversary by sponsoring one of our 30 years.
For more information, contact Faith Shamonda, the 30th Anniversary Coordinator at ccr30@ccrweb.ca.