Refugees receive limited, if any, social assistance from government authorities
For several years, a persistent chain email has been circulating claiming that refugees receive significantly more money in income assistance than Canadians collecting a pension.  The information, which is based on a letter published in the Toronto Star has been disproven by the federal government and the Canadian Council for Refugees.
Refugees come to Canada in different ways, but no matter the category, refugees receive very limited income assistance from the government.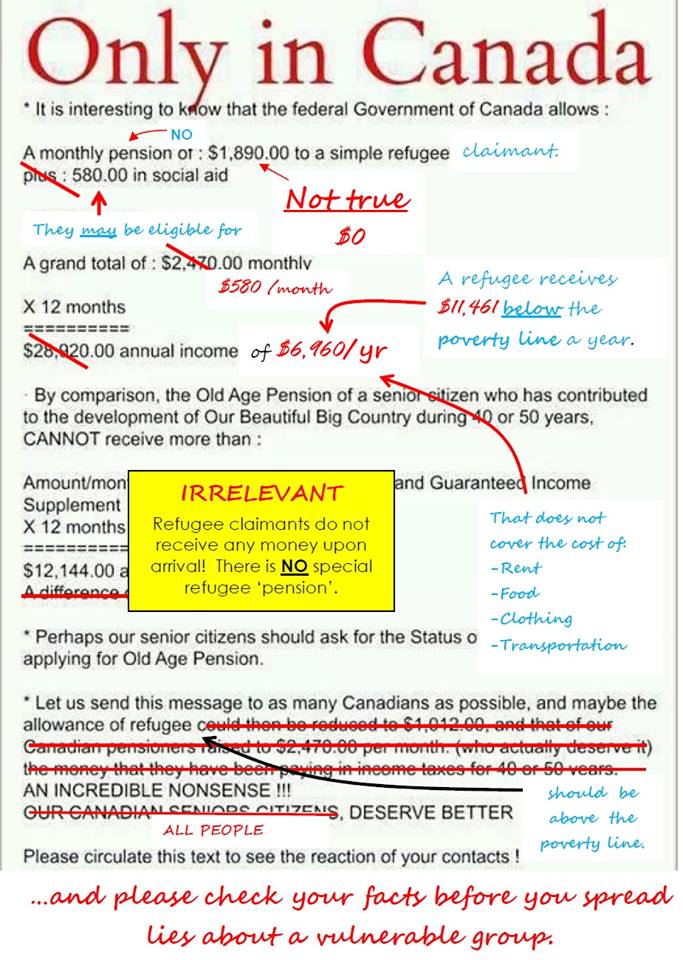 Please share!: Dr. Silvia D'Addario and York University students have set the facts straight on government support for refugee claimants
The true picture is that:
Refugee claimants and refugees recognized by the Immigration and Refugee Board receive no special income assistance.  They may, depending on provincial regulations, be entitled to social assistance like other residents.
Privately sponsored refugees are not entitled to government assistance (including provincial assistance) during the period of their sponsorship (usually for one year after arrival in Canada).  Their income support must be provided by their sponsors – volunteer community groups.
Government assisted refugees have access to financial assistance from the federal government through the Resettlement Assistance Program (RAP). This financial assistance is generally for one year maximum and is received only if they do not have their own financial resources or income. The exact rate depends on the size of the family and is tied to social assistance rates. For example, a single person receives between $567-$751 per month depending on the province they live in (as of 15 October 2018). A monthly top-up of up to $200 may be possible in areas with higher housing costs. In addition, government-assisted refugees are entitled to a one-time set up allowance, to cover such things as clothes, basic household effects and staples, and telephone installation. For a single person there is a maximum one-time allowance of $905, plus a $564 loan for house rental and telephone line deposits.
Most resettled refugees arrive in Canada with a significant debt burden, since they are expected to repay the Canadian government for their transportation to Canada as well as the cost of their medical examination before coming to Canada.  This means refugee families often begin life in Canada with a debt of thousands of dollars.  Interest is charged on this loan at a rate set by the Department of Finance each year.
Have you seen a different meme claiming that refugees receive $3,874 each per month from the government? Click here for a detailed fact check
Click here for more information on transportation loans for resettled refugees and the devastating impacts they have.
Click here for resources to set the record straight (including a sample email response) and more information.