Marketing immigration enforcement
The recent news about immigration raids played out for a reality TV show has drawn attention to the Canada Border Services Agency's interest in strategies of mass appeal, at the expense of individuals' privacy and dignity. But it's not the first example.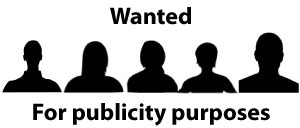 In 2011, CBSA published a "most wanted" list of 30 so-called "suspected war criminals", complete with mugshots, and asked the public for assistance in locating them. The strategy raised many concerns and the Canadian Council for Refugees filed a complaint with the Privacy Commissioner (we are still waiting for a response).
Internal documents show that, a year or so on, CBSA worried that public interest in their list was lagging and that there was a "lack of sufficient cases" to populate the list.
So they decided to broaden the categories of cases included and reduce the number on the active list to 20. The "most wanted" list had in the meantime become the simply "wanted" list. To keep the public interested, the communications department would explore additional avenues, including pro-active media releases.
In order to find enough cases to profile, CBSA broadened the criteria to include people who don't even have a removal order issued against them yet. They thought that this might lead to public frustration when people arrested after profiling were released from detention, or even allowed to remain in Canada. However, CBSA figured that in such cases the blame would be shifted to the Immigration and Refugee Board.
The information about CBSA's rethinking of the "wanted" program is set out in documents from September 2012 and obtained through Access to Information.