Increase in Temporary Foreign Worker numbers
The number of migrant workers in Canada has increased by 70% in the last five years.
Canada has been shifting towards a reliance on migrant labour. In 2008, for the first time, the number of temporary foreign workers in Canada exceeded the total number of permanent residents admitted in the same year.
At the end of 2012, the gap had grown: there were 338,189 Temporary Foreign Workers in Canada on December 1, 2012, compared to 257,515 new permanent residents in 2012.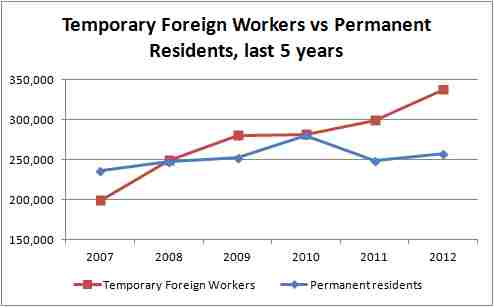 Migrant workers are especially vulnerable to exploitation and abuse because of their lack of status, their isolation and their lack of access to information on their rights, and because the Canadian and most provincial governments don't ensure monitoring of their workplaces.
For more information, see:
CCR, Migrant workers - Canada's Disposable Workforce
CIC, Temporary foreign workers present on December 1st by province or territory and urban area, 2008-2012