Forum on Migrant Worker Issues
REGISTRATION FOR THE FORUM IS NOW CLOSED. THERE WILL BE NO ON-SITE REGISTRATIONS SINCE WE ARE AT CAPACITY
This full-day meeting will offer an opportunity for migrant workers to gather together with other participants (including advocates for migrant justice, front-line workers involved in settlement or other service delivery, and those involved in human rights or labour organizing) and share information and strategies on providing support to and advocating for the rights of migrant workers.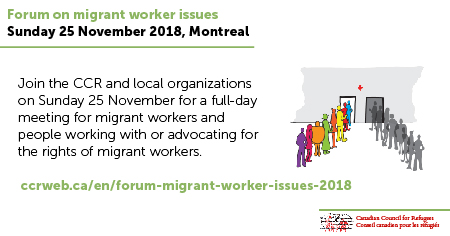 The meeting takes place on November 25th, directly prior to the CCR Fall Consultation, November 26-28, in downtown Montreal.
About the meeting:
The objectives of the meeting are to:
Create a space for sharing and learning among migrant workers, grassroots support groups, social service providers and migrant rights advocates
Share strategies and solutions for case work with migrant workers
Provide an opportunity for networking among migrant workers and individuals and groups working on issues related to migrant workers
Discuss policy advocacy and common campaign strategies
Should I attend?
You should attend this meeting if you are:
a migrant worker in Canada
an advocate for migrant justice and human rights
a front-line worker in settlement or other support service delivery
involved in the movement for worker's rights
Please note that this forum is not appropriate for recruiters or immigration consultants who work with migrant workers on a for-profit basis, or for employers.
For more information:
Contact: mberrymendez@ccrweb.ca
Learn more about the CCR's work on migrant worker issues: ccrweb.ca/en/migrant-workers
Hosted by:
This meeting is co-hosted by the Canadian Council for Refugees and the Immigrant Workers Centre.
Also involved in organizing the meeting are: PINAY, Association for the Rights of Household Workers (ARHW) and RATTMAQ (Réseau d'aide aux travailleuses et travailleurs migrants agricoles du Québec). 
Host (organizer of event):
Canadian Council for Refugees