It's time for Canada to sign the Migrant Workers' Convention
May 1st is International Worker's Day, a time to celebrate the achievements for workers' rights, and to reflect on the limitations on these rights that must still be overcome. As migrant workers in Canada (and around the world) continue to face barriers in accessing their rights, it is worth noting that the Canadian government has yet to ratify the UN Convention on the rights of all migrant workers and their families.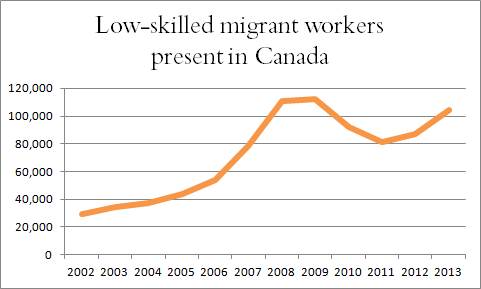 For several years Canada has promoted temporary labour migration of people from the global South to Canada to occupy low-skilled jobs for a finite amount of time, after which they are required to leave. Although they contribute to the Canadian economy and pay taxes, the federal government does not fund many basic services for these workers and does not allow them to settle permanently.  Workers are vulnerable to abuse and exploitation by recruiters and employers despite recent changes.
In 2014 the government made several changes to the Temporary Foreign Worker Program (TFWP), some of which increase workers' precarity. Live-in caregivers are no longer guaranteed a pathway to permanent residence. Other low-skilled migrant workers face a 4 year limit to the time they can be in Canada, and this limit is to be reduced still further this summer. While increased inspections were announced – a measure long demanded by advocates - the compliance framework for violations suggests that workers can be penalized for their employer's infractions.
The Canadian government has said that recent changes are intended to protect migrant workers from abuse. Yet the changes do little to improve the situation of workers, and in fact make the workers' status more temporary in Canada.
Signing the migrant workers' convention would be a way for the government to show that its commitment to protecting migrants' rights is real. The Convention sets a moral standard, and serves as a guide for the promotion of migrant rights.
It's time for Canada to live up to the rhetoric and make a real commitment to migrant workers' rights, by signing on to the UN Convention.  
Some important clauses that apply to the situation of migrant workers in Canada:
Article 22. 4 states that before being removed, a migrant worker can have his or her case reviewed by the appropriate authority, and that pending such a review, the worker has the rights to seek a stay of the decision of expulsion. This means that employers can't simply send workers home if they complain or try to assert their rights, or if they are sick, injured, or pregnant: the worker has legal recourse. Article 22.6 entitles the migrant worker who is to be expelled the right to settle any claims for wages and other entitlements due to him or her.
Article 26 upholds the right to free association, unionization and collective bargaining.
Article 30 affirms the child's right to education regardless of status
Article 54 upholds that migrant workers must be treated the same as nationals of the receiving State with respect to:  Protection against dismissal, unemployment benefits, access to public work schemes intended to combat unemployment, and access to alternative employment in the event of termination of work.