Another unspeakable tragedy on the Mediterranean
Survivors of the October 3, 2013 boat tragedy off the coast of Lampedusa shelter in an area of the tiny island's port. Credit: UNHCR/B.Molinario
Some 300 people, maybe more, died at sea last week, trying to cross the Mediterranean by boat. Most were Eritreans.
For many Canadians this may seem a distant event, and the desperation of the passengers, risking their lives on a rickety boat, may seem unimaginable.
But others in Canada know this reality only too well. They have lived through persecution that forced them to flee their home countries. They have spent time in refugee camps that are barely safer than the countries they fled, and where hopes for a decent future are crushed each day. They have sisters, cousins, friends who might well have taken their chance on that boat, so desperate is their situation today in East Africa.
And what are we doing in Canada to offer a better alternative than a rickety boat?  
Not very much, and less than before.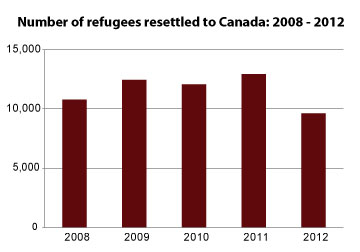 Last year, Canada resettled the second lowest number of refugees in 30 years. The government fell more than 2,000 short of its target of 7,500 refugees resettled – 2,000 places that went to waste. We could have used those 2,000 spaces to resettle to Canada all the passengers on that boat, and still had spaces to spare!
Canadians willing to resettle refugees through private sponsorship also face huge barriers. The Canadian government has imposed strict caps on private sponsorships out of the Cairo visa office, which covers Sudan, where many of the Eritrean refugees are. This means sponsors can apply for few, if any, refugees through Cairo. And for those applications they do manage to get in, the wait times are 40 months at the Cairo office!
So what can you do? Raise your voice and ask for the Canadian government to open the door to refugees, including more resettlement of refugees from East Africa.