Amina – more than 6 years of waiting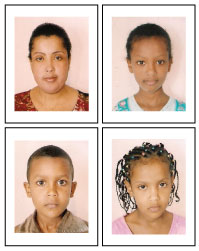 Amina fled Ethiopia to Kenya as a refugee.  More than 6 years ago Amina and her family were sponsored by a group in Canada.  She waited nearly 4 years for an interview, during which time her husband died of malaria. She then waited more than two years after the interview before hearing that she was accepted by Canada.
Amina and her three children were in Kakuma refugee camp in Kenya.  
"I am living in intolerable conditions in a refugee camp in search of peace and security, hoping that I will be able to raise my children in a safe environment one day. Considering the conditions that I described above, could you please help me in moving my case forward toward finalizing my immigration process."