Cuts to the Interim Federal Health Program for Refugees: How do they add up?
When the government announced massive cuts to refugee healthcare under the IFH program, Minister of Citizenship and Immigration Jason Kenney boasted that the cuts would save Canadian taxpayers $100 million over five years. But how do the numbers add up?
Before the cuts, the full costs of the IFH program were $84.6 million a year. This figure is from 2010, and that same year the government spent roughly the same amount—$83.3 million—on government ads, arguably a far less urgent government program.
In fact, the Conservative government has overspent the ad budget by at least 25% every year on record, for a total of $128 million during its first five years in office.[1] Compare that number to the $100 million the government plans to save through cuts to the IFH program over five years.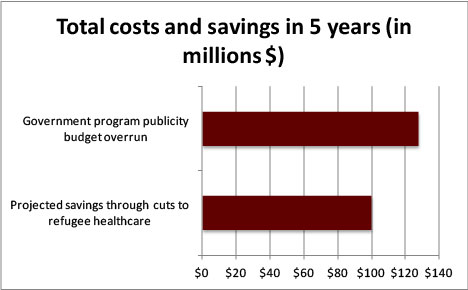 Or let's consider this. In 2009, when the economic downturn was in full swing, the government budgeted $39 million just to promote its Economic Action Plan. It ended up overspending this amount as well, spending instead nearly $54 million, more than twice the annual savings from IFH cuts.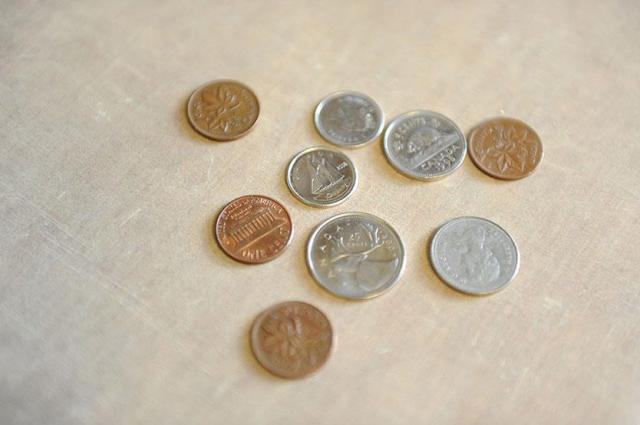 Put in perspective, $20 million saved annually is not a lot of money. $20 million translates to a mere 59 cents per Canadian, something highlighted by the 59 Cents Campaign.
Meanwhile each Canadian taxpayer is spending nearly 76 cents a year on government ad over-runs.
How would you rather the government spend your money?
---
[1] The breakdown of Government Advertising figures on the Treasury Board of Canada website amounts to:
2012-13: $64 million (amount spent not known yet)
2011-12: $53 million (amount spent not known yet)
2010-11: $65.4 million approved, $83.3 million spent ($17.9 million difference)
2009-10: $85.3 million approved, $136.3 million spent ($51 million difference)
2008-09: $63 million, $79.5 million spent ($16.5 million difference)
2007-08: $64.8 million, $84.1 million spent ($19.3 million difference)
2006-07: $63.5 million, $86.9 million spent ($23.4 million difference)